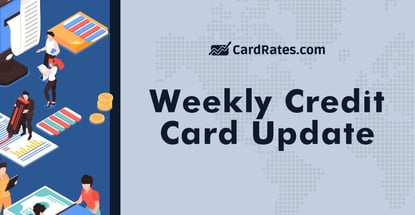 For media inquiries on these stories and more, contact credit card expert and industry analyst Bill Hardekopf at (205) 985-9725 or billh@cardrates.com.
1. U.S. Credit Card Use Returning to Pre-Pandemic Patterns

U.S. consumers are spending more and ramping up credit card balances, reversing a shift during the Covid-19 crisis, when they scaled back spending and substantially paid down debt, a Federal Reserve Bank of New York report showed on Tuesday.
After rising by $17 billion in both the second and third quarters, credit card use appears to be returning to pre-pandemic patterns. However, balances were still $123 billion lower than at the end of 2019, according to the quarterly report on household debt and credit.
• Story By: Jonnelle Marte, Reuters
2. Here's What the Average American Will Spend on the Holidays This Year

It's not uncommon to spend a big chunk of money during the holidays, and a new survey from Deloitte reveals just how much consumers plan to plunk down this year. The average American will spend $1,463 this year on holiday shopping. That's a 5% increase from 2020. Given that supply chain issues and inflation are causing the cost of many goods and products to rise, that higher number isn't surprising.
Also, with a more stable economy, a lot of people are in a better place financially this holiday season than they were last season and may therefore feel comfortable spending more.
• Story By: Maurie Backman, The Motley Fool
3. Mastercard Teams Up with Three Asian Crypto Companies to Launch Bitcoin Payment Cards

Mastercard has partnered with three digital asset platforms in Asia to issue payment cards that will allow consumers in the region to convert bitcoin and other cryptocurrencies into fiat currencies. Mastercard announced it's joining hands with Hong Kong's crypto finance firm Amber Group, Thailand's crypto exchange Bitkub and Australia's trading platform Coinjar.
The partnership intends to introduce cryptocurrency-linked credit, debit and prepaid cards for both individuals and businesses across Asia Pacific. Cardholders will be able to instantly convert bitcoin and other digital currencies into fiat currencies, which can then be spent online or offline with any of the merchants that accept Mastercard payments. The collaboration comes as interest in cryptocurrencies soars to an all-time high in Asia Pacific.
• Story By: Zinnia Lee, Forbes
4. Visa's Profits Jump as Credit, Debit Card Spending Recovers

Profits at payments giant Visa jumped in its most-recent quarter, driven by consumers and businesses getting back to spending on their credit and debit cards after the pandemic. Consumers and businesses spent $2.783 trillion on Visa's network in the latest quarter, up 17% adjusted for currency fluctuations. Visa saw double-digit growth on both Visa-branded credit cards, as well as debit cards.
Visa executives said they observed that the pandemic brought about a permanent change in consumer behavior: more consumers became comfortable purchasing items online or with their smart phones, which often requires a credit or debit card. This was seen in parts of the economy that have traditionally been cash heavy, like grocery stores, coffee shops and bars.
• Story By: Ken Sweet, Associated Press
5. American Express Cardholders Can Now Get Six Months of Free Coffee

On Wednesday, American Express announced a partnership with Panera Bread, a chain restaurant with over 2,100 locations across the United States. Famously known for its pastries and sandwiches, it introduced the MyPanera+ subscription in 2020 which includes unlimited iced coffee, hot coffee and tea for $8.99 per month.
And now, American Express cardholders can get access to MyPanera+ for six months for free.
• Story By: Brett Holzhauer, CNBC
6. Pub Now, Pay Later: Afterpay's Move into Australian Dining Venues Sparks Debt Concerns

The expansion of Afterpay and other buy-now-pay-later products into Australian pubs and restaurants could lead to bigger debts for people already struggling financially, consumer advocates warn.
Concerns were raised last week after news that pub giant Australian Venue Co had partnered with buy-now-pay-later monolith Afterpay to roll out the facility in the 160-plus venues it operates nationally. Afterpay and other similar products like Zip Pay and PayPal have been available in retail outlets for some time but the latest development heralds the arrival of the biggest BNPL provider into the Australian hospitality industry. Because BNPL debts don't accumulate interest in the way a credit card or bank loan does (there are late payment fees instead), companies are not subject to the same regulatory requirements regarding responsible lending.
• Story By: Stephanie Convery, The Guardian
7. Walmart Has Quietly Begun Hosting Bitcoin ATMs

Walmart, the world's largest company by revenue, is letting customers buy bitcoin at dozens of its U.S. stores. Shoppers can purchase the cryptocurrency at Coinstar machines inside the retailer's cavernous big box stores. 
Coinstar is best known for allowing consumers to exchange coins for paper bills or gift cards. The ability to buy bitcoin is enabled by Coinme, a crypto wallet and payment firm that specializes in bitcoin ATMs. The cryptocurrency ATM industry is expanding at a rapid pace, partly fueled by the Covid pandemic. Coinstar announced plans in 2020 to double its fleet of 3,500 Coinme BTMs amid a spike in usage. But Walmart, long seen as the crown jewel to bringing crypto financial services into the mainstream, is another step up, even if the 200-kiosk pilot is chump change for a company with 4,700 stores.
• Story By: Ian Allison, CoinDesk
8. If You Use Venmo, PayPal or Other Payment Apps, This Tax Rule Change May Affect You

If you're among the millions of people who use payment apps like PayPal, Venmo, Square, and other third-party electronic payment networks, you could be affected by a tax reporting change that goes into effect in January.
Payment app providers will have to start reporting to the IRS a user's business transactions if, in aggregate, they total $600 or more for the year. A business transaction is defined as payment for a good or service. Prior to this change, app providers only had to send the IRS a Form 1099-K if an individual account had at least 200 business transactions in a year and if those transactions combined resulted in gross payments of at least $20,000.
• Story By: Jeanne Sahadi, CNN
9. Should You Use Buy Now, Pay Later for Your Holiday Shopping?

BNPL lenders make most of their money from fees paid by retailers for each transaction they fund. In some cases, these fees are higher than what the merchant would pay for a credit card transaction. Even so, it's a smart move for retailers, because BNPL financing boosts sales.
But unlike credit card companies, which report to the credit bureaus, most BNPL companies do not. Staying current in your credit card payments will help you build a positive credit history. Making your BNPL installments on time, in most cases, will not be reported to the credit bureaus and will not help your credit scores. Like other bank products, credit cards are highly regulated by the federal government and have well-defined dispute resolution processes; BNPL financing is not regulated, and offers few consumer protections against faulty goods or bad service.
• Story By: Herb Weisbaum, Consumers' Checkbook
10. A New Credit Card Arrives with a Silicon Valley Twist

The X1, a new credit card, is designed for people who want premium perks with or without premium credit scores. It uses a novel underwriting process, which links with a user's bank account to determine credit limits based on cash flow.
The card promises up to five times higher credit limits than the average card. The card itself is made of stainless steel. It has a sleek app that gives users the ability to create disposable "virtual" cards, cancel subscriptions with one click, and make anonymous transactions without giving out a real name or card number. Its points are redeemable at a list of merchants frequented by the stereotypical tech bro: Peloton, Patagonia, Allbirds, and Airbnb. Perhaps for that reason, the X1 has become something of a Silicon Valley darling, with a waiting list of more than 350,000 people.
• Story By: Arielle Pardes, Wired
11. Cybercriminals Target Mobile Banking Apps

Banking malware threats are increasing as cybercriminals target the rising popularity of mobile banking on smartphones with plots aimed at stealing personal banking credentials and credit card information.
The Nokia 2021 Threat Intelligence Report showed an 80% year-on-year increase in the first half of the year in the number of new banking trojans, which also try to steal SMS messages containing one-time passwords. The strategies employed by banking trojans included capturing keystrokes, using a transparent overlay to capture banking login information, screenshotting sensitive information and targeting Google Authenticator codes.
• Story In: Security Magazine
Advertiser Disclosure
CardRates.com is a free online resource that offers valuable content and comparison services to users. To keep this resource 100% free, we receive compensation for referrals for many of the offers listed on the site. Along with key review factors, this compensation may impact how and where products appear across CardRates.com (including, for example, the order in which they appear). CardRates.com does not include the entire universe of available offers. Editorial opinions expressed on the site are strictly our own and are not provided, endorsed, or approved by advertisers.