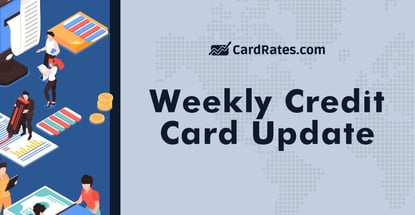 For media inquiries on these stories and more, contact credit card expert and industry analyst Bill Hardekopf at (205) 985-9725 or billh@cardrates.com.
1. Visa, Mastercard Delay Credit Card Swipe Fee Increases

Visa and Mastercard are postponing planned credit card fee increases that were set to kick in this year after the plans drew criticism from lawmakers. Citing the continuing effects of the coronavirus pandemic on businesses, Visa and Mastercard said they will hold off on increasing interchange fees for merchants until next April.
Visa and Mastercard plans included raising interchange fees for many online purchases by around 0.05 to 0.10 of a percentage point, according to a document reviewed by the Journal. Those changes would have resulted in hundreds of millions of dollars in additional interchange fee charges for merchants within the span of a year.
• Story By: AnnaMaria Andriotis, The Wall Street Journal
2. Credit Cards Hijack Your Brain, Leading to More Spending

Credit cards get you to spend by creating a "purchase craving" in your brain, according to a new study. When you use a credit card instead of cash, it serves to "step on the gas," driving more spending "by putting costs out-of-mind regardless of the price of the product."
The study found that paying with a credit card sensitizes reward networks in the brain. The process involves the striatum, a dopaminergic reward center that drugs like cocaine and amphetamines exploit. Once these reward networks are sensitized, credit card use drives an increase in purchases.
• Story By: Chris Kissell, Money Talks News
3. New Survey Confirms Consumers' Increasing Willingness to Conduct Banking Digitally

A strong majority of consumers are saying they are much less likely to do their banking face-to-face in the future, according to a new survey. This is another strong indicator of changing consumer preferences when it comes to financial services.
Among the findings in the consumer survey: 83% are less likely to bank face-to-face in the future; 51% would be less likely to attend to a banking or financial task if it required visiting a branch; 93% have banked online recently; 42% have opened a financial account online recently, and consumers who rated their bank's digital experience as low are twice as likely to consider leaving.
• Story In: CU Today
4. Credit Card Industry Trends in 2021

Cash was already going the way of the dinosaur, and then Covid-19 came along. All of a sudden, something as innocuous as paying for groceries with paper bills became a scary proposition. For some, even using credit cards seemed daring and they switched to digital wallets that let them "tap to pay" when checking out in a store.
The move further from cash and more toward cards and payment platforms is just one way the credit card industry will continue to change in 2021. But there are also other trends in the works.
• Story By: Holly D. Johnson, Bankrate
5. Goldman Sachs Is Vying for JetBlue's Credit Card Business

Goldman Sachs is talking to JetBlue Airways about taking over its credit card program, according to people familiar with the matter. Goldman is competing against Barclay, which is the current issuer of the JetBlue credit cards. JetBlue's contract with Barclays doesn't end for another roughly three years.
Goldman entered the credit card business in 2019 as part of a broader expansion into digital-banking services for the masses. Its first credit card was launched in partnership with Apple Last year, General Motors decided to move its credit card offering from Capital One to Goldman.
• Story By: AnnaMaria Andriotis and Peter Rudegeair, The Wall Street Journal
6. How Cryptocurrency Could Help Mastercard Grow Its Business

As many as 20% of consumers now own cryptocurrency in certain countries, and that growing interest has not gone unnoticed by merchants and financial institutions. To capitalize on this trend, Mastercard expanded its cryptocurrency program last year, making it easier for partners to issue crypto payment cards.
In the U.S., Mastercard teamed up with BitPay, a payment processor that allows merchants to accept digital currencies like Bitcoin at checkout, to launch a prepaid crypto card in June 2020. The BitPay card allows consumers to make in-store and online purchases (anywhere Mastercard is accepted) with funds loaded from their BitPay wallet. In other words, consumers can fund the card with currencies like Bitcoin or Ether, and BitPay converts those funds into fiat currencies like U.S. dollars.
• Story By: Trevor Jennewine, The Motley Fool
7. Nearly 30% of Americans Turn to Credit Cards, Loans After Being Denied Unemployment Benefits

Roughly 4.1 million Americans, or 2.9% of the workforce, were getting unemployment insurance as of the end of February. But those who apply for unemployment insurance and are denied have to find creative ways to make ends meet.
When denied unemployment benefits, 29% of people are going into credit card or loan debt to cover expenses, according to LendingTree researchers. Maine (52.4%), New Hampshire (47.7%) and Missouri (46.2%) are the states most likely to have residents rely on credit cards or loans to meet spending needs.
• Story In: KAKE
8. United Airlines and Chase Are Launching a New, Feature-Packed Credit Card

Chase and United Airlines already offer several airline credit cards together, but a new addition is coming soon. On March 21, they launch the United Quest Card. Technically, this card replaces the United Platinum Class Visa, an older, discontinued United card. The United Quest Card will have a $250 annual fee.
For that fee, you get a $125 annual credit towards United purchases each account year; up to 10,000 miles per account year; free first and second checked bag; Global Entry/TSA PreCheck credit; 3 points per $1 on United purchases; 2 miles per $1 on all other travel purchases, at restaurants, and on select streaming services; 1 mile per $1 on all other purchases; priority boarding; and 25% back on in-flight purchases of food, beverages, and Wi-Fi with United.
• Story By: Lyle Daly, The Motley Fool
9. Pandemic Brings New Prospects for Prepaid Cards

The prepaid card category has continued to fare relatively well at many convenience stores during the pandemic — for gift-giving, budgeting, and as part of loyalty programs, with accelerated interest in digital versions.
The use of both open- and closed-loop cards is growing, and many retailers continue to market closed-loop credit cards as a way to capture and enhance their loyalty systems. However, open-loop cards' growth — both branded and unbranded — has outpaced the growth of closed-loop cards about two to one.
• Story In: CStore Decisions
10. Amex Releases Limited-Time Welcome Bonuses on Marriott Bonvoy Cards Worth up to 125,000 Points, Plus up to $200 in Statement Credits

American Express just released new limited-time offers for the Marriott Bonvoy Brilliant American Express Card and the Marriott Bonvoy Business American Express Card that can help you earn over 100,000 points to offset your next trip.
The welcome bonuses also provide the opportunity to earn $150 or $200 in statement credits on eligible purchases. Here is a breakdown of the new Marriott Bonvoy welcome bonuses and who's eligible to earn the offers.
• Story By: Alexandria White, CNBC
11. This is the Fintech that Mark Cuban Says You Should Learn About Now

To keep up with emerging technology, self-made billionaire Mark Cuban is always reading and learning new things. It's a tactic he uses to understand artificial intelligence, and now he has set his sights on cryptocurrency and the technology that surrounds it, like blockchain and NFTs.
In fact, Cuban recommends people use his tactic and take time to learn about crypto and DeFi. Decentralized finance, or DeFi, refers to a system of applications that aim to recreate traditional financial instruments with cryptocurrency.
• Story By: Taylor Locke, CNBC
12. Study Suggests Mobile Payment Tokenization Revenue Could Exceed $53 Billion by 2025

A new study suggests that revenue from tokenization provisioning and management in mobile payments will exceed $53 billion in 2025, from $18 billion in 2020. The report from Juniper Research found tokenization, where account details are replaced with data useless to fraudsters, is taking hold in both in-store and remote commerce.
The research recommends that digital wallet providers move to implement tokenization immediately, if not already, and prioritize acceptance to increase security in checkout processes.
• Story In: Vending Marketwatch
Advertiser Disclosure
CardRates.com is a free online resource that offers valuable content and comparison services to users. To keep this resource 100% free, we receive compensation for referrals for many of the offers listed on the site. Along with key review factors, this compensation may impact how and where products appear across CardRates.com (including, for example, the order in which they appear). CardRates.com does not include the entire universe of available offers. Editorial opinions expressed on the site are strictly our own and are not provided, endorsed, or approved by advertisers.