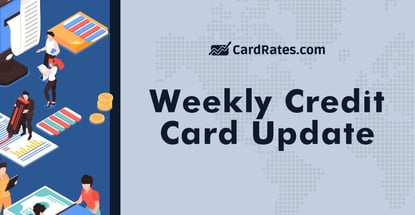 For media inquiries on these stories and more, contact credit card expert and industry analyst Bill Hardekopf at (205) 985-9725 or billh@cardrates.com.
1. Credit Card Borrowing Falls to Lowest Level in 4 Years

Borrowing by Americans fell in January for the first time in five months, as the use of credit cards fell to the lowest level in four years, offsetting gains in auto loans and student loans. The Federal Reserve reported consumer borrowing fell by $1.3 billion in January, the first setback since a $9 billion decline in August.
The weakness came from a $9.9 billion decline in borrowing in the category that covers credit cards. It marked the fourth straight decline in that category and was the biggest drop since a $10.8 billion fall in August. It pushed credit card activity down to the lowest level since January 2017.
• Story By: Martin Crutsinger, Associated Press
2. How "Buy Now Pay Later" Companies are Reinventing Consumer Credit

Buy now pay later companies, a niche within the fintech space, are emerging as a red hot target for investors and a lucrative opportunity for existing financial incumbents.
The concept behind BNPL is simple: giving e-commerce shoppers an alternative way to purchase goods without having to rely on credit card debt. BNPL companies allow consumers to pay for goods in installments. The mechanism is similar to paying a mortgage or over time, but on smaller-ticket items and without bruising interest rates.
The pandemic and widespread pivot to online shopping has hastened the growth of BNPL. Affirm nearly doubled its revenue last year and is now valued at around $20 billion. Klarna, the leading BNPL company in Europe, raised $1 billion in private funding at a $31 billion valuation, becoming Europe's most valuable startup.
• Story By: John Hyatt, Nasdaq
3. Americans Paid Off a Record $83 Billion in Credit Card Debt in 2020

In many ways, the coronavirus crisis has paved the way to better budgeting. Consumers are paying down debt and saving more than they have in decades. Federal relief, such as stimulus checks, expanded unemployment benefits, and an extended pause in loan repayments, have even given some a chance to catch up on past-due payments.
Altogether, Americans repaid almost $83 billion in credit card debt during 2020, a record, according to a study by WalletHub.
• Story By: Jessica Dickler, CNBC
4. Why Romance Fraud Became Big Money in 2020

As the global pandemic sent office workers home, forced businesses to close, and imposed a general lockdown on practically everyone, it looked like romance was gone in 2020. Given that people were no longer eating at restaurants, watching baseball games in-person, or going out on the town to meet people, the only avenue left to find someone special was online. It's also where fraudsters quickly congregated to take advantage of lovelorn consumers.
Since romance frauds generate more than 10 times the money for scammers per event than other types of fraud, it's no wonder 2020 saw a boost in the use of this tactic.
• Story By: Michael Moeser, Payments Source
5. JPMorgan to Wind Down Digital Wallet Chase Pay

JPMorgan Chase will discontinue its Chase Pay digital wallet at the end of the month. The option to pay through Chase Pay will be removed from all merchant apps and websites, adding that customers could instead link their Chase credit cards to their preferred shopping sites or apps and to PayPal accounts.
In an effort to expand the digital wallet's reach, JPMorgan had partnered with payments processor PayPal Holdings Inc in 2017, which allowed users to link their Chase Pay and PayPal accounts and use reward points to make purchases.
• Story By: Niket Nishant, Reuters
6. Mastercard Exec Says Almost 75% of Apparel Sales Were Made Online Last Month

Apparel sales in the U.S. bounced back in a big way last month, powered by a surge in online purchases as consumers altered their spending habits.
"We've definitely seen a shift in the way consumers are spending throughout the pandemic," said Linda Kirkpatrick, president of Mastercard North America. "Almost three-quarters of all apparel purchases were made online in February, and this is up from 47% just a year ago." February, the month of Valentine's Day, also saw overall spending on jewelry rise almost 6% from the year prior. Meanwhile, online jewelry sales jumped 63%.
The new data is an early sign that suggests more shoppers have adapted to buying clothes and jewelry digitally, and Mastercard expects the trend to continue to take shape even as the economy reopens and more people venture outside the home.
• Story By: Tyler Clifford, CNBC
7. Buy Visa and Mastercard Because the Card Networks Are Poised For a Comeback

Mastercard and Visa still look cheap, according to a couple of analysts who reiterated bullish views of the stocks on Tuesday. Their arguments: The card networks should gather momentum as travel recovers and investors realize that they won't be disrupted by new technologies any time soon.
• Story By: Daren Fonda, Barron's
8. Resistance to Peer to Peer Payments is Waning

Resistance to P2P services is waning, as many of the reasons for not using these services appear to be losing popularity. The largest overall reason in 2018, "I don't have a reason to use P2P," has declined from 47% to 36% in 2020. In 2019, 42% of consumers "prefer to use cash" than P2P services.
Not surprisingly in a pandemic environment, that sentiment dipped to 30% in 2020. P2P services are increasingly being used to share costs with others, pay bills, and pay for things in-stores. In 2020, 23% of consumers used P2P to split a bill, up from 17% in 2018 and 2019. For the last 3 years, one in five P2P consumers used the service to buy a gift.
• Story In: Payments Journal
9. 10% of American Families at Risk of Foreclosure, Eviction During Pandemic

More than 11 million families are behind on rent and mortgage payments due to financial hardships stemming from the pandemic, a new report from the CFPB revealed. Evictions and foreclosures are looming, putting 10% of American families at risk of losing housing.
Nearly 2.1 million families are at least three months behind on mortgage payments while 8.8 million Americans are late on paying rent. What's more, homeowners are slated to owe nearly $90 billion in missed payments collectively, a record since the Great Recession.
• Story By: Jeannette Settembre, Fox News
10. How to Enable Mobile Credit Card Alerts for Purchases and Fraud

Did you know one of the best tools against credit card fraud is in your pocket? With only a few simple steps, credit card users can enable mobile alerts from their preferred credit card mobile app. Most major credit card providers and banks offer mobile apps for both Android and iPhone mobile devices.
These apps can make monitoring credit card spending, tracking payments, and protecting accounts from identity theft much faster and more convenient.
• Story By: Chauncey Crail and Caroline Lupini, Forbes
11. PayPal Boosts Cryptocurrency Initiatives With Curv Buyout

PayPal is leaving no stone unturned to bolster its presence in the cryptocurrency market. PayPal has agreed to acquire Curv, which is a Tel Aviv-based digital asset security technology provider, in a bid to bolster its cryptocurrency efforts.
The buyout is expected to be completed by the first half of 2021. Post-acquisition, Curv will join PayPal's newly created business unit dedicated to blockchain, cryptocurrency, and digital currencies. The latest move ups PayPal's ante against its strong contender, Square, which is also putting strong efforts to expand its footprint in the bitcoin space.
• Story In: Yahoo Finance
12. 9 of Our Favorite Credit Card Perks That You Won't Want to Miss Out On

Many credit cards also come with extra perks, many of which you might not even know about. Some of the benefits may excite and delight you, and even make it worth paying an annual fee for a card.
Let's dive into our list of our favorite credit card perks, many of which you may not know about, and others that you might even already have on your current credit card.
• Story By: Julian Kheel, CNN
Advertiser Disclosure
CardRates.com is a free online resource that offers valuable content and comparison services to users. To keep this resource 100% free, we receive compensation for referrals for many of the offers listed on the site. Along with key review factors, this compensation may impact how and where products appear across CardRates.com (including, for example, the order in which they appear). CardRates.com does not include the entire universe of available offers. Editorial opinions expressed on the site are strictly our own and are not provided, endorsed, or approved by advertisers.