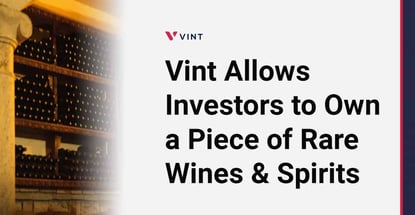 Our experts and industry insiders blog the latest news, studies and current events from inside the credit card industry. Our articles follow strict editorial guidelines.
In a Nutshell: Vint is an alternative asset platform that allows investors to purchase shares of rare wines and spirits for as low as $50. Vint considers the assets medium-to-long term investments, with a hold time of between one and seven years. The platform is SEC-qualified, making it the only wine and spirit investment vehicle of its kind. And Vint makes investing more accessible, accepting anyone with no accreditation required.
Wine is no longer just something people enjoy at a nice restaurant or at home to wind down. Just like NFTs, baseball cards, and even Pokémon cards — bottles of wine and other rare spirits can now be considered investment opportunities.
The global wine market is expected to reach $473 billion this year, while the global whiskey market is expected to increase to $67 billion. Those numbers combined are more than the market cap for Meta, Facebook's parent company.
For many, investing in rare wines and spirits is not possible. Investors need to purchase wine bottles worth up to $100,000 to realize considerable returns.
Vint is an alternative asset platform that offers a solution for everyday investors who want to get involved in wine and spirits.

Interested investors can purchase fractional shares of Vint's assets as opposed to whole bottles or casks. The platform allows anyone to invest in its wines and spirits, unlike many alternative asset firms that require accreditation.
Vint's platform is SEC-qualified, and in addition to following regulations, Vint changes the wine and spirits investment game with its low buy-ins and efficient platform.
"When we tried to go out and invest in this asset class, the only way to do so was to send some guy in the UK $25,000 and then you'll get a list of wines back three weeks later," Nick King, Vint Co-Founder and CEO told us. "We thought that was a highly inefficient, opaque, and inaccessible product. So we spent eight months with the SEC setting up a structure that allows us to curate a collection of wines and spirits."
Working With Experts in the Wine and Spirit Field
Vint's founders have a wealth of experience in the investment world — including one founder who worked with a fund that manages tens of billions in assets — which translates well into the alternative asset sector. King and his partners came up with the investment concept in 2019 to combine traditional-value investing with trading mentality. 
Each collection features up to to 250,000 shares up for purchase. Vint has completed 42 offerings on its platform since its launch in early 2021. King said most sell out within the first day.
In total, the investment platform specializes in five different asset classes, including wines, spirits, whiskey casks, bordeaux futures, and Vint's own wine futures.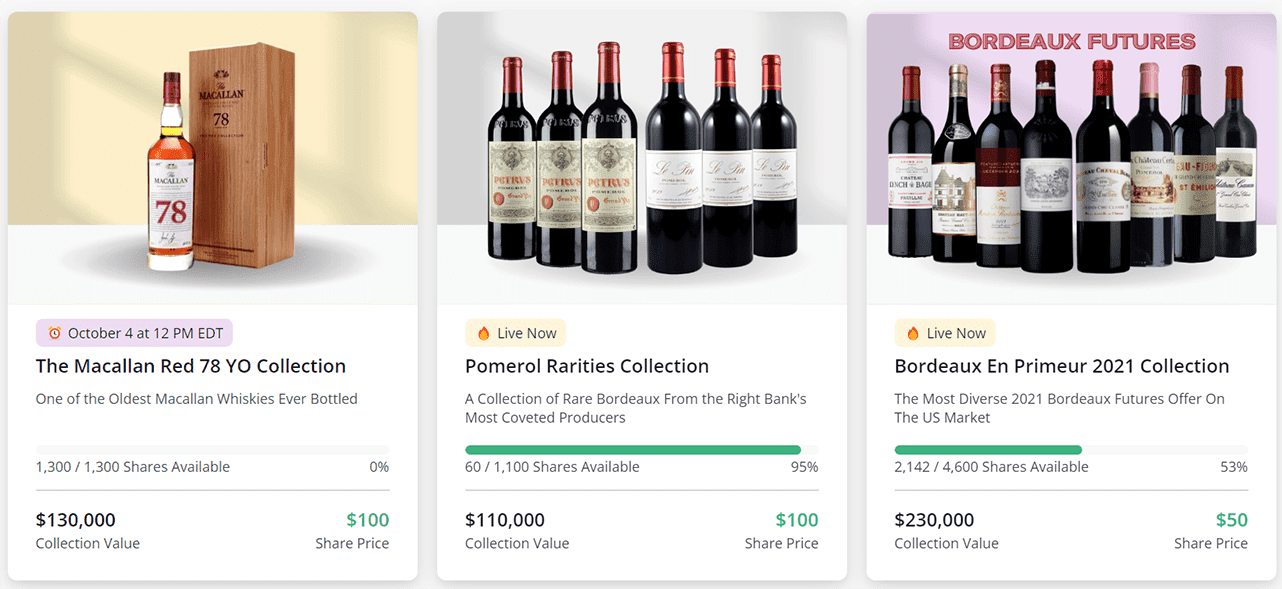 Vint said it has already returned capital back to its investors. A partial exit from the investment platform's champagne collection earned investors about a 22% net return. Vint's weighted return so far is 27% realized.
Vint's experts constantly track the wine market to identify trends and market prices. One of only 50 masters of wine in the world is on-hand at Vint leading the wine team to make investments.
Vint emphasizes its accessibility for anyone to invest in the platform. Vint said some investors only buy one share, while others invest six-figures into the platform.
"We've looked at the last 20 years of pricing data and found that the strongest returns come from the higher price-to-score ratio wines," King said. "The higher the price, typically, the higher the returns. Those higher returns is why I so strongly say we are the best financial product for this asset class."
Advanced Logistics Save Investors Money
Since 1900, the wine and spirits market has generated about an 8.5% return on investment. The important factor for the asset class is that it's not correlated with traditional financial assets.
Even when the stock market tanks, wine and spirit prices only go down by about 1%, and most of the time still appreciate in value. Vint allows individuals to maintain a steady return rate while investing in expensive wine without putting in hundreds or thousands of dollars.
The minimum buy-in for most collections is between $50 and $100. Vint said its assets are a medium-to-long term investment with a one-to-seven year hold period. The investment platform said it has two strategies for liquidity.
"There's a long term buy-and-hold that you can do or if someone comes to us and is looking to acquire an asset and we're able to generate double digit net returns, it's definitely something we're going to entertain," King said.
Vint is considering adding a secondary trading market possibly next year. The trading market allows investors to decide individually when they want to exit by selling their shares to other interested investors.
Vint works with its network of suppliers to get efficient pricing on wines and spirits, and on maintenance services. The investment platform buys assets at scale in attractive regions to get good pricing. Vint itself maintains all of the storage, insurance, and maintenance of the collection so investors don't have to.
"You could build your own cellar, get the insurance, and work with a storage facility," King said. "But because we are storing a ton of assets, it's cheaper for us to do so than an individual investor. That allows us to offer higher quality products and more efficient pricing."
Vint: Developing an Informed Investor Base
Vint puts its investment thinking on its website for everyone to see. The investment platform wants to make sure it's putting the best information out there to educate investors.
Vint's blog provides thesis and key points on assets it's looking to invest in. Vint also hosts a podcast, webinars, and sends a weekly email to educate investors on offerings and the market itself.
Vint's research points to a different view of investment diversification that extends past the stock market. Modern portfolio theory says investors should generate strong returns with less risk.
When the whole market is down, all stocks go down. But for investors to have less risk, Vint said they need assets that are not correlated with the stock market.
Vint's asset class allows investors to invest in completely different products that work independently of each other. Vint also said its wine and spirits have less volatility than the stock market.
Vint is always looking to its investors for new features and for ways to improve. The investment platform even hired someone from its user base to run investor relations. 
The Vint team said it loves talking with interested investors, and they're happy to walk people through the process of investing in spirits.
"The wine and spirits investing industry is plagued with people who are opaque and inefficient," King said. "When you're looking to invest, I think it's important to see how the company operates. We want you to understand what assets you are actually investing in and have really strong conviction around the transparency of the platform."