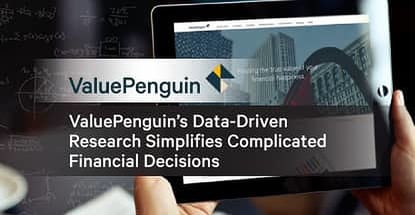 In a Nutshell: No one likes to feel as though they got a bad deal when they make a purchase, and insurance shoppers are no exception. Unfortunately, comparing the insurance options in today's crowded marketplace can be a daunting — and complicated — task. Pro-consumer site ValuePenguin simplifies those complex financial decisions by providing high-quality resources to help you understand which options are the best for you. Their redesigned site is easy to navigate and packed full of ValuePenguin's signature in-depth data analysis to help you find the right car, health, home, or even pet insurance. When it comes to quotes, smart consumers don't assume, they compare — and ValuePenguin is where they do it. //
To many, shopping is an art form. Any dedicated shopper will be able to give you his or her personal method for finding the best deals (and tell you why it's the best). On the other hand, most seasoned shoppers also have their own horror stories of finding that same item somewhere else — for half the price.
Just as we all want to make sure we've gotten the best deal on our new big screen televisions, no one wants to overpay for less tangible goods, like insurance.
Whether you're in the market for auto insurance, health care coverage, homeowners insurance, or even pet insurance, you want the best value you can find. In today's crowded marketplace, that means weighing all the factors that matter most and seeing how all the options stack up — and there can be a lot of factors and options.
If you're like most consumers, you might compare two or three quotes and then hedge your bets. And, if you're like most consumers, you might be missing out on the best deal. That's where ValuePenguin can help.
Founded by three talented financial experts — Jonathan Wu (CEO), Ting Pen, and Brian Quinn — ValuePenguin uses value-focused research to provide objective analysis of data in a consumer-friendly format. "Financial decisions are complicated," they say. "Our research and apps make them simpler."
High-Quality Resources Help You Understand & Decide
ValuePenguin's high-quality resources include visual tools to explain data and articles detailing in-depth research in multiple areas. All of the content aims to help consumers understand the financial topics they're interested in so they can make well-informed decisions.
From its beginnings in comparing health insurance data, ValuePenguin has grown into a full-fledged financial data authority. Over the years, they've expanded into many verticals, including car and home insurance, applying their signature analytics to dig down into the nitty-gritty, as with their city-by-city comparisons.
Early in 2016, ValuePenguin underwent a site redesign in an effort to better reflect the needs of their users, as well as the values of the company itself. "The new brand better reflects our personality, and allows us room to grow," said Jonathan Wu.
Granular Data Finds the Best Car Insurance Rates by State
Inspired to find the best car insurance rates in each state — and driven to analyze all the details — ValuePenguin assembled a team. Their job? Conduct a study that compares multiple auto insurers in every state across a variety of variables.
"It was something we always wondered ourselves, and so we came up with the idea and thought, 'Hey, let's get together a team and let's make it happen,'" described Ting Pen.
The information was broken down on a granular level, organized to show consumers not only the cheapest insurers by city, but also the top-rated insurers (based on the volume of consumer complaints). This isn't just a Top 5 list of popular insurers that everyone's familiar with — in California alone, ValuePenguin compared 40 insurance companies across 210 cities.
"It made natural sense for us to go state by state to see which insurers are priced differently in different areas of each state," said Brian Quinn. The practical layout and state-specific organization certainly make the information readily accessible, allowing users to quickly and easily find the data most relevant to them.
When It Comes to Quotes, Consumers Have Control
Car insurance is one of those things we all need, but hate to pay for because it isn't tangible — we're paying for protection we will hopefully never need to use. But, since it's illegal in most states to drive without auto insurance, there's really no way around it. That doesn't mean you're powerless, though.
"What consumers do have control over," Pen reminded us, "is the number of companies they choose to obtain quotes from. So, a lot of our studies have upwards of 20 insurers, and what we've found is there's such a dramatic range from the most expensive to the cheapest insurer — even for the same profile."
When asked what the most surprising finding was, Pen said she was shocked by just how much insurance rates varied between the least and most expensive insurers.
"For example, when we analyzed auto insurance in New Jersey, I was expecting there to be some kind of range but not by much. We found rates could be three to four times higher from the most expensive, to the least expensive insurer," Pen told us.
"It's always in your best interest to compare rates when shopping for insurance," she emphasized.
Smart Shoppers Don't Assume — They Compare (Several Companies)
As you compare our own quotes, you may notice the sort of wide range Pen mentioned. She described the cause as being that company's own history with different types of drivers.
"Every insurer has very different claims experiences with certain types of groups or profiles. Even though one insurer might rate you the most expensive, you might not be in their targeted risk pool," she explained. "So you should always look at other companies because there are some that might have had better experiences insuring drivers with a background similar to yours. They'll rate you more affordably."
Not only is it advisable to compare several companies, but it's also wise not to make assumptions. You might guess, for example, that New York has one of the highest rates in the country for car insurance due to the high cost of living. In truth, Quinn explained, their surveys take into account the state as a whole; in this case, New York City's density isn't enough to skyrocket rates for the entire state.
Instead, a ValuePenguin national survey found Michigan is one of most expensive states, owing to the underlying dynamics of the auto insurance market in the state, and to the fact that Michigan's car insurance benefits are not capped the way other states' benefits are. (In contrast, Ohio and Maine are two of the least expensive states for car insurance.)
How Reports Relate to Real Life
While most insurance-seekers are the same in that they all want a good deal, their circumstances — and, thus, their insurance rates — will be unique to them. At the bottom of each report, ValuePenguin shares their analysis methodology, so consumers can understand how well the quotes might apply to their particular situation. Using demographics that make the most sense for each state, the reports assume a safe driver profile; different profiles would return different results.
"The reports we provide are for information purposes," Pen said. "Consumers can see aggregated quotes as a benchmark among those."
Quinn advised that to get a personalized quote, customers can put their zip code into the form on the site, and ValuePenguin will show them the insurers that operate in their specific area.
Visit ValuePenguin.com to ensure your decisions are based on realiable data.
Advertiser Disclosure
CardRates.com is a free online resource that offers valuable content and comparison services to users. To keep this resource 100% free, we receive compensation for referrals for many of the offers listed on the site. Along with key review factors, this compensation may impact how and where products appear across CardRates.com (including, for example, the order in which they appear). CardRates.com does not include the entire universe of available offers. Editorial opinions expressed on the site are strictly our own and are not provided, endorsed, or approved by advertisers.