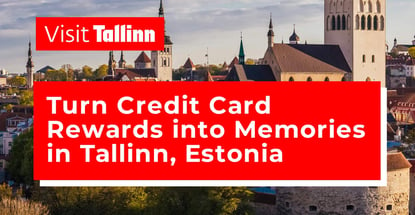 In a Nutshell: Here at CardRates, we're always on the lookout for cool, unique ways to cash in on credit card rewards. Travel often rises to the top of our list, and visiting Tallinn, the capital of Estonia, has lots to offer. The city is a melting pot of history and modern life. The many museums and the cobblestone streets of Old Town, the original city center, hold nearly a millennium of stories. Meanwhile, restaurants, cafés, and bustling markets tell the city's story today. Located just south of the Scandinavian Peninsula, the country of Estonia has more in common with Nordic countries than with many Western European countries. While traveling has become a challenge during the COVID-19 pandemic, Estonia strives to keep its residents and visitors safe through social-distancing and sanitary regulations.
We take credit cards seriously here at CardRates, which is why you'll find everything from in-depth credit card lists to feature articles highlighting the latest credit card developments. But we also like to explore the fun side of credit cards — rewards.
We've looked at how rewards can be redeemed for cool products, applied toward big discounts, or to pay down debt. And, admittedly, one of our favorite ways to use credit card rewards is for traveling, whether that means discount airfare, lodging, dining, or travel accessories.
So, when a cool destination pops up on our radar, we love to dive in and learn more about it and share the information with our readers. We recently learned about the capital of Estonia, Tallinn, and all that it has to offer.
Plenty of folks in the U.S. think of Paris or Rome when they think of planning a European vacation. But Tallinn has a long, rich history and like those other European capitals today, it's a city that has its own way of blending the modern and historical.
Estonia, which is bordered by Russia, Latvia, the Gulf of Finland, and the Baltic Sea, has more in common with the Nordic countries to its north than to its Western European neighbors. Tallinn was recognized as a city in 1248 but humans have settled in the area for 5,000 years.
Today, Tallinn has a population of close to 500,000 and is the most populous city in Estonia. The Tallinn City Tourist Office and Convention Bureau provided us with some valuable information on some of the unique and most interesting things to do in the ancient city. Read on to learn more about Tallinn and consider the city for your next travel destination.
Soak Up Medieval History in Historic Old Town
Here in the U.S., our oldest, still-operating cities date back a few hundred years. But in Europe, a few hundred years is just a drop in the bucket. And that is true in Tallinn where one of the city's main attractions is its historic Old Town district.
"The fact that it is included in the UNESCO World Heritage List confirms that it is a valuable treasure," according to Visit Tallinn. "But the number of important and exciting events that still take place there also prove it is lively and constantly evolving."
The Town Hall Square — the heart of Old Town — is still where Estonians greet their heroes who are returning from notable accomplishments while abroad.
"Twisting cobblestone lanes and iron street lamps. Gothic spires and medieval markets. Cappuccino and wifi. This is the city's famous Old Town," according to the tourism office. "If you're looking for that mix of historic ambiance and cutting-edge culture that defines Tallinn, you'll find it here."
Each summer, Old Town Days and Medieval Days events attract Estonians and tourists alike to the distinctive neighborhood. And during the holiday season, visitors marvel at the Christmas tree in the town square and one of the most beautiful Christmas markets in the world, according to Visit Tallinn.
"Built up from the 13th to 16th centuries, when Tallinn — or Reval as it was known then — was a thriving member of the Hanseatic trade league, this enclosed neighborhood of colorful, gabled houses, half-hidden courtyards and grandiose churches is, quite rightly, the city's biggest tourist draw," according to Visit Tallinn.
Visitors will find the ancient city wall surrounding Old Town still intact, complete with guard towers adding to its authentic charm. And, the area is relatively compact which makes it easy to explore on foot.
Art, Architecture, and Culture Abounds
Tallinn offers a wealth of activities and places to explore, and the Visit Tallinn website is a valuable resource for ideas and guidance. Let's take a look at some of the highlights, starting with Toompea Castle.
"From the time the first stone fortress was built on the hill in the 13th century, Toompea has been a place of power," according to Visit Tallinn. "Even today, the parliament of Estonia operates out of Toompea Castle. The tallest tower of the castle, Pikk Hermann, is a symbol of Estonian statehood: each morning at sunrise, the Estonian flag is hoisted to its top accompanied by the national anthem."
Visitors to Toompea Castle can also take advantage of spectacular views of the city from one of its viewing platforms.
Tourists looking to soak up the history of Tallinn will also enjoy the Kiek in de Kök Fortifications Museum.
"This complex of different towers is connected by the city wall and hidden Bastion Passages," according to the tourism website. "The museum inside introduces the history of the city from its defensive structures to café culture."
Visit Tallinn also recommends including Kadriorg Palace and Park on your to-do list. The location offers one of the best examples of baroque architecture in Estonia.
"Today, you can stroll around its well-maintained promenades, swan pond, rose garden, and Japanese Garden," according to the website. "There are also a handful of museums in the area, including the Estonian Art Museum's collection of foreign art inside the palace itself, the Estonian Art Museum's main building."
Tallinn also offers plenty to do outdoors, with neighborhoods like Kalamaja and Kopli offering seaside hiking and cycling trails.
"During the trip, nature lovers can enjoy beautiful, even unusual, views of the Gulf of Tallinn," according to Visit Tallinn.
These are just a few highlights among many things to do in Tallinn. And, it's worth mentioning that visitors can save money by using the Tallinn Card, offered by Visit Tallinn.
The card gives visitors free access to more than 40 museums and attractions, free public transportation, and tons of discounts on sightseeing tours, activities, shops, and restaurants.
Mindful Travel During the COVID-19 Pandemic
Of course, traveling in 2020 has become a new adventure in itself as the world grapples with the COVID-19 pandemic. And Tallinn is working to ensure that its residents and visitors are able to stay safe and well in the city.
"Estonia's borders are open to passengers with no symptoms arriving from the European Union, the Schengen Area, the United Kingdom, and selected non-European countries," according to Visit Tallinn.
In certain instances, visitors are required to self-isolate upon arrival.
Watch on
"Protective masks are not compulsory in Estonia," according to the website. "However, their use is recommended in crowded indoor spaces where keeping a social distance is difficult, such as shopping malls, public transport, and medical facilities. You can find more information about when and where to use a mask in Estonia on the kriis.ee website."
Many retail stores, public areas, bars, restaurants, museums, and entertainment venues remain open as long as they comply with social distancing and hygiene regulations.
As far as public events, event organizers must disperse people to ensure social distancing and follow restrictions on the number of participants and room occupancy. Indoor events are limited to a maximum of 750 participants filling no more than 50% of the venue or having clearly marked seats for everyone. Outdoor events are limited to 2,000 participants.
"Many flight, bus, and ferry connections have temporarily stopped or reduced their services — for details about your travel connection, please contact your travel company or service provider," according to Visit Tallinn.
If you're looking for cool ways to use credit card rewards, turning them into cash for a trip to the historical-meets-modern city of Tallinn ranks high on our list of recommendations.
Advertiser Disclosure
CardRates.com is a free online resource that offers valuable content and comparison services to users. To keep this resource 100% free, we receive compensation for referrals for many of the offers listed on the site. Along with key review factors, this compensation may impact how and where products appear across CardRates.com (including, for example, the order in which they appear). CardRates.com does not include the entire universe of available offers. Editorial opinions expressed on the site are strictly our own and are not provided, endorsed, or approved by advertisers.