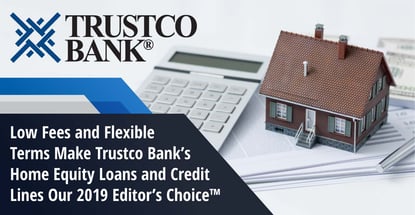 In a Nutshell: For more than 100 years, Trustco Bank has provided a personalized touch to its customers. The institution's home equity loan and line of credit are our 2019 Editor's Choice™ for their low rates and flexible terms. Both products lend up to $300,000 and eschew the appraisal, origination, and closing fees that other lenders often charge. Loans typically close within 30 days.
Life happens.
Unexpected expenses arise and finding the money to pay for life's surprises can end up costing more than you anticipated, thanks to finance charges and hidden fees imposed by lenders looking to benefit from your financial hardship.
And, as many credit card issuers continue to raise their interest rates, you may find yourself stuck in the vicious cycle of making minimum payments, which only exacerbates the problem.
But not every financial institution tries to gouge its customers with rate hikes and hidden fees. Since 1902, Trustco Bank has prided itself on being a neighborhood bank — even as that neighborhood has expanded past its Schenectady, New York, roots and into five states.
Today, Trustco continues its long-standing practice of looking after its customers by offering a line of home equity products that do away with common fees and offers low rates to help consumers pay down high-interest debt or cover a big purchase.
"We've found that sticking to traditional banking principals has allowed us to remain a profitable institution for over 100 years," said Suzanne Breen, Assistant VP of Retail Lending at Trustco Bank. "We treat each customer with respect and greet them by name, which we feel is a big part of our customer service."
Breen noted that Trustco doesn't automate any of its departments, meaning that, when you call the bank with a question or concern, you'll talk to an actual person whose top priority is meeting your needs.
And that can be especially handy if you're deciding between Trustco's two main home equity products. The home equity loan and home equity credit line both offer benefits to consumers who've accumulated equity in their home and want to use it to create some financial breathing room.
Home Equity Credit Lines Up to $300K with Low Rates, No Closing Fees
Consumers who have flexible spending needs may find Trustco's home equity credit line to be just what they need. The line of credit works for first or second mortgages and offers credit limits between $7,500 and $300,000 with a fixed 12-month introductory interest period. After the intro period, the interest rate increases to the Wall Street Journal prime rate.
"The home equity credit line product is something that we try to offer to customers who are looking to consolidate things like high-interest credit card debt or pay for small home improvements," Breen said.
Breen added that some customers take out the home equity line of credit as an emergency fund and don't withdraw from the loan unless they need to. This is especially useful since customers only pay interest on whatever funds they've withdrawn from the loan.
"Another good thing about Trustco is that we don't have any fees for closing on Home Equity products," Breen said. "There are no closing costs and no fees for transactions with the funds from the credit line. It's favorable when compared to credit cards that often have annual fees, cash advance fees, and other charges."
Home equity credit lines allow a draw period of up to 10 years, followed by a 20-year repayment period. Once a payment is made on the account, the available balance increases.
"You can draw upon your account and pay it off and use that available money again," Breen said. "That is similar to a credit card, but typically more affordable."
That affordability is a key factor that separates Trustco's home equity products from credit cards or traditional loans when customers want to consolidate high-interest debt or make a sizeable purchase.
"A lot of banks out there have hidden costs and fees within their loans," Breen said. "We don't believe in that. We don't charge for things like appraisals or credit reports. We also pride ourselves in being able to close loans within 30 days if the customer needs to."
Home Equity Loans Up to 89.5% LTV with Fixed Interest Rates and No Hidden Fees
Home equity loans are typically better suited for borrowers who know exactly what they're going to use the money for, as the loan proceeds are paid out in one lump sum, with interest charged to the entire loan amount.
That's different from the home equity credit line, which allows borrowers to withdraw the approved loan amount in smaller increments over the 10-year draw period and only pay interest charges on withdrawn funds.
"We usually see home equity loans used for covering a large purchase or consolidating existing debt," Breen said. "It's good for customers who just want a fixed payment and one lump sum of cash at closing that they can pay off within their 20-year loan term, which can be between five and 20 years."
That's why you'll often find consumers needing to make larger purchases opting for loans instead of credit lines. Trustco understands the differing needs of these two types of customers and has designed both products to work for their intended borrower.
Trustco's home equity loans have fixed interest rates for both first and second mortgages and lend between $5,000 and $300,000.
As with the home equity credit line, Trustco doesn't charge most of the fees that other institutions tack on — including appraisal and origination fees and closing costs. This helps to keep your overall loan balance down and your payments more affordable.
A Hometown Bank that Takes Customer Service Seriously
So often in today's tech-driven society, financial institutions opt to trade personal contact for quick service. We've become conditioned as consumers to sit through multiple automated prompts when calling banks, credit card issuers, or other service providers in search of a quick answer.
Trustco Bank doesn't believe in robot assistants who never seem to properly respond to your question. For more than 100 years, the institution has put the communities it serves first by providing a dedicated staff that works to meet every customer's needs.
That attention to detail has helped grow the institution from a small town in New York to more than 140 branches in five states with over $4.9 billion in total assets as of December 2017.
"When you call Trustco, you know you'll have an employee there for you who's ready to answer your questions," Breen said. "If you have any issues or questions, there's always someone to talk to, which is nice."
It's also nice when you aren't surprised by hidden fees and charges. Trustco's transparent pricing lets customers know right away what they'll be paying for their loan. While that may seem like a no-brainer, it's not as common as it should be in today's banking world.
If you have existing high-interest debt that needs consolidating or a large purchase looming in your future, Trustco Bank may be your best choice, and that's why it's our 2019 Editor's Choice.
Advertiser Disclosure
CardRates.com is a free online resource that offers valuable content and comparison services to users. To keep this resource 100% free, we receive compensation for referrals for many of the offers listed on the site. Along with key review factors, this compensation may impact how and where products appear across CardRates.com (including, for example, the order in which they appear). CardRates.com does not include the entire universe of available offers. Editorial opinions expressed on the site are strictly our own and are not provided, endorsed, or approved by advertisers.