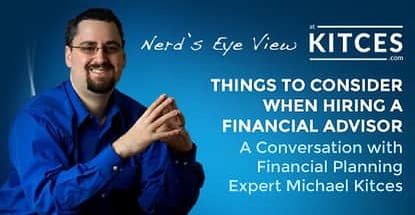 Michael Kitces was named Investopedia's No. 2 financial adviser in its most recent ranking, placing him among the best and brightest in the financial advising industry.
Over the course of his career, he's seen his profession evolve from one that focused on selling products to one that strives to provide rock-solid advice to help clients get the most out of their financial journey.
Aside from his advisory work, Kitces and his team post regular content on his website, Nerd's Eye View, in hopes of empowering consumers with the knowledge they need to make better, more informed decisions.
We recently sat down with Kitces to get his thoughts on the financial advisory profession and what readers should look for when they hire a financial advisor.
Who should consider hiring a financial advisor and what can an advisor help them achieve?
"Broadly speaking, anyone who wants help and advice on a topic in their financial world should consider hiring an advisor. Historically, financial advisors tended to revolve around certain common products in our industry. Many advisors sold insurance and could help you with that. Other advisors managed investment portfolios and would help with that.
In the modern world, the focus is increasingly shifting and broadening into what we now call fee-for-service advisors. These advisors are available to give you advice on just about anything you want advice on. Just like if I had a legal issue, I'd go and hire some time from a lawyer to get advice. Or if I had a tax issue, I would hire some time from a tax advisor to get advice. If I have financial concerns, I hire a financial advisor on either a one-time basis or on an ongoing basis.
Our lives tend to evolve and change in complexity over time. It's natural that we'd want to hire someone who understands our situation and gets to know us over time."
There's a common misconception that financial advisors are only for the wealthy. Can people who are just starting out find an advisor who won't break the bank?
"Absolutely. You're still, at the end of the day, hiring a professional to whom you have to pay some professional fees. But if I'm just starting out, and I need my first will because I have a family now and I have to make sure there's a guardian named for my child, I don't need to hire a lot of time from a lawyer to do really complex trusts and estate planning strategies. I just need to hire a lawyer to help me for a few hours.
The starting point for advisors is similar. You can find advisors now who are available to work simply on an hourly basis. We commonly see fees in the $150- to $250-per hour range, but some are a little less expensive and some are a little more expensive. For that fee, you can take whatever financial issues and challenges you have and get some advice.
Even at that price point, while it's a big chunk of dollars for an hour of time, it's a small chunk of dollars relative to what you might save or what you might improve in your situation. If you can work with someone who helps you figure out how to consolidate a bunch of debt and rework credit cards to save you a few thousand dollars in interest over a year or two, you'll get a 1,000% return on your investment in hiring that advisor.
Whether it's someone who is helping you with figuring out issues with credit card or student loan debt consolidation, getting good career advice, making decisions about employee benefits, or helping you shop for a mortgage, you can save tens of thousands of dollars over a lifetime by having a good advisor who helps you make a good decision."
Where can potential customers find these advisors?
"The good news is that these advisors are increasingly grouping themselves around certain networks and groups of advisors who are doing common approaches. One I would highlight is Garrett Planning Network, which is all advisors who are doing hourly financial planning. If you just want to hire someone and pay them a flat fee for a little bit of their time to help you with whatever you have questions about, Garrett Planning Network is a great place to go.
Another one —and full disclosure, I'm involved with this one — is called XY Planning Network. There are a lot of advisors there who do hourly planning, but a lot of them also do ongoing planning for a monthly subscription fee.
The nice thing about working with an hourly planner is that you can go and explain your situation and get some advice. But there's a challenge where every time you go into a new advisor, you have to explain your situation all over again. It's like when you go to a new doctor and have to tell that person everything you've ever told to prior doctors to get them up to speed.
One of the things we focus on with XY Planning Network is doing financial planning in an ongoing relationship for an ongoing monthly fee. If you want to have a relationship with an advisor who can help you with all the ongoing financial stuff that comes along in life, it can make the process easier and much more efficient since the advisor knows who you are and what you're working with.
I'd also suggest looking into the Alliance of Comprehensive Planners (ACP). They have a particular focus on providing fee-for-service planning that combines planning advice and tax advice. Most of them are CPAs, so if you're looking for an ongoing advisor relationship where you have both financial complexity and tax complexity, ACP is a particularly good fit.
And the overarching association that all of these folks belong to is an organization called the National Association of Personal Financial Advisors (NAPFA). This is an association for a wide variety of fee-only (no commission) advisors. Some are fee-for-service and are charging hourly, monthly, or annual fees and some help manage portfolios and do what we call the assets under management model, which provides help in managing a portfolio with other advice around it as well."
What kind of information can readers find on your website, Nerd's Eye View?
"There are two things we cover on Nerd's Eye View. I'm a believer in empowered consumers who should have education and understand what they're getting into. As a result, we write a lot about planning strategies directly on our website. Whether you're looking for ideas on why it's sometimes bad to consolidate student loans, when to take your Social Security, or anything in between, we provide a lot of that content directly to consumers.
If you're the type who wants to read it all and figure it out for yourself, we're going to give you that content. We'll help as many people as we can help.
The other part of what we do on Nerd's Eye View is we really try to champion the advisors who are focused on this fee-for-service advice. We actually produce a lot of content for advisors about how to run a successful business and unhinge from our industry's tradition of having to sell products in order to help people with their finances. That method has all kinds of conflicts associated with it.
That's a very active debate within financial advisor circles today, and one that I try to take an active role in encouraging advisors to come over to the side of getting paid for their advice and focusing on nothing more than giving good advice to consumers without being tied to all the conflicts that come with selling products."
Advertiser Disclosure
CardRates.com is a free online resource that offers valuable content and comparison services to users. To keep this resource 100% free, we receive compensation for referrals for many of the offers listed on the site. Along with key review factors, this compensation may impact how and where products appear across CardRates.com (including, for example, the order in which they appear). CardRates.com does not include the entire universe of available offers. Editorial opinions expressed on the site are strictly our own and are not provided, endorsed, or approved by advertisers.