In a Nutshell: You won't find anybody yelling at you or shaming you about your money on the Stacking Benjamins podcast. In fact, you may not even think you're learning anything about money. And that's just how Co-Host Joe Saul-Sehy and OG want it. Their podcast brings the science of play into the world of finance with a diverse and humorous show that is as silly as it is informative. Taking a cue from one of his favorite NPR shows, Car Talk, Saul-Sehy and the gang deliver a weekly variety show revolving around financial topics — but always with a laugh. Saul-Sehy also shared a few personal finance tips with us about how to approach credit card usage.
Joe Saul-Sehy was mowing his lawn and listening to one of his favorite podcasts (about board games, if you must know) when he had one of those a-ha moments that solidified his career trajectory for the foreseeable future.
Saul-Sehy had spent years working as a financial planner, and at 40 years old, he decided to leave all that behind to become a high school teacher. But while he was prepping for his new career as a teacher, he was writing scripts and taking on other tasks for his friends in financial media.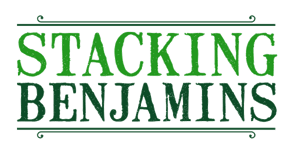 Then, he realized he was making more money doing these side jobs than he would make as a first-year teacher. And that's when the a-ha moment came.
Saul-Sehy was a longtime fan of NPR's "Car Talk" radio show, hosted by brothers Tom and Ray Magliozzi — better known to "Car Talk" fans as Click and Clack. The show was ultimately about vehicle repair, but its appeal was in its humorous approach to the topic and the silliness and engaging chemistry between the two hosts.
"I realized that I love 'Car Talk', but I don't feel like I'm actually learning anything about a car," he said. "And, all of a sudden, I realized what I wanted to do. I wanted to have a show where you don't really learn anything about finance. You're enveloped in the culture and having fun with the culture, instead of somebody yelling at you about money."
That's how Stacking Benjamins was born in the soon-to-be-cut grass of Saul-Sehy's yard.
But Saul-Sehy said he does put a lot of stock in the science of play, and he believes when people are playing, they are also learning. And he said, when he thinks a little deeper about the years he had spent being entertained by 'Car Talk,' he realized that the show had actually taught him quite a bit about cars although he didn't feel like he was learning.
"So, we really buckle down and study the science of play to make Stacking Benjamins as playful as possible, but at the same time, make sure we're teaching people about responsible money management," Saul-Sehy said.
What to Expect on a Typical Episode: Guests, Listener Questions, and Plenty of Humor
Saul-Sehy said Stacking Benjamins is presented in a magazine format in which he and Co-Host OG (The Other Guy) facilitate four to five different segments per episode, with each episode being a little over an hour long.
"I think the episodes that are most telling about what we do is when we're a variety show at its finest," he said.
The duo records the show from Saul-Sehy's mom's basement and welcomes new listeners to their subterranean podcast home and encourage them to become "basement dwellers" themselves by joining the podcast's Facebook group.
Saul-Sehy discussed the range of guests as examples of how the podcast approaches money from an alternate perspective than many other finance-oriented shows. Stacking Benjamins not only features known finance experts but other recent guests have included Robert Wilson — the author of a biography of P.T. Barnum — and Frankie Celenza — the host of "Struggle Meals," a TV show about cooking on a budget.
"When we first started the show, before we got the reputation for being all over the place, people would say 'What does this have to do with money?'" Saul-Sehy said. "We talk about taxes and budgeting — those are fine — but if I can talk to a chef about saving money on food while making it taste great, or talk to someone about how P.T. Barnum became such a folk hero, I'm going to learn lessons like that all day long."
Despite the silliness that can abound in the Stacking Benjamins basement, the show's goal is to promote financial literacy and Saul-Sehy does not lose sight of that.
"While it may seem like Joe, OG, and the gang are messing around, we're all actually deadly serious about financial literacy," according to the show's website. "Literacy rates around the world are dropping, and this podcast is meant to help foster much-needed conversations about money."
Rather than being the final say on finance topics, the podcast aims to use the science of play to provide a warm, approachable setting for discussing finance. Ultimately, Saul-Sehy hopes to introduce listeners to a wide range of financial topics and concepts so they can go educate themselves even further.
Personal Finance Tips from Joe
Although we cover the spectrum of financial topics here at CardRates.com, we still like to focus on credit cards every chance we get. So, we couldn't let Saul-Sehy go without asking him about a few credit card-related tips as well as other personal finance advice.
He recalled a discussion on credit cards he had on the show recently with Ramit Sethi, the author of "I Will Teach You to be Rich." He said they both agreed that there is nothing wrong with the Dave Ramsey approach of having no credit cards, but sometimes — like if you're running a business — a person may need to hold some responsible debt.
"You're also going to want to have tools that allow you to grow. And a credit card is a tool," Saul-Sehy said. "You can learn to use the tool effectively or completely avoid it. And for me, I think I'm strong enough that I can use the tool effectively and take advantage of what credit cards have to offer."
He said one of the most important things to do when dealing with credit cards is to really know yourself and develop systems to manage your money. Once you understand yourself and have a system in place, then you can use credit cards very effectively, he said.
The Stacking Benjamins Creed:

Personal finance is personal. We're all trying to stack.
We all have different opinions about money. We can discuss our differences without being obnoxious with each other.
Everyone doesn't start at the same place with money. We'll explain the basics AND talk about more advanced topics.
There's nothing embarrassing about money. Let's talk about our wins and losses, so we can all learn from them.
Fun and play beats preaching any day, brother….any day.
Surround sound, not education.
Saul-Sehy also said that, with so many credit card perks and rewards available, people tend to forget about the simple protections the cards can offer.
A recent Stacking Benjamins guest purchased a new Apple computer and it accidentally got wet, Saul-Sehy said.
"It was during that initial period right after he bought it — he just called his credit card company and bam, it was all taken care of," he said. "Knowing the fine print of all the cool things your credit card has attached to it is definitely a way of winning with your card."
Saul-Sehy said credit card users should be very aware of their credit card purchases leading up to the holiday season.
"In January, we usually talk about doing a debt cleanse for everybody who overspent and is wondering how to clean up that debt," he said.
Money With Friends is a New Spinoff Podcast
Saul-Sehy said financial news headlines are always packed with far more information than he and OG can cover on Stacking Benjamins, so he launched a spinoff podcast, Money (with Friends), with Co-Host Bobbi Rebell.
"We look at current headlines and talk about them, talk about what they mean to you and your money. It's only about 15 minutes long but it's six days a week," he said. "And we don't really edit it, which is half the fun because we might say something incredibly stupid and that's going to stay in the show."
So whether you're looking for a quick, daily infusion of humorous discussions around finance or weekly, more in-depth humorous discussions around finance, Saul-Sehy has you covered between Money (with Friends) and Stacking Benjamins.
Advertiser Disclosure
CardRates.com is a free online resource that offers valuable content and comparison services to users. To keep this resource 100% free, we receive compensation for referrals for many of the offers listed on the site. Along with key review factors, this compensation may impact how and where products appear across CardRates.com (including, for example, the order in which they appear). CardRates.com does not include the entire universe of available offers. Editorial opinions expressed on the site are strictly our own and are not provided, endorsed, or approved by advertisers.