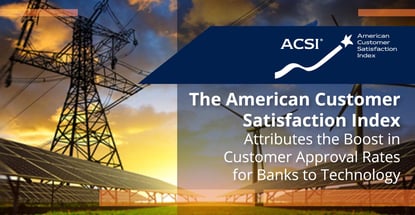 In a Nutshell: The American Customer Satisfaction Index (ACSI) is the only organization of its kind assessing consumer satisfaction levels across multiple industries in the U.S., including finance. The organization's 2018 data revealed that satisfaction is increasing in the financial sector as a whole, and specifically among banks. ACSI's Managing Director David VanAmburg chalks up the increased satisfaction levels to technological advances like online banking and mobile apps that deliver convenience to customers. The ACSI obtains its data through customer surveys which are used in a multi-equation econometric model developed at the University of Michigan's Ross School of Business. The organization's next big focus will be mobile apps, which are becoming an increasingly important part of the customer experience in many industries.
Despite what my internet service provider thinks, customer satisfaction is extremely important. Not only does it (obviously) lead to happy customers who feel good about the company, but customer satisfaction can also actually increase a business's bottom line.
For decades, businesses did not have a reliable, scientifically backed method for measuring customer satisfaction. Focus groups, in-house surveys, and interviews provided some sense of satisfaction levels but the information was subjective and not supported by proven data models.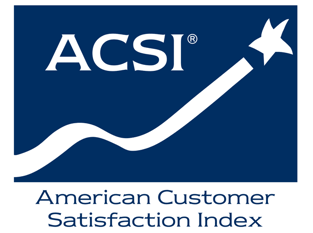 Since 1994, the American Customer Satisfaction Index (ACSI) has been providing insights on customer satisfaction levels across numerous industries, including the vast world of finance.
The organization looks at issues on customer satisfaction with banks, credit unions, internet investment, and financial advisors. It also includes insurance in the same category, providing customer satisfaction ratings for life insurance, and property and casualty insurance.
ACSI's most recent data, released in late 2018, revealed positive news for banks and the financial sector as a whole. Customer satisfaction with the finance industry is at the highest it's been in the 24 years ACSI has been measuring it.
"One of the biggest trends we've noticed in recent years is that satisfaction with banks has been on the rise," said David VanAmburg, ACSI's Managing Director. "It's one of the more improved areas in ACSI and more improved than any of the others in financial services."
We recently spoke with VanAmburg to learn more about the factors that have contributed to this increased satisfaction level among banking customers and in the financial sector as a whole. We also learned about ACSI's methodology and efforts that go into obtaining its ratings.
ACSI Data Reveals That Satisfaction Levels Are Higher Than Ever For Bank Customers
ACSI's 2018 data showed a 1.4% increase in bank customer satisfaction with a score of 78.3 on its zero-to-100 rating scale.
"This score also marks another milestone: Banks are now even with credit unions in customer satisfaction for the first time in a decade," according to an ACSI press release.
VanAmburg said the past five years have been a particularly positive time for banks as they have been on a steady upswing during that time.
The dominant factor for the uptick seems to be the impact of recent technological developments, he said.
"A lot of industries, like hotels and airlines, have embraced mobile apps and other technology, VanAmburg said. "But the banks have really been able to leverage technology in a more efficient, much faster, and much more user-friendly way for consumers in recent years."
Before the digital revolution, a bank customer would have to go to an ATM or branch or call a phone number to check their account balance, he said. But today, they can simply log in to their bank's website or mobile app and immediately see their balance.
"You can transfer money any time of the day or night, quickly get a snapshot of your finances, or whatever the case may be, right at your fingertips," VanAmburg said. "And with mobile apps, people can now deposit checks right through the app and never have to go to a drive-through window, let alone step inside a branch."
He said these are the types of innovations that have had a positive effect on how customers perceive their banks in recent years.
While bank satisfaction rates are up — and on par with credit unions for the first time ever — credit union satisfaction rates are slightly lower than before. Again, VanAmburg attributes this slight change to banks stepping up their game compared to previous years. He recommended that credit unions become more competitive by offering lower rates, providing more financial services, and making it easier to open or change accounts.
Data is Based on Consumer Interviews Using a Scientific Model Developed at the University of Michigan
VanAmburg said the ACSI contacts consumers with broad screeners to determine what kind of brand and industry experiences they have had recently, then it narrows down the most relevant response to move on to more industry-specific questions.
"We're not just asking people what company they bank with," he said. "Initially, we're asking if they have a bank account, if they have flown on an airline recently, if they have purchased shoes recently."
The eligible respondents advance to detailed questions about their recent engagement with particular industries.
The ACSI then applies the information obtained through its customer interviews to a multi-equation econometric model developed at the University of Michigan's Ross School of Business.
"The ACSI model is a cause-and-effect model with indexes for drivers of satisfaction on the left side (customer expectations, perceived quality, and perceived value), satisfaction (ACSI) in the center, and outcomes of satisfaction on the right side (customer complaints and customer loyalty, including customer retention and price tolerance)," according to the ACSI website.
VanAmburg said it has been interesting to observe how the satisfaction drivers have evolved in the finance industry over the years.
"We're seeing the digital aspects of the experience, like website satisfaction and mobile apps, becoming more important than more traditional forms of customer service, like satisfaction with in-person experiences or call center satisfaction," he said.
In some cases, the sample sizes for traditional satisfaction indicators are not large enough to study, VanAmburg said. It may be the case that not enough respondents have had an in-person banking experience or had to deal with a call center any time in recent months.
The Institute Covers a Wide Range of Industries
The ACSI provides the only nationwide cross-industry measurement of customer satisfaction in the U.S.
"The Index measures the satisfaction of U.S. household consumers with the quality of products and services offered by both foreign and domestic firms with significant share in U.S. markets," according to the ACSI website. "The ACSI benefits business, researchers, policymakers, and consumers alike by serving as a national indicator of the health of the U.S. economy, as well as a tool for gauging the competitiveness of individual firms and predicting future profitability."
The organization surveys approximately 300,000 consumers each year about numerous products and services. The data is used to provide customer satisfaction ratings for more than 400 companies in 46 industries and 10 economic sectors. Ratings also cover services provided by federal and local government agencies.
The results of ACSI's surveys are related to numerous indicators of micro and macroeconomic performance.
"At the micro level, companies that display high levels of customer satisfaction tend to have higher earnings and stock returns relative to competitors," according to the ACSI website. "At the macro level, customer satisfaction has been shown to be predictive of both consumer spending and gross domestic product growth."
VanAmburg said ACSI publishes reports on its findings and also distributes information via the organization's blog, press releases, and social media pages.
He said the organization is turning more attention to mobile apps in the future since they are such a large component in the customer's experience today.
"It's really kind of our biggest new thing," VanAmburg said. "We'll continue to be talking about apps, and not just industry by industry. We'll be doing comparisons to see which industries are doing better than others."
Advertiser Disclosure
CardRates.com is a free online resource that offers valuable content and comparison services to users. To keep this resource 100% free, we receive compensation for referrals for many of the offers listed on the site. Along with key review factors, this compensation may impact how and where products appear across CardRates.com (including, for example, the order in which they appear). CardRates.com does not include the entire universe of available offers. Editorial opinions expressed on the site are strictly our own and are not provided, endorsed, or approved by advertisers.