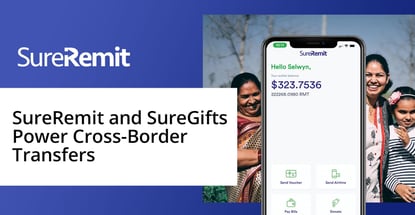 In a Nutshell: People who live and work outside their home countries often search for fast, affordable ways to send money to loved ones back home. Nigeria-based SureRemit pioneered a way to transfer non-cash value that improves on conventional wire transfers through direct payment relationships with merchants. Along with its sister company SureGifts, which developed the digital gift card model on which the system is based, SureRemit leverages the latest technology to encourage global financial integration.
Individuals in developing nations worldwide have long been underserved by traditional banks, so they now turn to mobile-based fintech solutions. Those products help them transact in their local markets and manage and invest their assets.
Expats living and working abroad often use mobile apps to affordably and conveniently send money back home to friends and family members in their home countries. Those foreign remittances contribute significantly to growth in these markets, and technology can address pain points associated with conventional wire transfers.
Cross-border remittances have a significant impact on the economies of many nations. People living in Africa and Asia often rely on emigrants living and working in Europe and North America to transfer support home.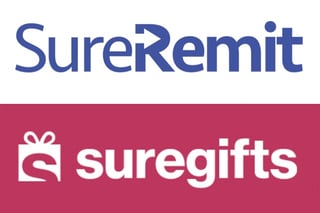 Expats often want to ensure that the value they're sending — often to parents and elders — is protected from theft, fraud, and exploitation.
Nigeria-based SureRemit solves those problems by eliminating the need to use cash for cross-border transfers. The company also improves upon the efficiencies associated with cash fintech remittances.
SureRemit builds on merchant partnerships established through its sister company SureGifts, which has operated a digital gift card service in Nigeria and Kenya aimed at individuals and corporations since 2014. SureRemit leverages that gift card infrastructure to transfer vouchers directly to merchants and billers.
"It's a different use case for gift cards," SureRemit Global Venture Developer Selwyn Paehlig said. "And expats can know that the money they send home is being spent just as they intended."
Delivering Gift and Loyalty Cards to African Consumers
SureRemit evolved from the merchant payment partnerships formed through SureGifts, Paehlig said. In-country merchants that take digital payments partner with SureGifts to accept what are, in effect, digital gift card vouchers.
Businesses purchase and distribute these vouchers to employees and partners as rewards. The digital gift cards are also part of their customer loyalty programs. SureGifts corporate gifting products can be co-branded and delivered physically or digitally via the app with no minimum order or setup fee.
"It's a large platform, and we have a lot of domestic merchants — and even global enterprises — that use SureGifts for staff rewards and bonuses," Paehlig said.
Individual consumers can also purchase the cards.
"Big corporations like KPMG and Coca-Cola buy the cards in bulk," Paehlig said. "But the principle is exactly the same when they're used on a personal basis."
SureGifts has diversified its product offerings and built partnerships and functionality to enable individual givers to pay someone's bills or add mobile airtime to their accounts. Vouchers can be swapped, merged, split, and deactivated. Businesses and individuals can conveniently monitor their account history from a mobile device.
SureGifts also operates a wedding registry that supports an invite and cash-out system.
"We know it's the thought that counts, but it won't hurt getting that thing you've always wanted instead," SureGifts says in a post on its website.
Paehlig joined SureRemit in 2017 to work with the founders of SureGift and extend the use cases for its voucher model. Two key strategies have been integral to that ongoing process: building out merchant partnerships internationally and incorporating technology to efficiently power voucher transactions across borders.
Send Vouchers and Non-Cash Transfers to Merchants
Paehlig said he and his colleagues aim to ensure the solution works everywhere to support the countries where SureGifts already operates.
SureRemit transfers value digitally, so it works wherever merchants incorporate digital payment infrastructure. End users don't manipulate the digital tokens that enable the system. Instead, they transact directly with vendors via the intuitive SureRemit app in currencies they're accustomed to using.
Senders save money and time, and recipients don't have to travel, wait for funds, or potentially become fraud or theft victims. All that parties need on both sides of the transaction is a mobile device or email address.
SureRemit provides low-cost remittance services to consumers who are underserved by traditional solutions. And it aims to increase financial flexibility for individuals and families everywhere.
Watch on
"With SureRemit, the whole foundation is that it's expensive to send money abroad the traditional way," Paehlig said.
Unlike other wire transfer alternatives that work with cash, recipients receive a voucher that a specific merchant partner can scan.
"We figured if you can send money from Europe or the U.S. to your mother or grandmother who lives in Nigeria, then you can send a voucher," Paehlig said.
The process is simple. The app enables senders to approve direct requests from recipients and remit funds almost instantly, all while earning rewards points. Seamless bill pay and mobile airtime refills carry over from SureGift as well.
"It's practical in a lot of ways," Paehlig said. "Through our relationships with pharmacies in Nigeria and Kenya, you can even pay for your loved one's medication as opposed to just sending cash."
SureGifts and SureRemit: Working Toward an Ecosystem for Global Value Exchange
The SureRemit network includes more than 1,000 individual merchant and financial partners in Africa, Asia, Europe, and North America.
In keeping with the company's mission of service, use cases for the technology now allow users to make donations. Senders can connect directly with charity partners, as well, and more are always being added.
"We want to set up the charity part so that the smallest schools in the smallest villages in the most remote areas of the world can have their supplies funded," Paehlig said. "We want to make giving transparent so that every dollar you send is used to buy school supplies instead of only 20% reaching the school and the rest vanishing into thin air."
Accomplishing that along with other goals will depend on corporate logistics that would also allow for incorporating into the system card payments and remittances of physical products. Planning is underway to integrate the SureGifts gift card platform and SureRemit.
"Merging the two platforms could result in the largest gifting platform in the world," Paehlig said.
The recent partnership between SureRemit and a Nigerian bank with a global footprint embodies that goal.
"They're using our platform to reward clients. When they use the bank, they earn points, and they can spend those points on gift cards on our platform," Paehlig said. "So that's local but also international gift cards, which is interesting because we see an increase in gift cards for businesses like Amazon and Uber."
Behind it all is a mission that will always remain important: ensuring that loved ones receive and benefit from money sent from abroad.
"There's a demand for our services," Paehlig said. "You want to know that, if you support your family, you're supporting them in a way that's needed."
Advertiser Disclosure
CardRates.com is a free online resource that offers valuable content and comparison services to users. To keep this resource 100% free, we receive compensation for referrals for many of the offers listed on the site. Along with key review factors, this compensation may impact how and where products appear across CardRates.com (including, for example, the order in which they appear). CardRates.com does not include the entire universe of available offers. Editorial opinions expressed on the site are strictly our own and are not provided, endorsed, or approved by advertisers.