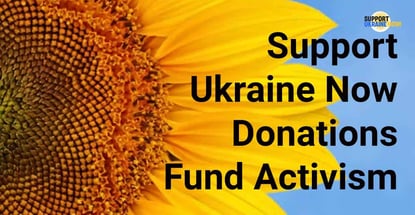 Our experts and industry insiders blog the latest news, studies and current events from inside the credit card industry. Our articles follow strict editorial guidelines.
In a Nutshell: On the day in February 2022 when Russia invaded Ukraine, a few activist friends needed a platform to address immediate issues. A day later, friends of friends were adding links and forming the first grassroots networks. Support Ukraine Now quickly grew into an ecosystem of international support. Donations support 50 vetted social initiatives in Ukraine through the SUN Leaders Program. The site also points to hundreds of country-specific resources and acts as a nexus for diverse Ukraine-related projects in the civil sector, economy, diplomacy, and welfare.
Everything changed for Diana Daiub and some of her friends on the day Russia invaded Ukraine in February 2022. The modernizing Ukraine they loved, the country implementing reforms and building for the future, was suddenly enmeshed in a backward-looking war that was surprising only for its audacity.
Daiub, a management professional born and educated in Ukraine's capital city of Kyiv and living in Lebanon, was part of an international youth network, Global Shapers, created by the World Economic Forum to engage global youth in decision-making. She and her friends gathered at a Global Shapers hub in Kyiv.
Hubs operate as small volunteer communities where public- and private-sector leaders, creatives, media pros, and others work together to implement beneficial local and national projects on an as-needed basis. The Kyiv group consisted of friends as well as co-volunteers. When the full-scale invasion started, they created a group chat for the Global Shapers in Ukraine.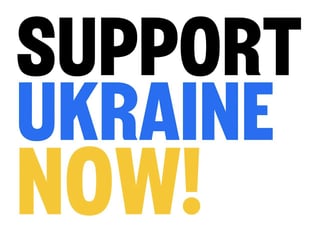 They instantly realized the need for an extended hub for war-related information as friends and colleagues reached out from around the globe. Daiub posted a compendium of donation initiatives from Lebanon on Day Two of the invasion.
That page formed the genesis of Support Ukraine Now, which Daiub helped found in the days following the invasion. What started as an informational hub for a group of activists from Kyiv soon grew into an international resource network to support Ukrainian social initiatives and businesses, promote Ukraine's national image, and assist people displaced by the conflict. Support Ukraine Now also marshalls direct support for social projects and young leaders working to rebuild and transform Ukraine.
"We listed local organizations in various countries so people could volunteer and bring aid locally," Daiub said. "Somehow — organically — our website started growing."
Crowdsourcing Support Where It's Needed Most
Before long, Daiub left her job and began living off savings. A large and growing volunteer team refined and extended the site. Soon, people from many countries, who didn't know who else to contact, were reaching out with specific offers of help.
Those included a museum official with an idea to host Ukrainian art to protect it from destruction and a hospital official in Portugal who wanted to supply medicine with a specific use case in Ukraine.
"We started coordinating help behind the scenes," Daiub said. "That's when the site became an ecosystem for humanitarian projects."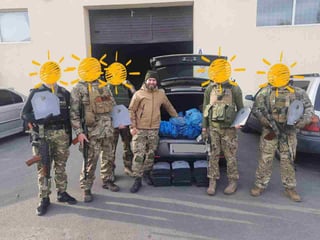 By then, the team had assembled more than 100 international volunteers on the ground and online, all working together. One pipeline generated several bulletproof vests after the team learned of the need for protective gear among Ukrainian civil defenders and volunteers. Then they found out one of the vests they purchased saved a life.
After that success, they started a crowdfunding campaign that has raised more than 50,000 euros as of April 2023, enough to purchase nearly 200 vests. Support Ukraine Now assures protection for hundreds of Ukraine volunteers in harm's way.
A 1,500 euro donation from the international social justice nonprofit Humanity in Action enabled another project, proving that even small contributions make a difference. Donation recipients listed on Support Ukraine Now welcome individual donations of all sizes.
The Humanity in Action funds went toward creating visuals and text for a mental health support channel on the Telegram messaging platform. On a larger scale, Support Ukraine Now facilitated a 100,000 euro donation organized by the Global Shapers Munich Hub from the Munich City Council in Germany to pay for medical supplies.
"It makes you feel you're doing something meaningful," Daiub said. "But it's bittersweet because you understand the level of danger there."
Transition to Global Aid Partnerships
Ukraine's national flower is the sunflower, and Ukrainians planted sunflowers after the Chernobyl nuclear disaster in 1986 to detoxify the environment. The sunflower took on more significance as a symbol of resilience as the war continued. Sunflowers signify that every seed matters at Support Ukraine Now, expressing the organization's commitment to projects of all sizes.
"That's also the logic on our website because there are so many different ways you can help," Daiub said. "You can donate, but you can also share information, sign petitions, arrange to attend protests, and even host a refugee. Every tiny bit helps."
Evidence linked on the Support Ukraine Now home page is ViBURNUM, a Spotify playlist presenting "songs old and new representing the sheer culture, talent, and sonic landscape of Ukraine."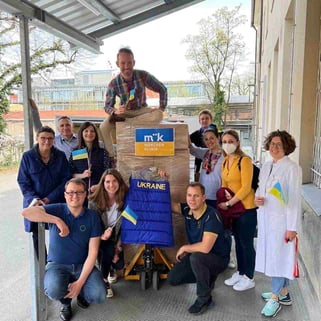 Resilience at Support Ukraine Now meant pivoting as the aid landscape around the war matured, and large organizations such as the UN and the Red Cross got involved. The need for quick, targeted assistance from Support Ukraine Now began to recede somewhat as war aid grew more systematic.
Daiub and the team planned next steps based on Ukraine's experience in 2013-14 during its Maidan Revolution. Ukrainians expelled the government and restored a democratic constitution but lost momentum almost immediately due to Russia's 2014 annexation of Crimea (officially part of Ukraine but culturally distinct).
Daiub and her team reflected that if leaders had directed more attention to cultural education, critical thinking, and media literacy during that revolutionary period, fewer Ukrainians in the Crimea region might have been receptive to Russia's message.
"There was a big boost in development in 2014 but no focus on where we go from here," Daiub said. "It's good there are institutions taking care of emergency relief, but someone else has to take care of the long-term issues."
Nurturing Leaders to Rebuild and Transform Ukraine
Support Ukraine Now's vehicle for doing that is the SUN Leaders Program. Young leaders 18-30 years old receive support to rebuild and transform Ukraine. Projects conform to UN Sustainable Development Goals (SDGs) for good health and well-being, quality education, decent work and economic growth, reduced inequalities, and sustainable cities and communities. The Program is implemented together with a partner organization Leaders Fund, founded by Future Development Agency in Ukraine.
Recipients receive a 500 euro monthly scholarship, as well as access to mentoring, educational resources, and a network of experts.
"We support local organizations in Ukraine that work in healthcare, education, city development, equality, entrepreneurship, and EU integration," Daiub said. "We believe connecting our work to UN SDGs is important to help our country develop and strengthen."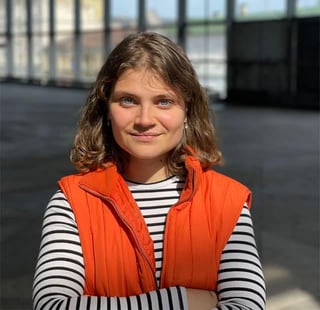 Daiub and Support Ukraine Now are seeking business sponsorships and writing grant applications to diversify funding sources and push the SUN Leaders Program forward. At the same time, they continue to pursue crowdfunding opportunities and act as an information and donation hub for the Ukrainian cause.
As of spring 2023, Daiub works full-time as Support Ukraine Now's Co-Founder, working on team management and strategy and as the SUN fund lead. Support Ukraine Now is a registered nongovernmental organization with a mission to help see Ukraine through the war onto a path of modernization, democratization, and EU integration.
Predictable finances enable Support Ukraine Now to reach out to donors and support constituencies with effective program materials that communicate the organization's enhanced intention. It's reaching out to visitors and networks to complete the mission — one euro or any other currency at a time.
"We tell our contributors that even 1 euro helps because one plus one plus one ends up buying a bulletproof vest," Daiub said. "It reminds me that we're all in this together, and it's important to remember that."