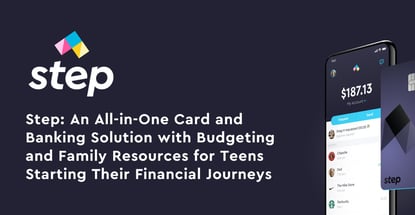 In a Nutshell: Credit and banking products that leverage mobile technology to teach teens about financial independence are in high demand. And that enthusiasm has led to an extensive wait list for the Step platform, an all-in-one card and payments solution built with families and teens in mind. Step's secured spending card helps middle and high schoolers get an early start on building credit and learning financial responsibility. And parents can integrate their existing bank accounts with the Step platform to monitor and guide their kids along the way.
As any parent can tell you, growing up happens in stages as children gradually cultivate the knowledge and confidence they need to make it on their own.
Developing a sense of financial responsibility is a big part of that growth process. Parents who teach their kids how to handle money go a long way toward helping them reach their full potential.
Children who learn to manage their own finances while they're living at home have a better chance of staying solvent when they finally leave the nest.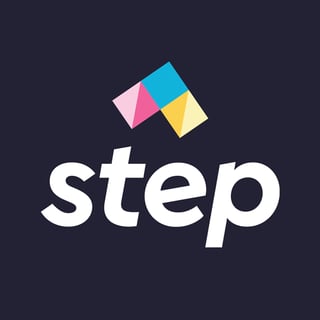 The problem is that most big banking platforms don't help enough. They may do a good job of providing digital and mobile tools for individual account holders, but they lack the products and integrations that parents need to help their kids manage finances.
That is why there's so much demand for entry onto the Step platform. Step offers a secured spending card to help kids learn about money and personal finances while their parents manage and monitor their progress through integrated accounts. Over 500,000 people have joined the Step wait list, with thousands already enjoying early access and the platform scheduled to open to the general public in summer 2020.
"When you go off to college and open up a credit card, they start you at ground zero because you have no history," Step Founder and CEO CJ MacDonald said. "We start that learning process earlier to guide them and teach them the dynamics of money."
Secured Card Architecture Prevents Costly Mistakes
According to MacDonald, American college students paid more than $1 billion in overdraft fees in 2019. That's why familiarizing middle and high school-age kids with the mechanics of bank accounts and card use can have a significant financial impact.
"Schools don't teach kids enough about money, and most families don't talk enough about it," MacDonald said. "And there are more than 35 million teenagers in the U.S."
When kids aged 13-17 do gain access to a secured account from one of the big banks, all too often, they put themselves in the same position as their college-age peers, only earlier.
"It's a little bit outrageous to charge a 13-year-old who doesn't have any money a $15 monthly fee just to have a checking account to store $100," MacDonald said.
With no overhead for branches, ATMs, or tellers, Step reaches that prebank demographic with a fee- and penalty-free service. It combines a secured Visa spending card tied to a no-minimum-balance deposit account along with Venmo-like payment functionality and integrations with both Apple Pay and Google Pay geared toward the under 18 market.
"One problem with debit cards is the overdraft fees — Step is a secured card tied to your deposit account," MacDonald said. "You cannot spend more than what you have in your Step account."
Meanwhile, payment apps like Venmo and Cash App require an underlying bank account and are legally limited to adult use. Supported by interchange fees, the FDIC-insured Step puts all the puzzle pieces together in a comprehensive package that fits a teenager's lifestyle.
"Obviously with this younger generation, everything's done on their phones," MacDonald said. "We just see a massive opportunity to start early and grow with the consumer."
Helping Users Build a Transparent Foundation for Financial Independence
Step achieves state-of-the-art usability with instant money transfers, real-time notifications, and app-based card locking and unlocking while working everywhere Visa is accepted.
And the totality of that in-hand experience, MacDonald said, is foundational to Step's commitment to moving teens forward on their financial journeys.
Parents and other adult guardians act as account sponsors for Step users ages 13 to 17, enabling mutual account oversight in all its implications.
"I grew up on cash, and it was money in, money out," MacDonald said. "I'd need $20 to go to the movies, and my Mom would give it to me, and I'd run off. And then the next day she'd ask for the change, and I'd be scrambling."
Leaving behind that cash-based world in favor of a digital ledger also opens up the potential for conversations about spending and budgeting.
"It becomes a platform where parents can sit down and review how much was spent last month at Starbucks, how much was spent on Fortnite, and how much was spent at Nike," MacDonald said. "That's great, but imagine if you cut that in half?"
On the horizon for Step are more granular controls for account sponsors that, for example, will enable them to set interest rates on savings thresholds. There are also opportunities to insert educational and training content to help young users navigate the challenges of learning to control what they spend.
"Eventually, we see a world where we actually gamify financial literacy to teach you and make you want to learn and be competitive with your peers," MacDonald said.
Step: A Family Banking Solution that Integrates with Existing Accounts
Step allows parent sponsors to access all of its features without adjusting their established financial relationships. And Step's ease-of-use features make it a more convenient integration platform than established alternatives.
"We don't expect parents to switch to Step — we expect then to stay where they are for now," MacDonald said. "They link their established accounts to Step to fund money in and do things like allowances or transfers."
Teens can make deposits from pre-established accounts as well or set up direct deposit.
Also, parents can granularly oversee multiple users and manage expenses from an individual or family standpoint.
It all adds up to a platform that's in it for the long haul. As it invites new users to transition from its wait list, Step is also taking care to build the brand recognition and trust it will need to grow as its user base expands.
"This is people's money we're talking about — we're not a social network, and we're not a game," MacDonald said. "We're talking about sensitive information, trust, security, and stability are all things that are extremely important to us, and we take them very seriously."
And Step strengthens its positive message through an experienced and passionate team and a prominent and committed investor base, including payments pioneer Stripe. Teens are responding, too, as thousands have signed up to participate in the Step Squad, a student ambassador program that rewards users for sharing and using the app.
"They've found it organically," MacDonald said. "As we really get that in motion on middle school and high school campuses, we think there's just a huge opportunity."
Advertiser Disclosure
CardRates.com is a free online resource that offers valuable content and comparison services to users. To keep this resource 100% free, we receive compensation for referrals for many of the offers listed on the site. Along with key review factors, this compensation may impact how and where products appear across CardRates.com (including, for example, the order in which they appear). CardRates.com does not include the entire universe of available offers. Editorial opinions expressed on the site are strictly our own and are not provided, endorsed, or approved by advertisers.