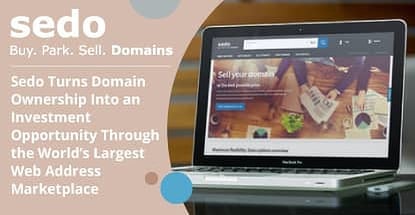 In a Nutshell: Buying a web domain might seem like an unconventional investment strategy, but numerous opportunities exist for trading online addresses. Sedo, the world's largest domain marketplace, helps domain owners auction off or sell prime digital real estate to eager buyers, who either plan to start a new site or hold on to the investment. Sedo, which stands for Search Engine for Domain Offers, is an online marketplace listing more than 18 million addresses and providing services like appraisals, auctions, and brokerage. The platform helps sellers maximize their listings, while giving would-be site starters access to several methods for purchasing domains.//
Senior Sales & Brokerage Consultant for Sedo, Dave Evanson, has been in the industry since 1999. He made his first domain purchase after wrapping up a PowerPoint presentation covering investment tools at a brokerage firm he was consulting for at that time.
It occurred to him during the presentation that there was a gap in the online market for folks with inheritances, who were in need of advice on investments and taxes. He bought Inheritance.com and soon began to recognize the monetary value of owning domains.
"Some buy a [domain] because they want to build a new website, and they need a new name," Dave said. "Some have a name, and they want a better name. Some want to monetize, and they park their name."
Dave purchased 5,000 domains that year on subjects ranging from insurance and financial services to automotive. In 2008, when the economy crashed, he shut down his consulting company to go into domains full time. Two years later, he arrived at Sedo — an online marketplace where site owners deal domains to the highest bidders, often to buyers who need the addresses for branding purposes.
"The industry is not as widely known as jewelry or stock, but domains are a real option," Dave said. "There haven't been any alternative investments that have risen as dramatically as domains."
And Dave would know. Named Domain Broker of the Year three times (2012, 2014, and 2016), he's brokered more high-value domain sales than anyone else in the space.
In the early days of the Internet, registering a good domain name was easier and cheaper because so many web addresses were readily available. These days, however, most of the sought-after domains are already taken. Hosting the world's largest selection of secondhand domains, Sedo helps customers search for prime alternatives when their domains of choice are already occupied.
On the flip side, early investors of domains have a platform to auction off their acquisitions. Many prefer to allow their site names to grow in value before selling. When the price is right, Sedo provides multiple sales methods, trend reports, valuation tools, and access to an expert team of professional domain brokers.
How to Build a Domain Name Portfolio
Building a solid domain portfolio takes time. It involves looking at domain name trends and overall market trends to make predictions about which names will be valuable down the road.
Crunching numbers and finding the best deals on domains involves a fair amount of research. Some people buy up hundreds, even thousands, of domains, while others purchase high-profile domains in hopes that they'll appreciate over time. Some do a bit of both. Of course, prices fluctuate, but by following some basic guidelines and paying attention to trends, owners can make the most out of their investments.
"Domains are very easy to purchase — some domains have been registered, used, or held by individuals for years," Dave said. "Those domains can be purchased — either a broker can help you get one, or you can find one listed in the marketplace. You can buy online, or you can buy through a broker."
For those unacquainted with the domain buying process, Sedo's team of brokers arrange access to the best available names and facilitate transactions between mutually interested parties.
Domain Appraisal By Sedo's Team of Experts Ensures Sellers are Maximizing Their Investments
Whether you're listing your domain in the marketplace, parking it, or selling through an auction, it's important to know the value of your address. By taking advantage of Sedo's Domain Appraisal feature, sellers can obtain an individual appraisal for a single name or for their entire portfolio.
"With a domain name, there's wholesale value, and there's retail value," Dave said. "There is also a degree of subjectivity, but valuations should be based on a variety of factors like comps (when available), revenue or gain potential, and relevance to business model."
Once you're equipped with information about the value of your domains, you're in a better position to list them. Those with large portfolios of domains will likely want to price the majority of them on the low end so they move more quickly. On the other hand, those with a few high-value domains in no rush to sell them can price them at top value. Sedo's valuation services provide base prices for any given domain, and then it's up to sellers to set their price points.
Work with a Broker to Get the Best Price on Your Domain
Domains can be wise investments when buyers do their homework, and Sedo's domain brokers can help. For a reasonable fee, they'll guide buyers through the process of finding the right domains. They also work with sellers, listing addresses and assisting in creating marketing plans and campaigns so sellers are targeting the right market for optimal returns.
"The industry is made up of investors, domain holders, developers, and SEO people," Dave said. "There are about 1,000 brokers in the US."
Working with a broker is particularly beneficial for customers who don't want to wait long for a pay day. Those who own many domains and want to turn them around quickly work with brokers to ensure they're getting the best price when selling wholesale.
Auctions & Buy Now Options Expedite the Sale of Domains
Domain owners wishing to move domains quickly have the option of participating in Sedo's auctions, or they can list them as "Buy Now" to avoid longer negotiation processes. Users will find two primary options when setting up an auction listing: Direct Auction or Marketplace Auctions with a selling guarantee. Dave told us some sellers are more aggressive based on the situation they're in.
"Maybe someone is getting married and needs money, or somebody is buying a house, or somebody is retiring," he said. "There are buyers out there if the price is right. If you want to sell quickly, you price it better."
Listing on Sedo's global marketplace with a "Buy Now" price tag means one fixed price and no back-and-forth negotiations. Fixed-price domains are sold up to three times faster than domains whose prices must be negotiated.
With a Direct Auction, which is displayed on Sedo's homepage, you can begin auctions for up to 10 names at a time. They'll show up in search results and be displayed on your personal auction page for seven days. With a Marketplace Auction, the original offer made is automatically the opening bid and minimum price. These run for up to seven days, are free to sellers, and interested parties can still place higher bids during the remainder of the auction period.
A third type is Sedo's monthly GreatDomains Auction. This is where Sedo's domain experts and brokers choose the best domains each month from a list of applicants. Once domains are chosen, Sedo heavily promotes them for the duration of the month, leading to more attention and notably high sales revenue for the domain owners.
"The GreatDomains Auction is a large sales channel for Sedo," Dave said. "We put about 100 names in each month, and we market it very heavily. If the name has reached or exceeded reserve at the end of the week, then the name has sold."
Digital Assets Can Provide Low Risk & High Reward
The domain name marketplace can be extremely profitable when the right strategies are employed by both buyers and sellers. Investors who target the right audience and price domains properly can potentially make a lot of money. Getting into the domain market on your own without access to industry knowledge, however, is much more challenging.
Sedo removes much of the guesswork from the domain buying and selling process with its online marketplace and access to brokers, who help users build and grow their domain portfolios.
"It's an industry that's growing very rapidly, and it's global," Dave said. "I'm probably dealing with at least five people outside of the country every day. There's a lot of money in different places around the world where people are getting into domains."
There's always going to be a learning curve when embarking on a new venture, and buying domains as investments requires access to resources, practice, and, in some cases, patience. Purchasing digital assets is generally quite affordable, and many Sedo users have seen these investments pay off over time.
Advertiser Disclosure
CardRates.com is a free online resource that offers valuable content and comparison services to users. To keep this resource 100% free, we receive compensation for referrals for many of the offers listed on the site. Along with key review factors, this compensation may impact how and where products appear across CardRates.com (including, for example, the order in which they appear). CardRates.com does not include the entire universe of available offers. Editorial opinions expressed on the site are strictly our own and are not provided, endorsed, or approved by advertisers.