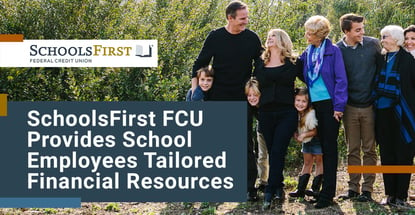 In a Nutshell: SchoolsFirst Federal Credit Union is a specialized credit union with products that cater to school employees. Any school employee can become a member, including bus drivers, janitors, and even college students in programs that require student teaching. Its card offerings have benefits perfect for school employees, such as a card with a flexible payment schedule during the summer months when school is out.
School employees are the backbone of society. They are role models for students and help guide them to successful futures. Without their support, children would surely suffer.
As it stands, school employees are often overworked and underpaid. They have to spend their own money on supplies for the classroom, with some working long hours into the night for the students they serve.
Since its founding in 1934, SchoolsFirst FCU has filled a void for school employees by offering financial services to fit their unique needs. 
It's now the largest credit union in California and the fifth largest in the country. The credit union has over $27 billion in assets and serves more than 1 million members. 
SchoolsFirst FCU says it focuses on only one thing: providing world-class personal service and financial security to California school employees and their families.
SchoolsFirst FCU has credit cards, loan offerings, and retirement plans based on how school employees earn and save money. It does all this while also boosting the communities it serves with community events, donations, scholarships and financial education programs.
"We work to improve the financial wellbeing of all our members, whether they're teachers, administrators, front office staff or bus drivers," School and Community Relations Vice President Josh Smith says. "We have products and services designed for the unique needs of all school employees because we recognize them as heroes."
Credit Cards and Services for Education Employees
SchoolsFirst FCU offers members four different credit cards. Each card provides benefits to fit each person's needs.
The Inspire Mastercard® has a variable interest rate with low to no fees. This card helps build and protect credit for people who carry a balance. It also provides free credit scores and customized reports.
The Rewards Mastercard® has a higher interest rate, but members earn 1.5 points for every dollar spent using the card.
A Shared-Secured Mastercard® focuses on helping members establish or rebuild credit history. Members deposit funds that match their approved credit limit into a dedicated savings account. By using the card responsibly, they can earn a good credit score.
The final card is tailored specifically for school employees. The School Employee Mastercard® has lower interest rates and 1.5% cash back. Members can also choose to make interest-only payments during the summer months when school is out.
"We try to keep it very simple," Vice President of Payment Services Nubia Valenzuela Rivera says. "Our products are straightforward and very beneficial to the members."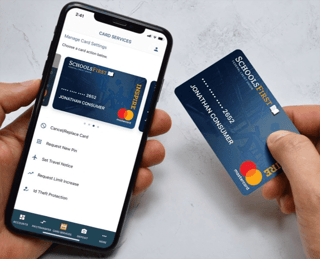 School employees can take advantage of SchoolsFirst FCU's Summer Saver program to help make ends meet when schools are closed. Members can deposit up to $2,000 a month into a high-interest savings account to create a nest egg to use during the summer months.
SchoolsFirst FCU gives members an opportunity to prepare for every school year. Members can take out loans for classroom supplies, computers, and uniform costs.
The credit union also features higher education loans for members trying to earn their master's or doctorate degrees.
These and many other loans offered by the Credit Union have incentives for making payments on time. Members who aren't in the top-tier of credit scores can earn lower interest rates just by making 12 months of consecutive payments.
"We offer services immediately to help mitigate challenges they are facing," Smith says. "It's important we help our members today, as well as have a positive impact on their long-term financial wellness."
Educational Resources for Employees and Students
SchoolsFirst FCU obviously understands the importance of education. The credit union makes sure it not only serves the financial needs of its members but also informs them of other products and services.
SchoolsFirst FCU holds workshops and in-classroom presentations every month on financial education for members and the students they teach. The credit union makes it easy to sign up for in-classroom presentations and schedule a workshop through its website.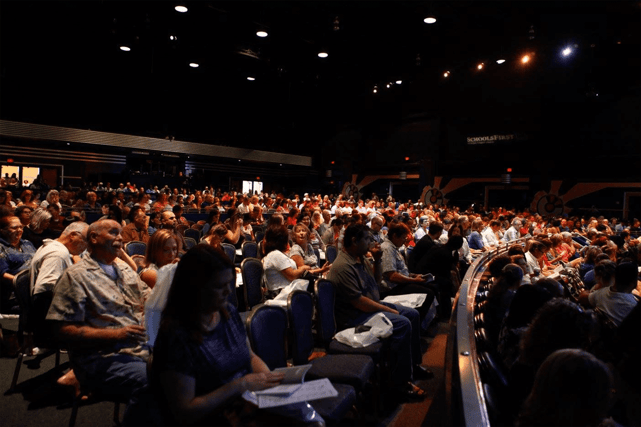 Its quarterly Report Card newsletters include informative financial advice articles and news about products and services The newsletters work hand-in-hand with the website's blog to break down complex financial topics.
Its website also has calculators to create a budget, manage debt, calculate savings, and plan mortgage payments. All of the content and workshops are complimentary and don't require extra fees to use.
"We're always trying to build new relationships that help us improve the lives of more school employees," Smith says. "We search out ways to support individual school employees and also the institutions they work for. That way, we can offer new and innovative ways to fulfill our mission of improving the lives of school employees."
Providing Value to Members Through Partnerships
SchoolsFirst FCU invests a lot of resources into financial education. Because it's a credit union and a not-for-profit, SchoolsFirst FCU is different from a bank that seeks to make profit for a small group of shareholders. Instead, all proceeds go back into the credit union to offer better products and services to its members and the community.
SchoolsFirst FCU's key partnerships help accomplish its vision to offer all members financial education resources. The credit union's partnership with Bite of Reality allows students opportunities to make real-life decisions and learn finances through an innovative card game.
Its site also has lessons from Money IQ that feature short, interactive modules to learn about preparing for retirement, buying a home, and planning for the future.
With its GreenPath Financial Wellness partnership, members receive financial counseling services that show how to navigate debt and improve credit scores.
To join SchoolsFirst FCU, you must be a current or retired school employee, have an immediate family member who is a member, or be an employee of eligible companies that exclusively provide service to schools in California.
The best part is once a member is in, they are in for life. Memberships remain valid even if a member changes careers, retires, or moves out of state.
The credit union's branches are accessible and plentiful in California. There are 69 branches throughout the state.
"We really look at it as an honor to be the credit union that serves school employees," Smith says. "We have this internal mantra of we're here to build a future for those who build the future. That's a strong rallying cry for us, and it's tied to our No. 1 priority, which has always been member service."
Advertiser Disclosure
CardRates.com is a free online resource that offers valuable content and comparison services to users. To keep this resource 100% free, we receive compensation for referrals for many of the offers listed on the site. Along with key review factors, this compensation may impact how and where products appear across CardRates.com (including, for example, the order in which they appear). CardRates.com does not include the entire universe of available offers. Editorial opinions expressed on the site are strictly our own and are not provided, endorsed, or approved by advertisers.