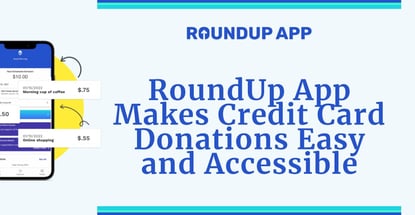 Our experts and industry insiders blog the latest news, studies and current events from inside the credit card industry. Our articles follow strict editorial guidelines.
In a Nutshell: For making online donations easier, RoundUp App has created a platform that enables donors, nonprofits and merchants to connect seamlessly. The app's key features allow donors to round out purchases for causes of their choosing, nonprofits to reach a wider target market, and merchants to integrate donation options into the checkout lanes. It comes with various tools for users to budget how much to donate, keep track of donation history and collect receipts for tax deductions. As RoundUp App continues to grow, it is developing more features for users to incorporate into their lives.
Personal finance software has existed for decades, but the advent of smartphones and apps has taken the concept of finance technology to the next level. As the wave of app-based finance platforms emerged, developers started looking at newer ways to integrate modern conveniences into the lives of consumers, leading to the innovation of automatic savings apps.
Customers were now able to pay for items digitally and then round out the cost to contribute to their personal savings.
As this concept gained greater interest commercially, it only seemed like a natural progression to integrate such technology into the world of donations and charities.
Most people have the good intentions to donate to causes they are passionate about — yet they rarely find the time to do so. That's where the advantages of donation-oriented apps are starting to come into play.
RoundUp App uses a system that allows users to round up purchases digitally and donate the small amounts to a nonprofit of their choice. The app offers features that allow donors to keep track of their contributions to their choice of over 1 million nonprofits, and enables merchants to seamlessly integrate donations at checkout lanes.

RoundUp CEO, Braden Fineberg, began with the intention of creating an agency that could work directly with nonprofits to look for new donors and gain more reliable sources of income. Fineberg later realized there could be a more effective method of forming connections between nonprofits and donors, so he built a platform that helped small donors and those new to donating feel comfortable and in control of how they budget their contributions.
Fineberg then acquired RoundUp App and combined the forces of both platforms on the technology side and on the client side, making the company what it is today.
An Effortless Approach for Making Online Donations
The problem for many donors is when each nonprofit has its own app for donating, which makes the whole process more complicated if donors are trying to remember where all of their contributions are going and keep track of multiple sign-ups.
The convenience of RoundUp App is that all of the nonprofits you donate to and your donation history are centrally located and organized in one place — and it's especially useful when it comes to collecting and organizing tax receipts.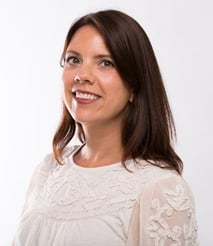 Signing up as a donor is free, and whether you contribute monthly or just one time, all donations are tax deductible and the app will send tax receipts and yearly summaries automatically.
"You don't even have to ask for it or keep track of it. We do it all for you," said Jeni Putalavage-Ross, SVP of Operations.
The platform is also designed so donors can set up monthly maximum and minimum contributions as a way to control their budgets. For those who feel the mental drain of having to decide how much they should donate each month, having such a feature makes the process of giving far less stressful and disorientating. When there are regular bills to pay and other distractions in life, it's nice for donors to have a reliable system that does the work for them.
Another benefit of RoundUp App is that donors can choose their preferred nonprofits based on categories, such as animal shelters, cancer research or environmental causes, that appeal to them.
But if donors would like to avoid spending hours researching which organizations to donate to, they can give to Cause Funds, which are groups of nonprofits that share similar missions and goals. By using data from experts like Guidestar and Charity Navigator, RoundUp App selects which nonprofits are suitable for each other. Once a Cause Fund receives a donation, the money gets split evenly among all the nonprofits within the fund.
'RoundUp at Checkout' Provides Useful Options When Making Purchases
The development of RoundUp App's merchant features is still relatively new, but this portion of the business has been growing steadily since its introduction.
By using RoundUp at Checkout, merchants are able to select nonprofits they wish to support and then establish an easy method of donation for online shoppers. And with RoundUp App's software development kit, merchants can create custom integrations for their businesses. Should they require any assistance, RoundUp App will be available to help merchants at every stage in the process. "If you kind of know what values you have, but you don't know an exact organization or you're not sure where to get started, we can help advise you," said Putalavage-Ross.
Watch on
For businesses concerned about getting started, they can schedule a time to meet with one of RoundUp App's experts who can show them how the app works.
Merchants are also able to access real-time reports of their customers' donations, change which nonprofits to donate to without hassle, and easily track individual donations.
According to data the company has collected, merchants that use RoundUp at Checkout have experienced a 28% increase in average order volume and an 18% increase in lifetime values.
The installation is currently available at BigCommerce and WooCommerce.
How Nonprofits Benefit by Using RoundUp App
At its core, RoundUp App is most beneficial for nonprofit organizations.
It is an unfortunate but common truth that nonprofits often have difficulty when it comes to finding new donors. But with the level of accessibility RoundUp App can provide, finding donors no longer has to be such a daunting task. In an age where connectivity is just a click away, it only makes sense for such technology to further enhance the act of performing charitable deeds.
Although the app is free for donors and merchants, nonprofits may choose either a $15 monthly flat fee for claimed nonprofits or 15% of monthly donations for unclaimed nonprofits.
In turn, the company provides an entire marketing library so nonprofits that sign up can have a wide variety of assets and ideas on how to promote their RoundUp programs. The library also has a built-in function enabling nonprofits to create campaigns that give donors more flexibility on their method of donation.
While the for-profit organization is still relatively new, the RoundUp App team is anticipating great potential for the app's future growth as it continues to expand its merchant capabilities and gain financial backing from venture capitalists and philanthropists.