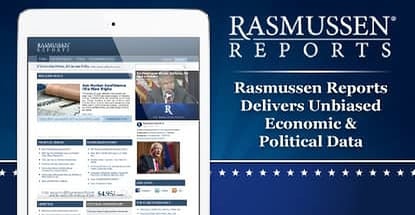 In a Nutshell: Opinion polls have been popular for nearly a century, with many individuals and companies working to find ways to appropriately gauge public sentiment on topics ranging from politics to the latest movie releases. While many of these companies have faced accusations of bias or using underhanded tactics designed to sway respondents' answers, Rasmussen Reports has proven its methods of data collection and publication are both fair and accurate. Rasmussen rose to prominence again in 2016, when it accurately predicted the Presidential Election Popular Vote and was one of the few US pollsters to consistently warn that Hilary Clinton was far from a sure thing as the winner of the US presidency. The firm conducts year-round polls over the phone and online to collect data on regional and national stories of interest. The automated polling method is designed so all respondents hear questions in the same electronic voice, free of inflection or judgment. //
Seventy years ago, President-elect Harry Truman stood at St. Louis Union Station grinning before the cameras as he held a copy of that day's Chicago Daily Tribune with a front-page banner headline that erroneously declared "Dewey Defeats Truman."
Truman, who finished with just 4.5% more of the popular vote than the Republican Party's nominee for president, Thomas E. Dewey, pointed at the paper and proudly declared for the reporters on hand, "That ain't the way I heard it."
The infamous moment helped transform how Americans today hear the opinions of their fellow citizens. After the embarrassing gaffe, many of the major pollsters — most of whom had predicted a Dewey victory — reinvented the ways they collected data. Modern pollsters, led by Rasmussen Reports, have transformed polling into an art form, where the question-and-answer writing sessions are conducted in a way designed to eliminate bias.
Rasmussen is an electronic media company specializing in the collection, publication, and distribution of public opinion polling information. Rasmussen conducts national tracking surveys on political, economic, and lifestyle issues, as well as polls on state elections and other regional topics.
The firm is the only group to conduct a daily presidential approval tracking poll after Gallup, which had run similar polls since 2008, stopped tracking daily approval ratings in early 2018.
"Regardless of which party or person controls the presidency, Rasmussen's daily polls attract millions of readers every month," said Ted Carroll, a partner at Noson Lawen Partners, which runs the private equity firm that controls Rasmussen Reports. "We are in the process of trying to determine what, if any, impact Gallup leaving the daily tracking poll field has had on our traffic."
The firm also tracks economically driven data like its Job Market Confidence and Consumer Economic Confidence polls, both of which reached new highs in March 2018.
The firm publishes polling data on its website for public consumption and offers paid membership options that provide more in-depth information. In a day and age where digital media is quick to claim and much slower to credit, Rasmussen has come to grips with the fact that its data may not always be used as the company intends.
"What the press does with it is another story," Carroll said. "Some outlets, like Real Clear Politics or The Drudge Report, simply report it and link back to our site. Others try manipulations, interpretations, and 'analyses' of our data to falsely imply their own superior predictive precision and to satisfy their own political agendas."
Polling Methods that are Private and Repeatable
The dozens of US media pollsters have yet to find a consensus on the best way to conduct a survey or poll to eliminate bias, but Rasmussen's tested methods have been shown over time to achieve results that its competitors rarely match.
"We believe our methods are superior for several reasons," Carroll said. "At Rasmussen Reports, our automated polling systems use a single, digitally-recorded voice to conduct landline interviews. This technology ensures every respondent hears exactly the same question from the exact same voice asked with the exact same inflection every single time."
The digital voice negates the influence live operators could have over a respondent — either through voice inflections or the passing of judgment on respondent's answers. In a time when many consumers are abandoning their landline telephones, Rasmussen has widened the scope of its polling by using an online survey tool to interview selected participants from a demographically diverse panel.
"Participants are chosen randomly from targeted demographics that are difficult to reach via a traditional landline," Carroll said. "Data from the online panel is compiled with phone data and run through our weighting processes to ensure our results are representative of the sample in the location we are polling."
Carroll said the method is part of Rasmussen's "almost obsessive level of research into demographic data from across the country."
Overcoming the Social Media Influence to Report on Emotionally Driven Events
While Pollsters like Rasmussen are best known for election and political coverage, the company conducts new polls every day on national and regional stories that affect citizens across the country. The importance of the data-driven reports was confirmed during the firm's February 2018 coverage of the Parkland, Florida, school shooting.
The polls found that most adults blame the government more than guns for the shooting and are growing more in favor of arming teachers and supportive of more in-depth gun control in the US.
Rasmussen takes great care when conducting polls shortly after highly emotional events, as their impact is still fresh and could easily sway respondents' answers.
"Question-wording and question sequence are critical, and ours are informed by years of experience," Carroll said. "By asking certain base questions repeatedly over the years including during less emotionally driven moments, we can provide our readers with essential context."
The context is especially important in a news environment that relies heavily on social media for on-the-spot reporting and rewards being first over being accurate.
"Americans now have a plethora of sources to get news from, and Rasmussen Reports makes its findings available on multiple platforms which are then picked up by other media and swiftly amplified globally," Carroll said. "Despite this growing megaphone, experienced pollsters like Rasmussen Reports need to stick with the fundamentals of proper surveying and ask clear unbiased questions to the public. It's not what we think; it's what the public thinks that is important."
One of Few Pollsters to Accurately Gauge the 2016 Election
Rasmussen's data collection and survey techniques were further validated on election night 2016 when the firm's prediction of the US Popular Vote result was the most accurate among the nation's top 11 pollsters.
While most pollsters predicted Hillary Clinton would run away with the race, Rasmussen polls consistently stressed the likelihood of a much tighter outcome.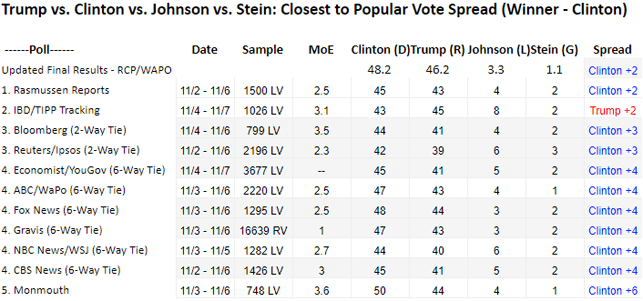 "Daily survey engagement with the US national electorate provides significant advantages," Carroll said. "We believe our automated private interviews, our use of internet panels, and other proprietary techniques gave us an advantage over live interview pollsters in identifying the real underlying issues that led to the upset that few in the industry saw coming."
Since its inception in 2003, Rasmussen Reports has become one of America's most trusted pollsters by providing unbiased polling data on regional and national topics of interest. The polling results published on the firm's website help today's media keep its finger on the pulse of the country.
By using proven techniques like automated polling systems that use a single, digitally-recorded voice to conduct landline interviews, Rasmussen ensures that every respondent hears exactly the same question, the same voice, and the same inflection every single time. The method ensures respondents aren't intimidated or influenced by live operators.
Had such polling techniques been available 70 years ago, Thomas E. Dewey might have been spared from being the punchline of so many political jokes.
Advertiser Disclosure
CardRates.com is a free online resource that offers valuable content and comparison services to users. To keep this resource 100% free, we receive compensation for referrals for many of the offers listed on the site. Along with key review factors, this compensation may impact how and where products appear across CardRates.com (including, for example, the order in which they appear). CardRates.com does not include the entire universe of available offers. Editorial opinions expressed on the site are strictly our own and are not provided, endorsed, or approved by advertisers.