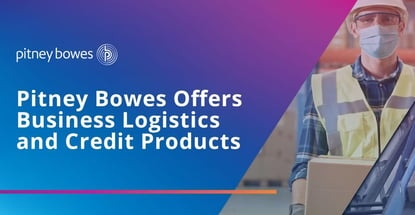 In a Nutshell: Pitney Bowes provides business logistics and analytics services that drive digital transformation and ecommerce for more than 750,000 customers — mostly SMBs. When many of the company's long-time clients began to report unmet financial needs, the company added credit and capital products to meet that demand. Pitney Bowes continues to help its customers succeed by investing in them and even adjusting its business model to meet their capital needs.
Pitney Bowes has come a long way since its founding in 1920 by transitioning from postage meters to global ecommerce solutions. Today the company handles everything from physical shipping and mailing to the complexities of digital logistics for SMBs.
It offers software solutions, analytics, and APIs to help customers manage fulfillment, shipping, returns, and presorting. Pitney Bowes also has a global team of more than 11,000 employees and serves 750,000-plus customers — including 90% of the Fortune 500.

Its Fortune 500 service is impressive, but one of the most important aspects of Pitney Bowes' history is its emphasis on fueling the rise of small businesses. Although the company serves many enterprises and larger middle-market customers, the vast majority of its clients are what President of Global Financial Services Christopher Johnson calls "Main Street companies."
"Our core competency and expertise is in the category of small and lower-middle-market businesses up to about $100 million," Johnson said. "That gives us some unique insight into trends that are happening in those segments."
Pitney Bowes has also provided necessary credit and financial services to its customers for more than 40 years. It all started when its customers reported a need for financial tools they couldn't get at traditional institutions.
Over the decades, Pitney Bowes has gained more insights that have led to an ongoing transformation in that area of the business as well.
"When you think about how this all comes together, financial services is an integral part of the fabric of the company," Johnson said. "What distinguishes us is the fact that we can bundle excellent credit and liquidity products along with some of the other services we offer."
A Legacy of Serving Small Businesses
Pitney Bowes understands the challenges facing countless small businesses today. They must navigate the ups and downs of digital transformation while competing for market share and a chance to grow.
"As we engaged with our clients, we learned there were massive unmet credit needs in our small-business and lower-middle-market segments," Johnson said. "Many were significantly underbanked while their need for capital was growing."
The reality is that while the internet gets all the attention, fixed investment costs occupy a dominant chunk of most financial needs. Customers in industries including healthcare, manufacturing, distribution, and construction reported a need for credit solutions to help them make those large purchases.
Meanwhile, most small businesses need logistics services to compete, and the cost of doing business there is by no means insignificant. Johnson noted that simply moving items from one place to another can be one of the top expenses for a company.
"It's at the core of the value proposition most companies bring to the market," he said. "And costs are going up because there's increased demand against limited capacity."
Credit lines and other financial solutions for equipment and shipping costs help companies improve cash flow, enhance profitability, and accelerate their business goals. The problem for Pitney Bowes customers is that their banks increasingly weren't serving those needs.
"It's something we hear quite often — the business is performing well, but the bank wants to focus on a different sector of the market," Johnson said. "We saw an opportunity where financial services could be a tremendous value add."
Financing SMB Capital Needs Through Its Own Bank
Addressing the financial needs of its customers required rethinking the purpose behind the company's own Pitney Bowes Bank subsidiary.
"Five or 10 years ago, we were what you might call a captive financier, predominantly focused on financing equipment and services we rendered as a company," Johnson said.
Asset-based credit products from the bank began to power small businesses to acquire goods outside the Pitney Bowes umbrella. Today, it has written more than $10 billion in equipment financing loans.
"As we did that and had some conversations with more companies about investing, working capital came into the lines," Johnson said. "Now, we do revolving credit lines, term loans, and also a lot of shipping logistics financing for companies because we know this is an area of need that is only growing."
Watch on
The key is that Pitney Bowes is building on long-standing business relationships to help companies help themselves.
According to Johnson, many Pitney Bowes clients are doing some rather inventive things to maintain liquidity, but it may not be what is best for their business.
"We're trying to change that equation by investing in our customers, understanding what their needs are, and bundling solutions that can help them," Johnson said.
The result is reduced friction in the logistics and shipping components of those businesses, and more readily available infrastructure necessary for growth.
"We're putting term loan and working capital solutions in play that can help our customers operate their companies more efficiently on a day-to-day basis," Johnson said.
Leveraging Relationships to Help Customers Grow
At the heart of every relationship between Pitney Bowes and its customers is a long-standing commitment to service.
"We have a great capital base inside the Pitney Bowes Bank, and we can leverage that to create advantages for our customers," Johnson said. "We have an average of over 10 years of history with most companies, but they're financially underserved."
And because of those relationships, Johnson and his team can step in and meet their needs. Recently, for example, Johnson said he worked with the CEO who had experienced a setback with his company's bank. He needed to get a new financial deal done within a couple of days.
"I said, 'Great, we'll meet with you and our team in two days,'" Johnson said. "We had our commercial team, our credit team, our middle office team, and our support team available to connect with that customer. And we got the transaction done quickly, simply, and efficiently. That's our value proposition — we treat our customers as if they were the largest companies in the world."
Time isn't standing still for Pitney Bowes or its customers as the digital transformation means that SMBs continue to encounter new pressures as markets change around them. Pitney Bowes intends to anticipate those changes, Johnson said.
"We have a focused, purpose-built organization that allows us to tailor our offerings to client needs, and we're continuing to innovate our portfolio," he said. "These are great companies with great structures, and it's unfortunate that they're so vastly underserved. But I think we're well-positioned."
Advertiser Disclosure
CardRates.com is a free online resource that offers valuable content and comparison services to users. To keep this resource 100% free, we receive compensation for referrals for many of the offers listed on the site. Along with key review factors, this compensation may impact how and where products appear across CardRates.com (including, for example, the order in which they appear). CardRates.com does not include the entire universe of available offers. Editorial opinions expressed on the site are strictly our own and are not provided, endorsed, or approved by advertisers.