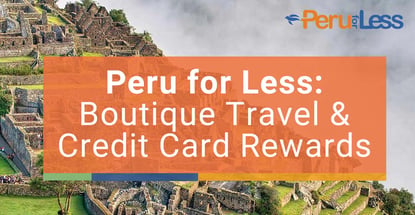 In a Nutshell: Perhaps the only thing more satisfying than booking an unforgettable vacation is being able to cash in credit card rewards to add savings on top of it all. We recently learned about Peru for Less, a travel agency that offers once-in-a-lifetime boutique travel experiences with the budget-conscious traveler in mind. The company prides itself on its knowledgeable travel advisors and guides who work to ensure clients achieve an ideal Peruvian experience. Peru for Less offers a wide variety of premade itineraries as well as customized itineraries. Travelers can experience the breathtaking views from Machu Picchu, the wonders of the Galapagos Islands, and the Amazon rainforest in just 10 days.
Here at CardRates, when we're not exploring the ins and outs of credit cards, we're often daydreaming about travel. But for the last 12 months — as with millions of other U.S. residents — our travel plans have largely been postponed or canceled due to the COVID-19 pandemic.
But now that vaccines are rolling out and more people are gaining immunity to the coronavirus, travel is once again looking like a possibility in the near future. And we're looking forward to turning our travel daydreams into reality.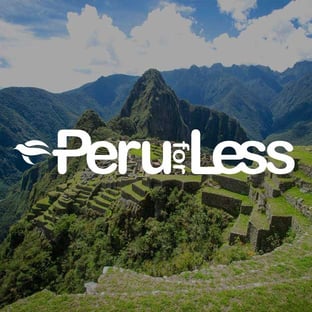 And for credit card and travel enthusiasts like us, there's something very satisfying about being able to combine these two passions by leveraging credit card rewards to save on great trips. It's no secret that many credit card issuers allow cardholders to redeem rewards for cash toward statement balances, so there are some great, flexible options out there for how to use your rewards.
Our list of future vacation destinations has grown significantly over the past year, and one of the places we'd love to explore is Peru with its beautiful natural scenery and rich history.
Peru for Less offers unique and customized travel experiences in the South American country where some of the world's earliest civilizations thrived for centuries.
We recently spoke with Richard Leon, the Director of Latin America for Less, the name of the larger travel group that Peru for Less is a part of.
Leon told us about the origins of Peru for Less, its wide range of itineraries for travelers of all kinds, and, of course, the splendor of Peru.
A Leading Latin America Tour Operator Since 1998
Peru for Less was founded in 1998 by Bernard Schleien, Leon said. Schleien realized that Peru was gaining in popularity as a travel destination, but the trips were often costly and difficult to plan.
Schleien wanted to offer a travel agency that addressed both of these challenges while adding its own unique spin on visiting Peru, including the company's social commitment.
"The experiences Peru offers each of us are individually unique and our Peru for Less team is proud to connect you with travel opportunities that not only enrich your time here but impact the destinations and local communities we visit for the better," according to the company website.
Today, Peru for Less is known as a leading tour operator and serves more than 2,500 travelers each year. The company maintains offices in Austin, Texas; Lima, Peru; and Cusco, Peru and has a full-time staff of more than 50 people working to ensure clients will have a memorable and satisfying experience.
"Peru for Less does not mean budget travel," according to the company. "It means budget-conscious travel designed to get you the most value at an affordable price. We partner only with the best hotels, guides, and outfitters to ensure maximum comfort and the highest quality."
Leon said Peru for Less was one of the first travel companies on the Web to offer highly customizable trips to Peru that take into consideration the travelers' preferences. He said many other travel agencies at the time only offered perhaps one big travel package with very little wiggle room to change details.
"We were among the first agencies that you could call and talk to someone who really knew about Peru — who had experienced it ourselves and will give you genuine opinions," Leon said. "Our logic is not that we want to build a trip because it's going to give us higher commission or because we have a high margin with a particular hotel. It's because we know you're really going to enjoy this trip."
Customizing a Trip with Peru for Less
Leon said that, since the company's inception, Peru for Less never sought to be a giant, generic travel company. The idea was always to organically attract employees who were willing to focus on providing a quality experience that clients would love.
The company's philosophy comes across in everything it does, from its attentive customer service to its tailor-made travel itineraries.
"Personalized trip planning, expert travel advice, exceptional customer service, 24/7 in-trip assistance, and more," according to Peru for Less. "From creating your itinerary until your final flight back home, we handle the logistics of travel so that you can focus on what matters: enjoying the trip of a lifetime."
Leon said the Peru for Less team spends a great deal of time working to understand client needs and helping them create the perfect Peruvian experience.
"An experienced Peru for Less travel advisor will work with you over the phone or by email to answer your questions and prepare you for your trip," according to Peru for Less. "No question or request is too big or too small. We guarantee a response within 24 hours."
The company strives to help clients build the ideal vacation and hit all the spots they're most interested in visiting while in Peru.
"Got a long list of places you want to see but not many days? We've fine-tuned our itineraries so that you'll spend less time in transit and more time enjoying the wonders of Peru," according to the company. "Tell us where you want to go and we'll create the perfect trip for you."
Clients can choose from small group travel or private service, or a combination of both.
"Small group tours allow you to save money and meet like-minded travelers, while private tours give you the freedom to go at your own pace and focus on your interests," according to Peru for Less.
Eating, Drinking, and Sightseeing in Peru
For those unfamiliar with all that Peru has to offer, Leon offered valuable information on some of the most popular destinations and activities in the South American country.
Machu Picchu is a must, he said.
"Embedded within a dramatic landscape at the meeting point between the Peruvian Andes and the Amazon Basin, the Historic Sanctuary of Machu Picchu is among the greatest artistic, architectural and land use achievements anywhere and the most significant tangible legacy of the Inca civilization," according to UNESCO.
Peru for Less offers a number of itineraries that include a trip to Machu Picchu combined with other adventures such as exploring nearby Cusco or cruising to the Galapagos Islands.
Watch on
"Lima has also become a very popular destination because of the food and the big culinary scene there," Leon said.
Travelers aren't limited to just one or two destinations. With Peru for Less' wide variety of customizable itineraries, Leon said clients can easily fit in a variety of adventures.
The average trip length for Peru for Less travelers is about eight days, Leon said. But clients can also pack in a bevy of unforgettable experiences in six days or spend a little extra time to explore with a 10-day itinerary.
"Our best-selling package, apart from the classic Cusco-Machu Picchu trip, is Lima-Machu Picchu-Cusco and the jungle lodge in Puerto Maldonado," Leon said. "I think the attraction is the combination of seeing the desert coast of Lima. You see the beach, the ocean, and you're in a big city. And then why not go to the Amazon rainforest which you probably have a chance to do on a different trip."
He said this rich itinerary can comfortably be done in 10 days, but it's possible to experience it in eight days as well.
Interested travelers can explore the wide variety of options available and learn more about each destination on the Peru for Less website. And, of course, don't forget to leverage your credit card rewards to add even more savings to the exciting experience.
Advertiser Disclosure
CardRates.com is a free online resource that offers valuable content and comparison services to users. To keep this resource 100% free, we receive compensation for referrals for many of the offers listed on the site. Along with key review factors, this compensation may impact how and where products appear across CardRates.com (including, for example, the order in which they appear). CardRates.com does not include the entire universe of available offers. Editorial opinions expressed on the site are strictly our own and are not provided, endorsed, or approved by advertisers.