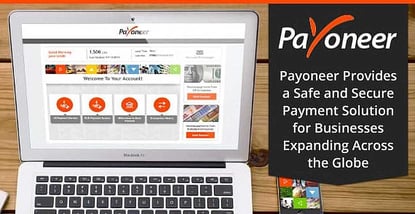 In a Nutshell: Businesses that expand into global markets often run into difficulty when managing their payments. At home, paying employees and receiving payments from clients is a simple, everyday routine. But abroad, that routine can turn into a complicated process. That's why Payoneer launched in 2005. Payoneer aims to help companies manage risk, identify fraud, and navigate confusing foreign regulations. Whether it's working with giant retailers like Amazon, emerging online marketplaces like Tophatter, or freelance workers, Payoneer helps ambitious entrepreneurs achieve their international goals.
In 2005, the team behind Payoneer witnessed businesses trying to grow beyond their national borders, but they often encountered significant roadblocks.
"Smart entrepreneurs saw that their local market share would eventually max out. If they really wanted to grow, they needed to expand globally," said Yair Tal, Payoneer's Senior Vice President. "We realized that those entrepreneurs were having a lot of difficulties sending and receiving money abroad. We wanted to help companies expand by solving their payment problems."
And Payoneer became the primary payout solution for international e-commerce marketplaces, including the popular gig marketplace Fiverr.
"Before we started working with Fiverr, they thought they didn't need to do anything about their payment system because the vast majority of payees were in Europe and the US," Yair said. "We suggested, 'Maybe the reason you don't have payees outside those regions is that you don't have a good way to pay them.' So we helped launch Fiverr in India, and now it is one of their largest markets."
Today, Payoneer works with e-commerce businesses, freelancers, designers, developers, and countless other entrepreneurs who want to expand their businesses into other nations.
"So many people want to grow globally. That's why we give them a one-source payment solution that works all around the world," said Yair.
Mitigating the Risks and Navigating the Regulations of Foreign Markets
At first glance, it might seem simple to sell globally and make or receive international payments. After all, 72% of small businesses want to expand their customer bases, and international sales are a proven way to accomplish that goal. But businesses making the leap quickly run into problems.
"We know it's a challenge. To scale, you have to make sure that you're not losing payments and alienating clients. In your own country, these tasks would be easy to accomplish, but when your business expands globally, everyday payment procedures become much more complex," Yair said.
Payoneer fixes payment issues in one fell swoop. The company guarantees the integrity of its clients' payment traffic, making sure that funds go through as planned. An in-house, multilingual customer care team understands local cultures and business practices, quickly and efficiently resolving any problems that arise.
"Businesses are also overwhelmed by foreign regulations," said Yair. "Governments are always writing new laws and fine-tuning old ones. Every day, clients come to us and ask, 'How are we going to deal with this?'"
For example, the GDPR and PDS2, two major pieces of payment-related legislation, are starting to take effect throughout the European Union. The pair of regulations will likely lead to retailers needing to be more involved in consumer transactions, safeguarding data, and proving compliance.
"That's why we have to be proactive and ahead of the game. Rules are always changing, and we don't want anything to keep our clients from growing their businesses," Yair said.
Helping Global Brands Expand While Managing Vendors
While the global marketplace is constantly expanding, some industries capitalize on that growth more effectively than others. Because Payoneer helps businesses work internationally, they have a unique and insightful perspective on international trends.
"We still see a huge amount of growth in e-commerce goods," said Yair. "Whether they're in the US, Europe, Hong Kong, Russia, or Australia, people are buying more and more online."
And travel is one industry that is expanding rapidly. "We work with vacation rental companies because they have to pay homeowners and property managers all around the world. It's becoming a huge business," Yair said.

Workers in creative fields are also seeking out international opportunities. "More designers, photographers, and artists are working with clients around the world," Yair said. "We have a huge ecosystem of artists, including YouTube content creators and companies that manage music royalties."
And, as more people conduct more business internationally, translation and education services are emerging as profitable industries. "They're both big verticals for us. Online lessons and education are incredibly popular," said Yair.
But the biggest trend of all is the growing importance of the freelance workforce. "Our clients are hiring more freelancers and fewer full-time employees," said Yair. That trend is particularly evident in the US, and one study predicts that more than half of the nation's workforce will be freelancers by 2027.
And when it comes to working with freelancers outside the country, Payoneer helps ease the payments process. "Our clients tell us that they've found very talented people overseas. We play an important role in facilitating those relationships because we support payments to all of those marketplaces," said Yair.
Payoneer Gives Big Opportunities in a Shrinking World
Payoneer helps ambitious entrepreneurs all over the globe compete for customers. Its platform provides businesses that lack the infrastructure to enter foreign markets with an easy, efficient way to make the leap.
"While we're working with Amazon and other big e-commerce marketplaces in the US, every month we have new marketplaces using our services in France, Hong Kong, Russia, and around the world," said Yair.
In Palo Alto, California, Payoneer helped expand the horizons of Tophatter, a live-auction site with a unique value proposition. "They were really focused on US markets, but we showed them big growth opportunities in China. At first, they were hesitant, but then they wrote a blog post explaining that they had partnered with Payoneer. Within two days, their Chinese business exploded," said Yair.
When businesses stay local, they're in a comfort zone. Even thinking about expanding internationally can feel overwhelming. Payoneer's mission is to ease that anxiety and show how easy it can be to provide and receive international payments.
"It's not only choosing a payment method, but it's also about finding ways to manage risks and identify fraud," said Yair.
That's why Payoneer exists – to give businesses a helpful boost as they scale to new heights.
Advertiser Disclosure
CardRates.com is a free online resource that offers valuable content and comparison services to users. To keep this resource 100% free, we receive compensation for referrals for many of the offers listed on the site. Along with key review factors, this compensation may impact how and where products appear across CardRates.com (including, for example, the order in which they appear). CardRates.com does not include the entire universe of available offers. Editorial opinions expressed on the site are strictly our own and are not provided, endorsed, or approved by advertisers.