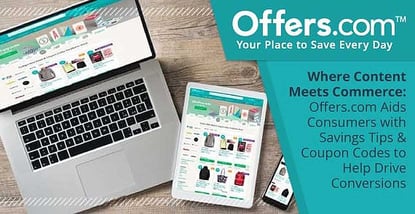 In a Nutshell: When it comes to e-commerce purchases, consumer expectations are on the rise. Things that online shoppers once considered luxuries, such as fast shipping and discounts, they now expect as almost routine. Offers.com, a company that creates meaningful shopper-friendly content and distributes coupons, has maintained a focus on helping consumers avoid paying full price on their favorite products, which, in turn, has helped its partners achieve higher conversions and expand their customer base. Offers.com focuses on hiring savvy shoppers who are passionate about saving money and informing consumers how to do the same, which has been a major driver of success for the company.
The retail market has changed, and the evolution of e-commerce is happening in stunningly quick fashion. According to mobile shopping research by Forrester Research Inc., U.S. citizens were responsible for $335 billion in online sales in 2015, and that number is expected to grow to $523 billion by 2020. The same study projects 270 million U.S. shoppers will be buying from mobile devices by 2020. In fact, mobile devices influenced more than $1 trillion in total purchases (online and offline) in 2015, according to the study.
In addition to the upward trend in mobile shopping, the growing availability of promo codes and free shipping offers have empowered shoppers, giving them certain expectations when venturing into the online marketplace.
"A few years back people weren't really shopping online near as much," said Howard Schaffer, General Manager for Offers.com. "A lot of the data suggests that the majority of the shopping that consumers are doing is online, whether it's through their mobile device, laptop, or tablet. Part of it is just the access anywhere and everywhere."
Fifty-five percent of adult internet users use digital coupons with a projected 126.9 million Americans using mobile coupons from their smartphones in 2016, according to Statista.
Howard spoke with us about how the company has experienced growth in recent years, coinciding with the proliferation of mobile devices in the context of e-commerce. Offers.com provides two things that have been extremely popular with online shoppers: promo codes for stores, travel sites, and content designed to help consumers save money.
The combination of content and coupons has been an effective business model for Offers.com, striking a balance between providing consumers with savings and its partners with new customers and higher conversion rates.
Offers.com Helps Consumers Find the Right Product at the Right Price
By taking advantage of the more than 100,000 deals available, Offers.com says its users save an average of $34 per transaction.
"I always say, 'Never pay full price,'" Howard said. "But it's not always about getting something cheap. It's about buying the right product with the right brand name at the right price."
Offers.com has a free app available for iPhone and Android so users can search for discounts in 375 different categories from wherever they are. Also available are email alerts that are personalized to users' favorite stores and product categories.
Another feature is a browser extension that identifies deals on other e-commerce sites. So if a customer is perusing an online store, the browser extension, which works on Google Chrome, Firefox, and Safari, will alert them to Offers.com deals available for that retailer. This is one way of ensuring that consumers never pay full price for the products they desire.
While Offers.com certainly helps shoppers make good decisions on purchases, its other purpose is ensuring that its more than 11,000 partners see customer growth and higher sales figures.
"Our partners' goals are improving and increasing their conversion rates and engaging with our audience to grow sales and acquire new customers," Howard said. "That's really what we focus on are those areas. Number one is sending new consumers to the merchant, and number two is making sure we're helping complete the sale by offering the best deal or the right coupon based on what the consumer wants. So it's really about helping increase the sale, improving the sale, and closing the sale."
A Staff of Savvy Shoppers Who Create Relevant Content
Howard has more than 23 years of experience in retail and marketing, going all the way back to when he started as an associate at Sears and worked his way up to the corporate office. One of the things he's learned along the way is the importance of keeping employees happy.
When Offers.com was in its infancy in 2009, Howard said many of its employees didn't know much about the relatively new industry of online savings. Hiring for Offers.com has become easier as the field has grown in popularity, and interview questions now revolve around finding the right fit to join the team of self-professed "savings experts."
"If people are passionate about helping consumers save, this is a great place for them to work," Howard said.
Offers.com has also benefited from being headquartered in Austin, Texas, which is home to a thriving technology community. It's a bustling market with many startups competing with medium-sized and enterprise-level companies for talented employees, but that helps Offers.com avoid stagnation.
"We're very lucky being in Austin, Texas, and having a young and vibrant community. People here are very interested in helping consumers save." — Howard Schaffer
"If you don't allow your employees to learn and grow, they're not going to stick around, especially in a thriving market like Austin," Howard said. "You've got to have the right culture in order to keep people, and having the latest technology helps keep the developers learning. If you stay stagnant as a company, obviously your company's not going to grow but your employees aren't either. So a huge focus for us is making sure we're using state-of-the-art technology."
The biggest benefit of Offers.com hiring savvy shoppers is they tend to be passionate about helping other shoppers save. With the ability to research products online before purchases, consumers are more informed than ever.
Offers.com is doing its part by creating blog posts on topical savings tips that aim to help shoppers save more money. For instance, a few examples of blog post titles from October included "What to Buy (and Not Buy) in October" and "Survey Reveals Favorite Candy by State and How Much Consumers Plan to Spend on Halloween."
Arming shoppers with discount codes is obviously an important piece of the Offers.com business model, but the company also wants to educate shoppers so they know the best times of the year to buy or avoid buying certain items. For instance, October is a great month to buy new jeans because retailers are trying to clear out their back-to-school apparel, while you're better off waiting to buy electronics until Black Friday or Cyber Monday.
"Through the years, we've really been able to grow the content on the website and focus on multiple areas to help consumers make the right buying decisions," Howard said. "Making sure they're saving money when they shop, helping them learn and understand what to buy and when, and really trying to help consumers by giving them savings tips."
The Rising Popularity of Online Shopping Has Driven Growth
Offers.com has come a long way in finding ways to serve consumers and its partners, and its acquisition by media giant Ziff Davis in January of 2016 has been beneficial in providing the resources needed to move the company forward.
"Ziff Davis has been great," Howard said. "In some ways, they are hands off and let us run our business, and then there are other ways where they're involved in helping us grow our business."
The shopping market is shifting to serve a well-informed consumer base that is increasingly more comfortable with online purchases, upping the ante for e-commerce sites globally. Thanks to what Howard called the "Amazon effect," retailers have gotten smarter in terms of being able to provide discounts and expedite the shipping process.
"Retailers have got to be competitive, and one way to do that is by offering an exclusive deal to a site like Offers.com or having an exclusive coupon code," Howard said.
As more shoppers come to expect the availability of discount codes for their online purchases, it puts Offers.com in a great position to partner with retailers and ride the rising trend of e-commerce.
Advertiser Disclosure
CardRates.com is a free online resource that offers valuable content and comparison services to users. To keep this resource 100% free, we receive compensation for referrals for many of the offers listed on the site. Along with key review factors, this compensation may impact how and where products appear across CardRates.com (including, for example, the order in which they appear). CardRates.com does not include the entire universe of available offers. Editorial opinions expressed on the site are strictly our own and are not provided, endorsed, or approved by advertisers.