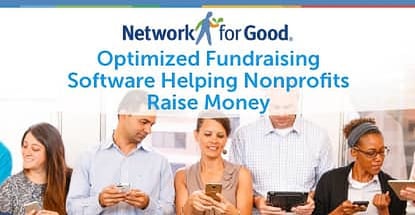 In a Nutshell: Network for Good is an organization dedicated to helping nonprofits achieve and exceed their fundraising goals through free educational resources and a suite of online fundraising software. Their platform allows donors to make charitable contributions to more than 1.4 million charities and public schools and has raised over $1 billion dollars to date.
According to the Giving USA 2015 annual report, charities received $358.38 billion dollars in donations last year and giving increased in every category of donor: foundation, corporation, bequest, and individual. The majority of these donations were made by individuals, accounting for approximately $258.5 billion, or 72 percent of total contributions.
This is the fifth consecutive year that charitable donations have increased, making it evident that individuals enjoy supporting causes they care about and contributing to the greater good. Giving money is important — luckily companies exist to help nonprofits raise funds so they can focus on helping the world.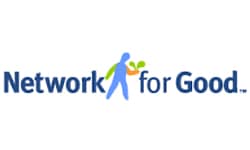 Network for Good is a self-proclaimed "hybrid organization" that allows donors to choose from more than 1.4 million U.S.-based charities and public schools on their website, NetworkForGood.com, to donate to while also providing low-cost technology solutions for nonprofit organizations to achieve their fundraising goals.
"Organizationally, our focus is on helping small- to medium-sized nonprofits with the tools and resources and training they would need to help tell their story to cultivate their donors and ultimately raise more money," said Matthew Rosenblatt, who works in the partnerships division of Network for Good.
It Works — Over $1B in Donations Processed for 100,000 Nonprofits
Network for Good was founded in 2001 by AOL, Cisco Systems, and Yahoo! to replace AOL's previous platform, Helping.org.
Since its inception, Network for Good has helped "100,000 organizations raise more than $1 billion dollars from millions of donors," and they're not stopping there.
"We are on a mission to drive $1 billion in online, mobile, and social donations each year by revolutionizing the giving experience," according to the website.
Finding a charity (or many) to donate to is easy. You can search by charity name, city, state, zip code, keywords, or by choosing an area of interest, such as arts & culture, animals & environment, or human services, to name a few.
Donations can be made in one simple transaction and all tax records will be stored for filing deductions come tax season. You can even set up automated monthly contributions and dedicate your donations in honor of loved ones.
4 Methods to Help Optimize Donations
In order to remain true to the organization's focus of helping nonprofits, Network for Good offers a variety of products to boost donor engagement and payment processing, including social fundraising, customized donation pages, and donor management systems.
1. Donation Pages are Optimized for Maximum Conversions
Donation pages are where visitors convert. Network for Good makes it simple, with no coding required, to brand and tailor unlimited donation pages in a way that's proven to raise conversions. They offer everything needed to optimize pages with expert fundraising training and tips included with donation pages.
2. Tracking Donor Demographics and Activity
Network for Good's donor management software provides nonprofits with an intuitive CRM database to track their donor demographic in order to better understand their audience. Nonprofits can see who their donors are and their donation activity with customized reporting and seamless integration with the tools they're already using, like Salesforce, Constant Contact, or DonorPerfect.
3. Allowing Donors to Share Fundraising Efforts
Social fundraising pages are the best way for nonprofits to communicate and spread their mission. The story builder tool can be used to generate an inspiring message with step-by-step guidance and campaign templates. Social fundraising pages are fully customizable and mobile optimized with campaign tracking to visibly follow progress.
Alongside marketing solutions, the Network for Good website offers webinars, guides, templates, courses, and blogs for nonprofits to learn a variety of things, from creating a fundraising plan to year-end appeal strategies.
4. Companies Incentivize Organizational Objectives with Charity Gift Cards
The Good Card® rolled out in 2008 and was introduced as a way for companies to give the gift of charity.
The Good Card is a charity gift card that allows the donor — the party purchasing the card — to allocate funds on a card, just like a typical gift card, and the recipient of the card can designate which charity(ies) the funds are dispersed to.
Companies typically use charity gift cards in two different ways:
"Good Cards have been used very strategically to address organizational objectives or programs. For example, a company may have a wellness program where there are incentives based on certain accomplishments or achievements," Matthew said, but the most common use is as a volunteer incentive. "Employees can volunteer a certain number of hours and the company will provide a Good Card as a reward that they can then donate to the charity of their choice."
One of the challenges in that case specifically has been the platforms were always structured in a way that the match or the grant had to follow the volunteer hours, but that's not really how people think.
"Donors give their money in very different ways than they do their time, so as you're thinking about the application of the Good Card around volunteer incentives, it becomes really powerful," he said.
And, of course, come holiday season, the Good Card makes a great gift for employees, "instead of a traditional fruit basket or little branded tchotchke," Matthew added.
Donating Makes People Happier; Happier People Give More
Several studies have established that spending money on others brings a greater sense of happiness than from spending on yourself. It has even been suggested that just witnessing an act of charity increases happiness.
A paper written by Harvard Business School titled Feeling Good about Giving: The Benefits (and Costs) of Self-Interested Charitable Behavior states:
"Happier people give more and giving makes people happier, such that happiness and giving may operate in a positive feedback loop (with happier people giving more, getting happier, and giving even more)."
In that case, think of Network for Good as an organization that facilitates happiness and emotional well-being by spreading each nonprofit's mission to more people than ever before and bringing millions of charities and donors together in one place.
Low-Cost Plans: Starting at $59 a Month
Network for Good's software plans are designed to bundle and automate processes for nonprofit organizations in an efficient and cost effective way. Plans include the products mentioned earlier and are available in annual contracts starting at $59 a month for individual products. Get all products — donor management, donation pages, social fundraising, and events — for $149 a month.
Email marketing can be added to any plan starting at $19 per month. Network for Good's email marketing tools are powered by Constant Contact and boasts a 98 percent delivery rate.
Whether you're a nonprofit organization or a donor, Network for Good has the tools and resources to take your fundraising efforts to the next level. Visit Network for Good's website (NetworkForGood.com) today to make a charitable contribution or to sign your nonprofit up for services. It might just make you feel a little bit happier!
Photo credits: thenetworkforgood.com
Advertiser Disclosure
CardRates.com is a free online resource that offers valuable content and comparison services to users. To keep this resource 100% free, we receive compensation for referrals for many of the offers listed on the site. Along with key review factors, this compensation may impact how and where products appear across CardRates.com (including, for example, the order in which they appear). CardRates.com does not include the entire universe of available offers. Editorial opinions expressed on the site are strictly our own and are not provided, endorsed, or approved by advertisers.