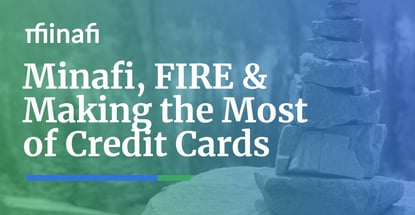 In a Nutshell: Adam Fortuna did not grow up with a foundation in financial literacy, but when he inherited a sum of money after his mother passed away, he realized he needed to understand how to steward the funds. After educating himself using various online resources and learning about how to achieve financial independence, Fortuna found himself in the position of doling out financial advice himself. He launched Minafi to help others and share his philosophy of embracing minimalism, mindfulness, and smart investing to reach financial freedom. The website offers the FIRE Guide, which helps users create a plan for achieving financial independence. It also offers free and paid content that dives deeper into smart investing and leading a minimalist, satisfying life.
Like a lot of people, Adam Fortuna grew up without learning about financial literacy at home, in high school, or in college. Even while taking business classes, personal finance lessons were nowhere to be found.
"When everything started for me was a couple of months after I graduated college my mom passed away and left me the house I grew up in and about $100,000," Fortuna explained. "I was like, 'What do I do with this money?"
He said he initially went down an investment rabbit hole, hiring the services of a financial advisor at the bank where his mother's savings account was. But Fortuna said he began noticing just how many fees were being charged for various services.
"Slowly, one step at a time, I was getting to the point where I was managing it myself in a very simple, minimalistic way that requires the least amount of work for — in my opinion — the most amount of sustained growth."
From there, Fortuna began diving deep into websites and online forums to learn anything and everything he could about investing, including strategies around how to gain financial independence and retire early.
It wasn't long before Fortuna was doling out solid financial advice in forums and other sites online, and he realized it might be time to start a website of his own where he could convey personal finance lessons he had learned.
That's when he launched Minafi, a website centered around minimalism, mindfulness, financial independence (FI), and exploring their growing intersection in everyday life.
We recently spoke with Fortuna about Minafi, using credit cards smartly, and the FIRE Guide to early retirement.
How Smart Investing, Minimalism, and Mindfulness Can Lead to Financial Independence
Fortuna embraced his personal tendencies toward a minimalist lifestyle and combined it with the knowledge he gained about investing and working to achieve financial independence to come up with Minafi.
It's a growth mindset for living a life focused on what brings you value, according to the Minafi website.
Fortuna said he eventually reached financial independence himself about two years after setting the aspirational goal.
"For me, it was dependent on understanding exactly how much I spent," he said. "If you don't know how much you spend, it's going to be impossible to understand how much you're going to spend in the future."
Looking at his finances from this perspective brought a new sense of clarity about Fortuna's future. He went from having a goal of saving money simply for the sake of saving, to saving enough to live the life that he wanted.
"It helped me understand just how much (or little) I actually need, and how I can take steps to get from where I am now to there," Fortuna wrote on the Minafi website. "Just knowing how much I needed to save up to gave me a clear goal to work towards."
We asked Fortuna whether and how credit cards play a role in his Minafi lifestyle. As do so many experts, he said that credit cards can be great tools if you use them wisely. And you don't have to have every dollar of debt paid off before you can begin pursuing financial independence.
"You can start investing in your 401k even while you still have money on your credit cards — especially up to that company match," he said. "I encourage people to pay attention to that 401k company match. That's a very early source (of laying an investment foundation) even before paying off their credit cards."
Fortuna said it's also about just paying attention to credit card deals and perks. These types of savings over time can make notable progress toward financial independence. This includes looking for cards with appealing signup bonuses and referral bonuses and paying off cards each month to take advantage of the rewards they offer.
The FIRE Guide Offers a Path to Early Retirement
All of Fortuna's advice on living minimally, investing wisely, and using credit cards smartly are in the pursuit of FIRE, which stands for Financial Independence, Retire Early.
The Interactive Guide to Early Retirement and Financial Independence, or FIRE Guide, can be found on the Minafi website. It's a "choose your own adventure" article that changes based on the readers situation to helps gain a better understanding of how many years it may take for them to reach FI.
For many people, if they can save half of their income for 17 years, they will reach financial independence. Once you have a time frame in mind, you can move on to the next important step — investing.
"Investing is easier than you might think. By learning a few core concepts, you'll know enough to invest for the rest of your life," according to the Minafi website. Of course, Fortuna provides resources on the site that help people learn how to invest wisely. He said it doesn't have to be about being an investment whiz, but rather it's about having a solid grasp of investment fundamentals.
Finally, embrace minimalism and mindfulness.
"Focus on what's important to you. Learn to live with what you need, no more no less in all parts of life," according to the website.
The FIRE Guide provides a 10-step, detailed look at how to approach achieving financial independence, with the tenets above guiding each step.
"It's a path that starts with understanding what you want out of life and figuring out what you'd need to do to get there," Fortuna writes in the guide. "The fastest way often means removing excess from your life that isn't increasing happiness in proportion to the amount spent. Beyond that, it's about understanding how much you need to save to live the life you want and making a plan for it."
Minafi Offers Users Free Courses as well as Exclusive Member Content
The Minafi website provides everything someone needs to begin their journey toward FI, including free and exclusive paid content. The FIRE Guide is free for everybody.
For people just starting out who may simply be looking for guidance on how to rely less on credit cards and similar products and begin to build wealth, Fortuna recommends the Minimal Investor Course.
"It's a free 10-lesson course on how to learn everything you need to know to invest for the rest of your life," Fortuna said. "It's a bold statement, but that's the goal of it — keeping it at the basics."
The investor course is the first of 10 courses that make up the Minafi Investor Bootcamp. While the Minimal Investor Course is free, the rest of the boot camp is reserved for those who pay to become a member of Minafi. But Fortuna has some encouraging words for those who may not be ready to lay out cash for financial advice.
Watch on
"If you read that one you kind of know everything you need to know, and you don't really need to read the rest," he said. "The rest of the boot camp is just kind of going in more detail on every topic."
The Minafi Investor Bootcamp contains a total of 59 lessons and takes about three months to complete.
"Learn everything you need to know to invest on your own, handle taxes, plan for retirement, and grow your wealth using the stock market," according to the website.
While Fortuna needs to keep the Minafi lights on, he's not keen on putting up barriers for other people who want to learn how to gain firm financial footing. That's why the Minafi Investor Bootcamp operates on a pay-what-you-want model, starting as low as $1 per course.
For those looking for hands-on guidance, Minafi offers the boot camp plus coaching for a one-time fee of $799. This comes with the Minafi Investor Bootcamp, a one-hour personal coaching call with Fortuna to help you get started, plus three more one-hour coaching sessions meant to be used after completing each month of the boot camp.
Members who sign up for this option can also email Fortuna with any questions at any time.
So whether you're setting your sights on gaining financial independence and retiring early or simply want to learn more about smart investing and depend less on credit cards, Minafi has resources for you.
Advertiser Disclosure
CardRates.com is a free online resource that offers valuable content and comparison services to users. To keep this resource 100% free, we receive compensation for referrals for many of the offers listed on the site. Along with key review factors, this compensation may impact how and where products appear across CardRates.com (including, for example, the order in which they appear). CardRates.com does not include the entire universe of available offers. Editorial opinions expressed on the site are strictly our own and are not provided, endorsed, or approved by advertisers.