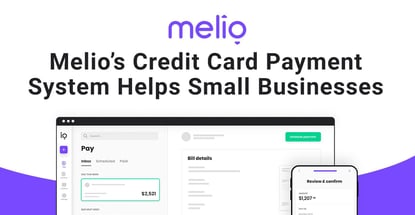 In a Nutshell: Melio provides small business owners flexibility in how they pay bills. Melio's intuitive payments system groups all of a business's bills into a clean interface. Business owners can pay specific bills and pay vendors right from the application. The application also supports making payments by credit card. And, for a small fee, businesses can use their credit cards to even pay vendors that don't normally accept credit cards*. Melio gives vendors the confidence that their bills will get paid and offers small business owners the ability to earn points because they are using a credit card.
Most of life's big bills can't be paid off with a credit card. Had I been allowed to pay my rent with my credit card over the past decade, I'd have enough to take a fancy trip on an expensive flight and book a seven-night stay at a 5-star hotel.
Unfortunately, it wasn't meant to be, and my dream trip will have to wait. But with Melio's payment solution, business owners can pay every one of their business bills with a credit card. Melio passes on the savings business owners earn — as credit card cash back and rewards points — on every purchase they make. These are savings businesses would otherwise leave on the table.
In addition to providing an easier way to pay bills, Melio also gathers all of a business's bills and puts them into its interface for easy bookkeeping. No need to log into multiple vendor websites or worry that you've forgotten to pay a bill. Everything is in one place and easy to understand.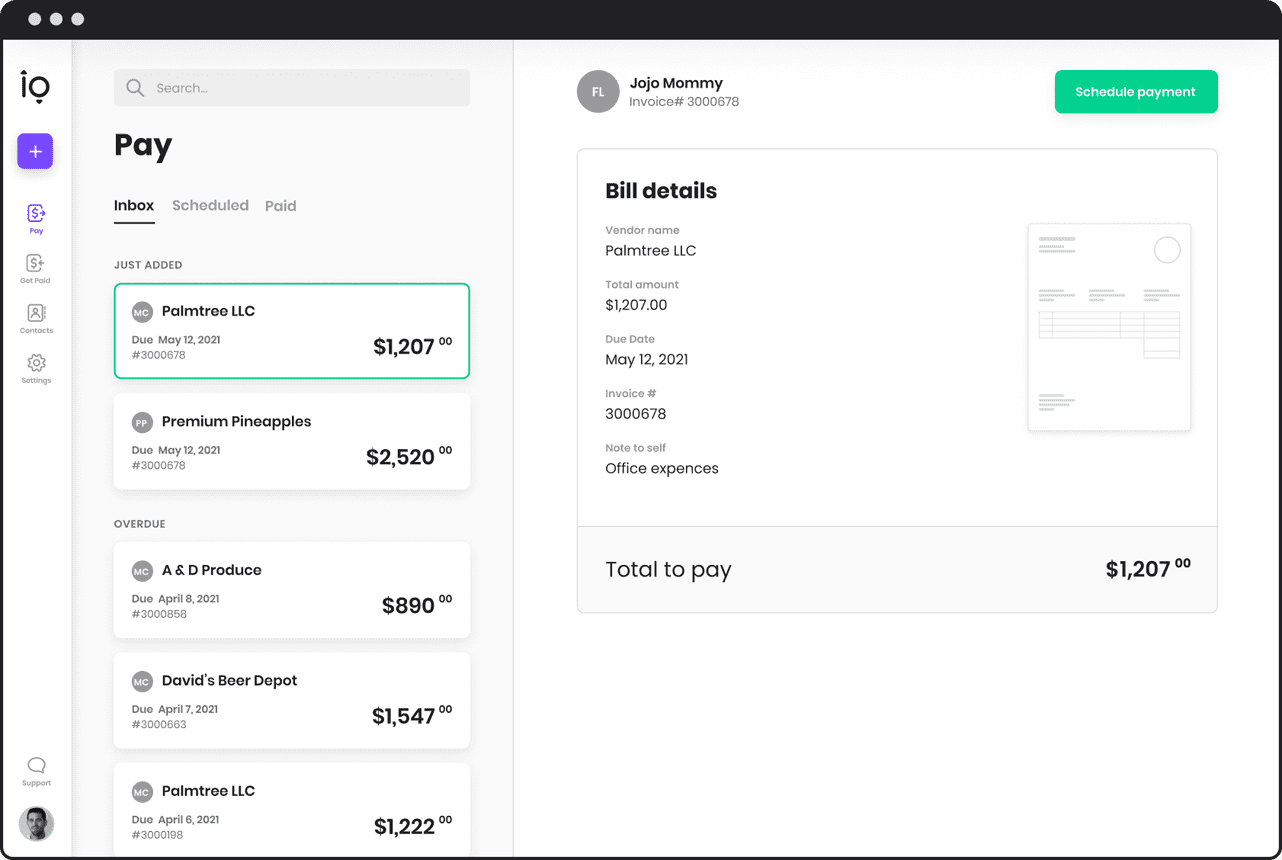 Business owners can choose to pay a specific bill, or pay several bills at once. The application even works for international payments. Melio's goal is to give business owners one less thing to think about, so they can focus on running their companies.
"We searched for a solution to their accounts payable challenges that would enable them to focus on what they loved doing — running their business," Melio Vice President of Customer Experience and Payment Operations Dafna Bareket said. "We found a real need for a quick, simple, and convenient way for these business owners to pay their vendors, while giving them more control over their finances."
Streamlining Day-to-Day Workflows
Small business owners normally pour their entire lives into their business. They do everything they can to succeed, which often means working long hours seven days a week. Removing even one item off their plate would allow them more time to make the business even better.
Melio created its payment solution for businesses that are underserved by the technology and financial sector. The company found that businesses struggle most with payments and developed its system around making payments easier.
The company said that one of the biggest challenges for small businesses is cash flow and workflow issues. Making payments with credit cards solves many of those issues. Instead of having the capital on hand to make payments, businesses can defer payments while still getting them paid on time. 
"By paying with a credit card and delaying when those funds leave your account, you're essentially extending your float in a way that's similar to a small business loan, but without all the paperwork or approval process," Bareket said. "Moreover, when you pay your business bills with a credit card, you enjoy extra cashback, points and miles on your business expenses."
Melio provides business owners with numerous funding options, including those that vendors don't typically accept, so they can pay bills the way they want to. Melio takes the credit card payments and sends them to vendors as an ACH payment or check.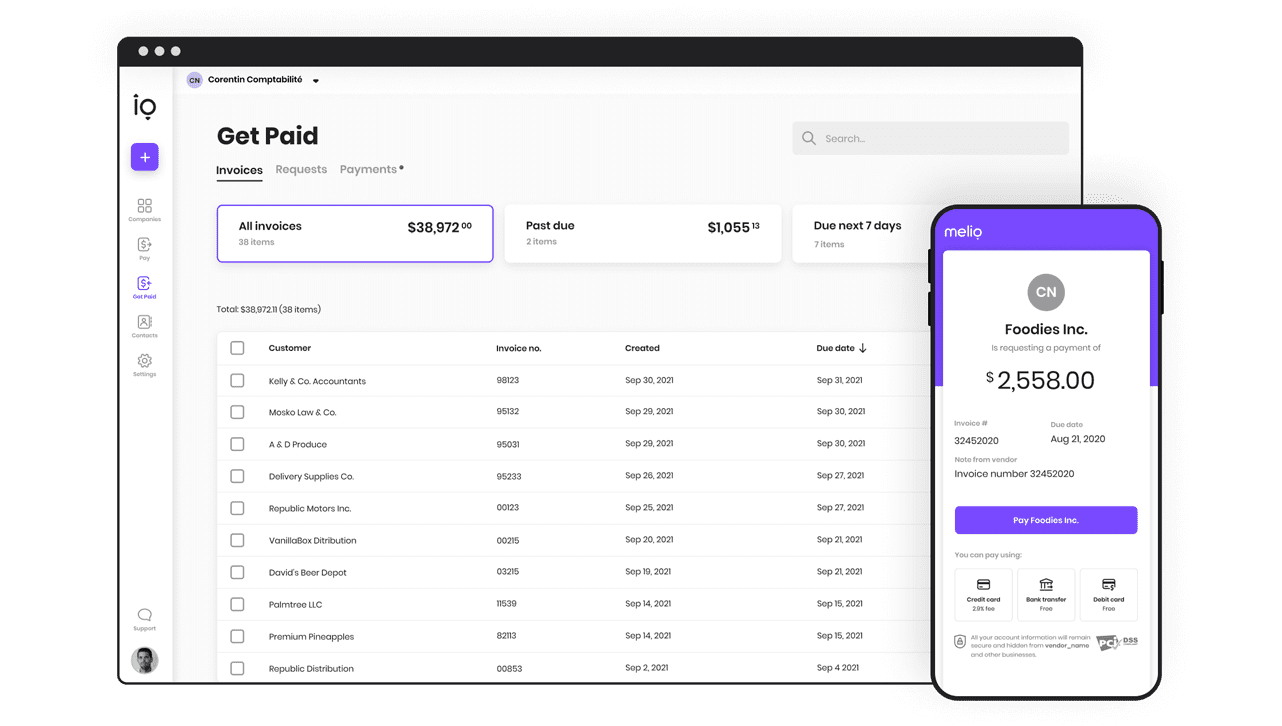 Vendors can also get paid the way they want to and can opt to receive the funds through faster methods, including push-to-debit cards or virtual cards. Both business owners and vendors receive total payment flexibility throughout the entire transaction.
Maximizing Card Rewards and Improving Cash Flow
Business credit cards with rewards represent one of the best ways for a company to earn cash back on purchases. Some cards will award cardholders cash back or points rewards if they spend a certain amount within the first few months of having the card. Other cards increase the number of  points cardholders earn for specific purchases during promotional periods.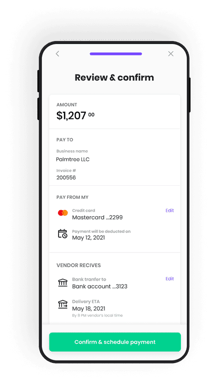 Every cent matters to small businesses which is why paying bills without a credit card represents missed savings. Melio charges 2.9% of the order amount for credit card payments. There's no cost for signing up, no monthly subscription or annual fee, or fees for bank transfers or deposits.
Melio told us that the majority of small and medium-sized businesses it works with are sole proprietors, meaning they do not have an accounting staff or finance department to handle bookkeeping. 
Studies show that 60% of small business owners have experienced a cash flow issue at some point, and 40% spend five or more hours per week handling their vendor payments. As society begins to return to normal following the pandemic, business owners especially rely on services like Melio's to make running their business easier.
"Melio has been a critical partner for small businesses as they navigated the constraints of the pandemic-induced economic downturn," Bareket said. "For many, the ability to adopt digital payment solutions has been key to keeping their doors open."
Partnerships Help Bring Fast and International Payments
Melio's payment solution streamlines the accounts payable process from the moment a business owner receives a bill to when vendors receive their payment. The company's key partnerships help elevate and bring new features to the system.
Melio also has new payment methods for businesses to take advantage of. The company has partnered with J.P. Morgan to create an instant and secure way to manage vendor payments with real-time payments and virtual cards. And Capital One works with Melio to increase access to accounts payable and receivable, and cash flow management tools for small business customers.
Also new to the system is support for international payments. Businesses can pay their vendors in Canada, Europe, Asia-Pacific, South America and other countries. The company said that, while competitors charge almost $50 for international transactions, Melio only charges a $20 tax-deductible fee for international transfers.
Melio said its primary goal is to put small businesses first. The company's customer success and support teams have doubled in size over the last year alone to ensure business owners are receiving the best care in real time.
The client services team works with customers so they understand how to use the program and focus its tools on the areas they need the most. Melio maintains a list of customers who have requested a new feature and notifies them when it's released. 
"We take our customer feedback seriously and often will hold interviews with customers to get feedback to integrate into the product," Bareket said. "Customers are delighted when they see their feedback come to life in the product. This is a true differentiator when comparing across payment options."
*Subject to card network limitations
Advertiser Disclosure
CardRates.com is a free online resource that offers valuable content and comparison services to users. To keep this resource 100% free, we receive compensation for referrals for many of the offers listed on the site. Along with key review factors, this compensation may impact how and where products appear across CardRates.com (including, for example, the order in which they appear). CardRates.com does not include the entire universe of available offers. Editorial opinions expressed on the site are strictly our own and are not provided, endorsed, or approved by advertisers.