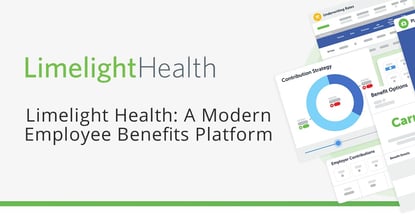 In a Nutshell: Today's employee benefits industry largely looks like yesterday's employee benefits industry, according to Limelight Health. Companies are working with outdated infrastructure and often use between three and seven legacy systems that don't always work well together. Limelight Health delivers modern solutions that boost turnaround times, reduce errors, and increase efficiency on multiple levels, allowing companies to focus on products and strategy. While it may seem daunting to switch to a whole new way of doing things, the company provides resources, like Limelight University, that make the transition as painless as possible.
The majority of Americans get their health, vision, dental, and life insurance coverage through their employers, and it can often be a less-than-pleasant experience, said Jason T. Andrew, Co-Founder and CEO of Limelight Health, a SaaS proposal-rating-underwriting platform.
"It's a super frustrating process in terms of pricing, getting quotes, proposals, negotiations," Andrew said. "That was the impetus for starting Limelight Health — to really make that a better experience and figure out a way to be able to get the right products to the right people at the right time."

Founded in 2014, Limelight Health's vision is to deliver the most efficient and compelling quoting and underwriting platform for the employee benefits industry. In its early days, the company focused on marketing to brokers but in recent years shifted its focus to becoming a carrier solution.
The company's philosophy is founded on five core values: do good by giving back to each other, push through challenges with grit and focus, take responsibility for its actions, constantly improve, and maintain humility and awareness.
"In our mission statement, we say that we treat our customers as partners," Andrew said. "So we go out of our way. As a company, we're pretty driven by our culture. We spend an obscene amount of time talking about and hiring around it."
This extends to talking to company clients about the culture as well, and striving to build really strong relationships with them by digging deep to understand their objectives and how Limelight can help them accomplish them.
"We want them to have fun and enjoy the experience as well," Andrew said.
Helping Carriers Modernize Their Internal Systems
"What we've found, and it's not surprising, is that every carrier in the states doing this is largely still using systems from the '90s," Andrew said. "It's a very legacy-ridden system."
He said operations are being carried out in systems like Excel, Word, and via email.
"It's just a really painful experience across the board so we're helping carriers modernize their internal systems," Andrew said.
This means Limelight Health clients can have access to modern APIs, data, analytics, and quicker turnaround times, the CEO explained.
"Rather than it taking five days for a broker to get a quote for a disability product from an insurance carrier, for example, we've got some that are turning it around in hours and in some cases minutes," Andrew said.
He said Limelight's system is used by underwriters, actuaries, sales intake teams, carriers, and, in some cases, brokers who want to do their own quotes in near-real time.
"Our vision is really to help modernize these processes for every carrier that's in the industry and help do a lot of additional stuff moving forward that isn't being done today because of all the legacy infrastructure," Andrew said.
From the day a company goes live with Limelight Health, their customers will see the difference with faster, more accurate proposals, and employees will feel the difference in a smoother workflow and more satisfying results, according to the company website.
"When you want best-of-breed software and compatibility with your legacy systems, you need the simplicity and ease of well-designed connectivity," according to Limelight. "Our APIs and webhooks make implementation of our SaaS platform the easiest you'll find anywhere. We want your IT team to be our biggest fans."
Limelight's Array of Solutions Boost Efficiency so People Can Focus on Other Tasks
Limelight's solutions will help clients bring in new and renewal business faster, eliminate bottlenecks, free up valuable staff time, and help leverage employees with modern toolsets, according to the company.
"We believe good computer applications should be the road to efficiency, freeing your people to do what people can do — apply judgment, focus on customers' problems, make the experience of doing business with you as clean and clear and effective as possible," according to Limelight.
Andrew said Limelight Health's tools help the carriers that are still using from three to seven different systems. This scenario leads to rapid errors, double entry, and a lot of lost time.
"Administratively, trying to track down the right information takes up time," he said, "versus being able to upgrade to a modern tech stack, consolidate all those tasks through the workflow and a single point of data entry and gain some great efficiencies."
Limelight's ratings engine helps power clients' actuarial teams.
"Use our rate-construction tools to test, promote, and commit rating algorithms instead of taking up scarce IT resources to develop, analyze, and apply complex rates," according to Limelight. "Tables? Factors? Adjustments? No problem. We put the power in the hands of your actuarial team."
And the Underwriting Workbench helps to simplify the underwriting process with an integrated workflow that includes rate adjustments, discounts, and decline-to-quote actions.
The company's quoting and proposal generating functionality allows clients to support various distribution channels by inviting them into the automated workflow.
"Let them retrieve rates for your products online and get quotes out more quickly. Emails? Faxes? No more," according to the company. "We make it easy for your brokers and agents to do business with you."
Limelight University Trains Clients to Get the Most Out of the Platform's Software
"Once a carrier becomes a customer, there's an implementation timeframe with our software, and we're building more and more tools that allow folks to be able to configure, extend, and integrate with our products," Andrew said.
One of these main tools is Limelight University, which provides online training at any time to help employees get up to speed.
"We have an ecosystem of partners like EY, Capgemini, Deloitte, NIIT, and others like that that can get certified and go through training," Andrew said. "And we're building out a certification for underwriters and actuaries — we've got our own in-house underwriter and actuary team that we call Expert Services."
Andrew said many carriers today rely on a lot of IT resources, meaning they have to spend a lot of time if they want to take a new product to market.
"Let's say they've got a new disability or life insurance product. It could take months or sometimes even a year to configure that product file," he said. "We're basically training non-IT resources. These are no-code or low-code ratings and actuarial tools that make it easier to push products to production."
Limelight University, and other features the company is working on, essentially frees up the ability of clients to focus more on their products and their strategies, he said.
"Adopting new systems brings new ways of doing things. We know the learning curve can be steep — so we developed LLU to make the climb easier. We want your organization to realize the full benefits of Limelight as quickly as possible," according to the company.
Advertiser Disclosure
CardRates.com is a free online resource that offers valuable content and comparison services to users. To keep this resource 100% free, we receive compensation for referrals for many of the offers listed on the site. Along with key review factors, this compensation may impact how and where products appear across CardRates.com (including, for example, the order in which they appear). CardRates.com does not include the entire universe of available offers. Editorial opinions expressed on the site are strictly our own and are not provided, endorsed, or approved by advertisers.