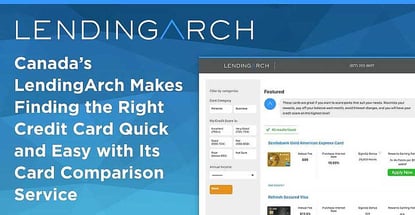 In a Nutshell: With so many options available, searching for the right credit card can be a daunting process. For Canadians, LendingArch helps to simplify the process through their convenient credit card comparison service that allows consumers to find and apply for the card options best suited to their wants and needs. The FinTech startup also offers rate comparison tools on a number of different types of loans, making it a one-stop shop for customer's lending needs. With all of its services, LendingArch places its highest priority on the security of customers' data and makes sure it is working with partners who also hold security in the highest regard. //
The number of credit cards to choose from these days can be overwhelming.
Are you looking for a low APR? Do you want to earn travel rewards? Are you trying to rebuild your credit? The list of questions you might ask yourself can go on forever.
Once you determine what your personal needs and preferences are in a credit card, it's time to start shopping around. Where do you even begin?
Again, the options can seem limitless. You could go to your bank to see what kind of credit cards they offer. You could consider the credit card offers you get in the mail. You could turn to the internet, but with thousands of credit card sites and offers, how do you filter through them? Which ones are legitimate and secure?
If you live in Canada, this process has become much simpler with LendingArch. Launched in 2015 as an online personal loan platform, LendingArch moved out of the direct lending space in 2018 to its current business model to help serve a much larger audience.

"It was a good business model, but we got a lot of feedback from people asking if we offer credit cards, or car loans, or mortgages, or business loans," said Paul Hadzoglou, President of LendingArch. "Obviously, the answer was always no, we just did personal loans."
Hadzoglou said LendingArch received enough of these types of questions that it began to seriously reconsider its business model to fill the niche they had identified from their customers. Last year, the team decided to change the direction of the company to meet these needs by moving out of the loan issuer space to work with other loan and credit card issuers.
Today, with its mission to "help Canadians find the best rates and see how they can save money," LendingArch offers rate comparisons for personal loans, small business loans, car loans, personal loans, and credit cards.
Narrow Down Your Options by Selecting the Features Most Important to You
With LendingArch's credit card comparison tool, consumers now have the power to see a range of credit card options and features available to them. Consumers can input their preferences to filter cards by personal or business, then into various rewards categories, including travel, points, cash back, or no annual fee. Users also identify a range in which their credit score falls and their annual income.
LendingArch instantly presents the consumer with the credit cards that match up with their profile.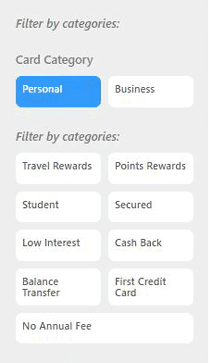 "When a person finds the card they're interested in, they can click on the link which re-routes them to that issuer's application," Hadzoglou explained. "They can begin the application and get an answer pretty much instantly."
Hadzoglou said as for which cards tend to be the most appealing to Canadians, it's all about the perks.
"The biggest thing that Canadians love is the rewards credit cards offer," he said. "Some people are all about travel, other people are all about cash back, and other people are all about points, just depending. But they love to use their cards and gain their rewards."
He said Canadians don't just think of credit cards as something to apply charges to and pay them off — they like the idea of using a credit card as a tool to gain something.
And consumers can be sure they are receiving high-quality card options to choose from when they use LendingArch.
"LendingArch has successfully signed deals with the majority of Canada's top institutions and credit card providers," according to a LendingArch press release. "This list consists of the country's top banks and credit lenders throughout the nation, including brands such as Home Trust, American Express, and Bank of Montreal, to allow users to easily browse and filter through the top credit card options available in Canada."
LendingArch is a One-Stop Shop to Compare Rates for Numerous Types of Loans
Hadzoglou said once LendingArch began to recognize the demand in other lending areas, it conducted some research which revealed a gap in services in Canada: There was not a FinTech website in the country that offered a variety of online loan services.
"People want to do things on their phones, on their tablets, on their computers," he said. "They're not inclined to go into branches and book appointments, and give a bunch of information, then get sent home to collect some more information they need to send back, and then eventually come back in and sign loan documents and get approved."
The company took note of LendingTree in the US, Hadzoglou said, where consumers can go on the website, apply for loans, and be connected with the lender that best meets the consumer's criteria.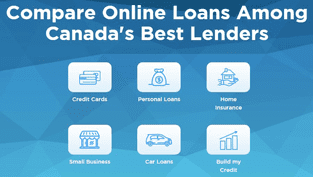 "That's one of the big ones that got us thinking, and so we decided we should evolve and offer all of those products and services," he said. "There is no Canadian LendingTree, and I don't think LendingTree themselves are necessarily keen on coming here because they just keep growing and growing in the United States."
The result of LendingArch's research and reevaluation of its business model came to fruition earlier this year with the implementation of its own technology that allows for quick comparison rates for not only credit cards, but personal, business, or auto loans, as well as insurance.
"We have invested heavily into our brand, new business direction, intellectual capital, digital footprint, and market strength, and the results are coming through fast and hard," Hadzoglou said in a press release. "We will remain free to use for all of our borrowers, and have now increased our reach, breadth, and ability to provide full spectrum financial rate comparison services across a number of verticals to our customers and users, a major benefit to our ever-expanding Canadian user base."
LendingArch's services not only benefit its user base but its industry partners as well. The company is able to provide pre-qualified customers with a high probability of being approved for a loan directly to its lending partners, increasing the efficiency of its partners' marketing efforts.
Data Security is Priority for LendingArch and Its Partners
While it's true that many consumers today want to be able to receive products and services quickly and conveniently online, security is still a major concern. Hadzoglou said LendingArch takes every precaution to make sure users' information is protected.
"There's no stone left unturned when it comes to our willingness and our ability to protect people's information, and that goes for our partners as well," he said. "Data security is everything. Without data security, you don't have a business. So, if we weren't secure or if we ever had a breach or anything like that, we'd be out of business."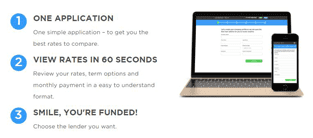 LendingArch's website has the highest level of encryption available. Hadzoglou said the company works with Microsoft to ensure this, and in terms of data security and integrity, its server is considered the most robust and most secure place to store data.
As far as LendingArch's partners, consumers can be confident that they are going to be referred to high-quality companies and national banks.
"You're not getting sent to some no-name credit card issuer that you've never heard of that has a dodgy site," Hadzoglou said. "You're getting sent to the very best, so it's all a secure connection between ourselves and those financial institutions. Everything from start to finish is protected."
Numbers are Increasing and LendingArch Hopes to Expand its Partnerships in the Future
In its most recent report, LendingArch's rankings for credit card searches in Canada were on the rise, and Hadzoglou said the result has been that more and more people are finding the LendingArch website and applying for credit cards through the company.
He said the company also hopes to secure partnerships with some of the other major Canadian banks in the future.
With so many credit card options available to consumers today, having the right tools to narrow down the options is essential. With LendingArch, Canadians are now able to conveniently search for the credit card best suited to their wants and needs. And with its other services, LendingArch has positioned itself as Canada's one-stop shop for loan rate comparison as well.
Advertiser Disclosure
CardRates.com is a free online resource that offers valuable content and comparison services to users. To keep this resource 100% free, we receive compensation for referrals for many of the offers listed on the site. Along with key review factors, this compensation may impact how and where products appear across CardRates.com (including, for example, the order in which they appear). CardRates.com does not include the entire universe of available offers. Editorial opinions expressed on the site are strictly our own and are not provided, endorsed, or approved by advertisers.