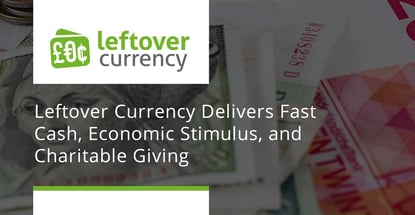 In a Nutshell: Leftover Currency is a currency exchange service with two offices in London. Since 2012, it has converted banknotes and coins into other currencies in over 25,000 transactions. The company also accepts old notes and coins that are no longer exchangeable and auctions them for numismatic value. It processes charitable contributions and adds 5% to each one. Leftover Currency is the highest-rated currency exchange in the U.K.
It can be deeply satisfying to turn a hobby into a successful business, especially if that business does good things for the community. Usually, it's a long shot, but Leftover Currency beat the odds to become one of the U.K.'s leading money exchange services.
Mario Van Poppel, the company's owner and founder, is quick to express his gratitude and pride in turning his currency-collecting passion into a business boasting two offices in London and 10 employees.
"I like how a foreign currency can tell so much about the country, about its people and culture," he said. "It was probably one of the reasons why I became a currency collector. It was just really beautiful. And you learn a lot about countries by what's on the notes."
Van Poppel was a college student in Belgium just as the European Monetary Union was switching over to its new currency, the euro. When he came across some Belgian francs in an old drawer, he promptly went over to the local bank branch to convert the banknotes to euros — as a student, he was quite grateful for the extra money.
His family and friends who were not near the bank asked him to convert their notes and even paid him a commission. Those notes, which came from several countries, immediately fascinated Van Poppel and ignited his interest in becoming a collector.
"Some of the notes were ones I had never seen," he recalls. "I became interested in banknotes and decided not to exchange some of them. Instead, I kept some notes and gave the owners money for them."
From Favor to Hobby to Top-Rated Business
As an avid traveler, Van Poppel took the opportunity to collect different banknotes from Europe and beyond. He soon was trading notes on the local electronic bulletin board while learning how to exchange extra notes at the various banks in his area.
Filling out the forms required some knowledge of different languages, another one of Van Poppel's skills. He and his wife began offering their currency exchange services in Belgium in 2010 as a side gig.
The husband and wife team started accepting obsolete currencies and coins that were no longer exchanged by the banks. They would exchange obsolete notes and coins for the numismatic value. Sometimes, the coins were sold for scrap. Van Poppel moved to London in 2011 for his day job in the tourism industry.
"In the evenings, we did all the currency, and it became bigger and bigger," he recalls. "In 2012, we launched Leftover Currency on Regent Street in Central London. It is a currency drop-off location. Leftover Currency became my main job, my day job. Now, we are here in London and Datchet with 10 employees, all experts at exchanging foreign currencies. We've helped over 25,000 people exchange their leftover foreign coins and banknotes, including obsolete currencies."
The company's services offer top perks, including:
no hidden fees
the best exchange rates available online
the ability to handle multiple currencies in the same order
fast payments
the ability to exchange exotic, defunct, and damaged currencies and coins
Leftover Currency is a bureau de change registered with Her Majesty's Revenues and Customs under the U.K. money laundering regulations.
Leftover Currency Pumps Life into Dead Currency
In 2014, Leftover Currency became a limited company, and in 2019, opened Manor FX in Datchet, its first brick-and-mortar store. Today, customers range from individuals to big corporations.
The business operation is straightforward. When users send in their currency by parcel or envelope, Leftover Currency will count it and check the security safety marks. It pays the customer by check, bank transfer, or PayPal within five working days.
The company bulks up the different foreign currencies and then travels to regional central banks to exchange it. Currency and coins that are no longer exchangeable are sold to collectors via auction. Sometimes old notes are sold to movie studios as props.
The company also works with corporate clients, financial institutions, and public bodies by offering services such as:
purchasing foreign coins
purchasing or processing any kind of banknote, including those that are expired, unfit, or exotic
fielding requests from referred customers who need to exchange their foreign currencies and coins
Van Poppel enjoys helping convert old currency that had been otherwise sitting around collecting dust.
"The amount of currency that has been injected into the economy from people's drawers is amazing," he said. "This has an impact on not just the U.K., but abroad as well. That's what we need right now during the pandemic to keep things working."
The company temporarily closed its Regent Street drop-off location due to the COVID-19 pandemic. However, it was recently reopened part time and continues to receive deliveries.
To accommodate the social distancing requirements, Leftover Currency installed a parcel hatch at its Datchet location where customers can drop off their currency. An employee is on the other side of the hatch to receive the currency and provide a receipt.
"People are indeed self-delivering," noted Von Poppel. "Slowly but surely, we'll get back to our new normal."
Helping Charities Benefit from Reclaimed Money
Many of Leftover Currency's customers choose to donate their currency to charity. The company now partners with more than 40 different charities on its website. The company then visits all the charities it partners with to see where the donations go.
"We add 5% to whatever people choose to donate," said Von Poppel. "We decided to add a little bit ourselves because we really appreciate people wanting to donate currency. People are very generous. We admire how generous people are. We're glad we have some impact not just on the economy, but also on all these people who are doing such great charitable work."
The list of charities includes organizations promoting animal welfare, nature preservation, historic cultural sites, and research into certain diseases. One charity grants wishes to children who are ill. Others care for terminally ill patients, children with cancer, and people living with disability or illness.

One-hundred percent of the coin and currency exchange value goes to the charities, and the company collects no fees or commissions. Donors receive written confirmation of their gifts.
Leftover Currency also works directly with charities that have foreign currencies they'd like to exchange. The company accepts charity lots for sorting, counting, and reporting.
"We are very proud to have so many five star reviews, and have the highest Trust Pilot rating in the U.K.," said Von Poppel. "Nationwide, we are the highest-rated currency exchange company in the whole U.K. We're very proud of that."
Advertiser Disclosure
CardRates.com is a free online resource that offers valuable content and comparison services to users. To keep this resource 100% free, we receive compensation for referrals for many of the offers listed on the site. Along with key review factors, this compensation may impact how and where products appear across CardRates.com (including, for example, the order in which they appear). CardRates.com does not include the entire universe of available offers. Editorial opinions expressed on the site are strictly our own and are not provided, endorsed, or approved by advertisers.