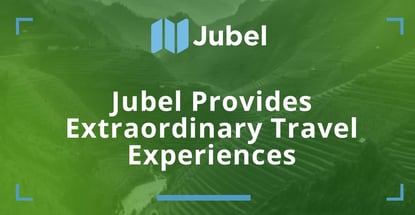 In a Nutshell: Traveling should be an adventure, according to Jubel. The tech-based, dynamic travel platform helps people plan exciting, one-of-a-kind trips without the logistical hassles of DIY booking and without the high price tag of a personal travel agent. Those who simply have the urge to go somewhere but haven't decided on a destination yet can work with Jubel to plan out a unique trip based on their interests, time constraints, and budgets. The company even offers surprise trips for the most adventurous travelers. Jubel is offering a flexible cancellation policy during the COVID-19 pandemic so consumers can still book through Jubel with peace of mind.
Decision paralysis is real. I have spent many a night scrolling through movie options on Netflix only to realize that nearly an hour has passed, and I no longer even have time to watch a movie.
I've experienced similar scenarios when thinking about traveling abroad. Sure, London, Paris, and Rome are all fantastic, culturally rich, and common destinations for Americans. But there is a whole world of options out there after all.

How do you decide where to go when you're ready for a destination outside of the usual suspects? Or when you're ready to experience those places in new and unique ways?
Jubel can help with that.
"We've been operating for four years now, and we focus on experiential travel — making it easy to plan multi-destination trips at a fraction of the cost that you would normally have to plan with a travel agency," said Nicolas S. Bergengruen, Jubel Co-Founder and Chief Marketing and Business Development Officer.
Of course, at CardRates, we carry a passion for all things credit card-related and we love to travel. So, we'd be remiss not to mention how traveling to new places and gaining unique experiences is also a fantastic way to cash in on credit card rewards.
We recently spoke with Bergengruen about the innovative Jubel platform, how technology is changing the way people plan and travel, and traveling in the age of COVID-19.
A Platform Built for Unique Travel Experiences that Meet a Range of Preferences and Budgets
Jubel Co-Founder and CEO JP Toscano notes on the company website that travelers of old — long before the internet, booking websites, and credit cards — embarked on adventures through new or unknown lands, not knowing what lay ahead of them. Even in more recent years, but still prior to the advent of the internet, traveling with just a map yielded a sense of adventure, a sense of the unknown.
"When traveling, I've always tried to recreate this feeling of adventure by exploring remote locations and staying as off-the-beaten-path as I could," writes Toscano. "Surprisingly, it is still possible to discover places in this hyperconnected world that give you a thrilling sense of awe and wonder, akin to what the explorers of the past experienced."
And that's the basic motivation behind Jubel. Toscano wrote that he was still surprised at how difficult it was to plan these types of trips due to the overwhelming number of choices available today and the endless paths offered by the internet.
The Jubel team took on this challenge and created a platform fitting today's modern adventurer who is not interested in preplanned, cookie-cutter trips booked through a traditional travel agency. Instead, Jubel makes it easy to embark on a one-of-a-kind experience.
"We help you embark on your perfect trip, experience the world in its authenticity, and transform regular vacations into once in a lifetime experiences, with tales to be told for years to come," according to the company. "We'll help you visit destinations that you may not even know exist yet, and experience things you never imagined you would love."
How the Tech-Based Platform Works for Travelers
Bergengruen said that it takes around 30 hours, on average, and visiting 140 different websites for a person to plan a trip. That doesn't even include navigating around outdated articles, dead-end deals, and other internet pitfalls that leave those credit card awards unclaimed.
"At the other end of the spectrum, you have travel agents, which are pretty expensive and outdated for most people," Bergengruen said. "They are modernizing in some ways, but for the most part, they still come with a pretty high price tag. And it's a very friction-heavy process. A lot of emails, a lot of phone calls."
And, whether using the DIY approach or the travel agent approach, many travelers still end up with a fairly predictable trip that stays on the path most traveled. Jubel can help people diverge from this path into worlds more diverse.
"We've set out to create a platform that makes it easier for you to book these trips, and democratize what a luxury travel adviser would be able to give you — which is a fully personalized solution," Bergengruen said. "And do that in a way where you retain all the fun elements of travel planning, which are the exploratory individual parts."
And Jubel handles the tedious, logistical components such as simply figuring out and planning how to get from point A to B to C, he said.
Oftentimes, when travelers decide they want to take a trip, they don't even know where they want to go.
"The big booking platforms don't help you in the trip consideration phase, which is where we really focus," Bergengruen said.
For the undecided, Jubel's website can help them determine the course of their next adventure by guiding them through a selection process. Users answer a few questions about their interests — choosing between categories such as Adventure, Beach, Culture, Nature, and Nightlife — length of trip, and budget.
For the most adventurous travelers, Jubel offers surprise trips to mysterious destinations, which was one of the company's earliest offerings. Travelers again provide some basic information and Jubel sends them a complete trip proposal.
"Today, hundreds of travelers have embarked on these unique adventures and they keep coming back for more," according to the company. "Whether it's to step out of your daily routine, give the control-freak a break, find yourself, be the envy of your friends, avoid choice paralysis, or rekindle a romantic spark — studies show that surprises intensify your emotions by over 400 percent."
Travel in the Age of COVID-19 Includes a Flexible Cancellation Policy and High Safety Standards
Bergengruen also discussed how the COVID-19 pandemic has impacted the travel industry in general, and how Jubel is responding to it as well.
"Obviously, right now with COVID, the whole industry has come to a complete halt, which is a shame," he said. "There are so many cool companies out there, and I'm sure a lot of people took the leap right now where maybe they got hit hard. Luckily, we're backed by really good businesses."
While travelers may understandably be hesitant to pull out their credit cards and plan a trip at the moment, they can still book with confidence through Jubel, with the company's experts who keep the COVID-19 pandemic at top of mind, according to the website. Jubel has also implemented a flexible cancellation policy to help give travelers peace of mind.

"For bookings made after May 20th and before October 31st, we are giving you the flexibility of knowing that, for any circumstance or reason at all, you may postpone your trip or cancel it for a 100% future travel credit," according to the website. "Your travel investment is always fully protected, including airfare. No strings attached."
Although Jubel can't change how the coronavirus will continue to spread or what travel limitations will be imposed by certain governments, it is well prepared for unpredictable circumstances.
"Collectively we have 15-plus years of experience in facing unforeseen predicaments stirred by global events," according to the website. "And, with specialists who are experts in their destinations and remain your single point of contact before and while you travel, you're in safe hands."
Offsetting Carbon Emissions
One of the next journeys Jubel will be embarking on is becoming carbon neutral.
"It's one of the big things that we're working on. We committed with this company called Climate Neutral, which is a very cool company, to start offsetting carbon emissions for our clients which we think is very important," Bergengruen said.
He said that beginning in 2021, Jubel will begin offsetting all the carbon emissions for its sales for 2020 moving forward.
Advertiser Disclosure
CardRates.com is a free online resource that offers valuable content and comparison services to users. To keep this resource 100% free, we receive compensation for referrals for many of the offers listed on the site. Along with key review factors, this compensation may impact how and where products appear across CardRates.com (including, for example, the order in which they appear). CardRates.com does not include the entire universe of available offers. Editorial opinions expressed on the site are strictly our own and are not provided, endorsed, or approved by advertisers.