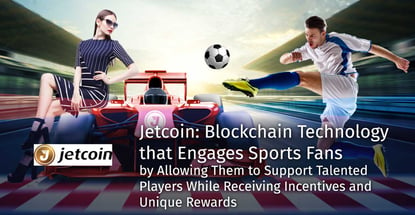 credit card news
Our experts and industry insiders blog the latest news, studies and current events from inside the credit card industry. Our articles follow strict editorial guidelines.
In a Nutshell: The Jetcoin Institute allows users to use the JET cryptocurrency to support emerging athletes and earn incentives and unique rewards. Jetcoin carefully chooses partner athletes and provides them with access to high-level training, modeling portfolios, and other services needed to cultivate an image, brand, and fan base. And Jetcoin is also branching out into modeling and entertainment to provide even more unique and profitable ways for supporters to also earn crypto rewards.
Long before the white-hot lights and television cameras followed their every move, today's soccer superstars honed their skills on bumpy fields and gravel-lined streets — far away from the public eye.
They made their way through amateur clubs and fought for attention with thousands of other youngsters who wanted nothing more than to get a chance at stardom. A few succeed, but many more fade away because they lack the resources necessary to live up to their potential.
How many undiscovered legends never made it because they couldn't afford the training necessary to climb to the next level?
Eric Alexandre said he has seen too many young prodigies fall into that trap. That's why he created the Jetcoin Institute to give fans a chance to support emerging talent while potentially reaping huge rewards down the line.
"Back in 2014, we looked at the crowdfunding solutions for emerging talent," Alexandre said. "We looked at soccer players in Europe and wanted to find a way to support them in their early stages so that they can thrive without being limited by funding."
Perhaps you've seen Jetcoin's distinctive logo on the jerseys of several European soccer clubs. Maybe you've spotted the company's branding on the LED perimeter boards during multiple 2018 Emirates FA Cup matches. While those bring attention to the cryptocurrency that fuels the company's plans, Alexandre noted that the real success will come when the athletes sponsored by the company make it to the pitch.
"When that talent matures, part of the endorsement and image rights earnings will be shared with the pool of supporters who committed to them in the beginning — when they needed help," he said.
Users first purchase JET cryptocurrency through the platform's app. They can use those coins in the Jetcoin Champions marketplace, where they choose various young athletes to sponsor.
Athletes who become part of the Jetcoin Institute aren't just given money to pay for training. Instead, Alexandre leverages his long-standing connections in the fashion and sports industries to arrange high-level training, as well as modeling classes and portfolios that help to curate their image.
"We focused on soccer because it's the biggest sport in the world," Alexandre said. "We're well-known now in the cryptocurrency community because we were one of the old guard. We weren't part of the original protocol because we always wanted to be a commercial solution that is built on the blockchain."
A Blockchain App Where Fans Support Young Athletes
The Jetcoin app has several key features, the most important of which is a user's Jetcoin Wallet. The wallet securely stores JET and allows users to send and receive the cryptocurrency seamlessly. Users can also purchase more of the coin by using a Visa or Mastercard debit or credit card.
The Jetcoin Champions area allows users to browse through the talent partnered with the company. This is where speculators can decide which athletes to support.
"You can select and build a team of talents who can give you incentives and rewards as the talent matures," Alexandre said. "You join a pool of supporters for that talent who all work to support that athlete over time."
Supporters also receive occasional rewards as their chosen athletes climb the professional ranks. Among the perks are meet-and-greet sessions, personalized tweets and Facebook posts, and limited-edition tokens that the user can collect or sell.
And since each transaction and interaction on the Jetcoin App takes place on the blockchain, users can rest easy knowing that their information is securely logged on the chain's ledger.
Partnerships with Top Clubs Get More Users Involved
Jetcoin doesn't allow just any young athlete to list his or her talents within the Champions marketplace. Alexandre has years of history in cultivating talent, and his team scrutinizes each applicant before partnering with an athlete or entertainer.
"We work with clubs and agencies and several other entities to find new talent," he said. "My background is in advertising, fashion, and sports, so I have wide connections in every one of those areas."
The Institute assembles a team to work with each client — putting together a modeling portfolio and other modern necessities that help build an athlete's brand and fan base.
"As far as we know, we're the only ones doing this next level of fan engagement," Alexandre said. "We're finding that younger fans really like the product, and these fans are usually between the ages of 15 and 25."
The company's goal is to bring fans closer to the athletes and clubs that mean so much to them. Soon, app users will have the opportunity to use JET to purchase 15- to 20-second messages that will display in real-time on the LED perimeter boards during their favorite club's matches.
That's just one of the many perks Alexandre's team has planned for fans who hold JET tokens.
"We're looking to activate a fan base by creating unique rewards that will drive people to download the app and use it," he said. "Partnerships with the club are important to building that."
Jetcoin: A Thriving Community of Fans and Supporters
Jetcoin's loyal community not only wants to support its favorite clubs and athletes, but it also wants to see the coin succeed. Alexandre said that community plays a massive role in determining the company's direction, but it wasn't always that way.
"Now, we send just about everything we do to our community," he said. "They have a say in our design and interface and everything that we create. They even have a say on different partnerships and sponsorships that we consider."
This interaction not only allows users to support a young athlete's potential, but it also gives them a feeling of ownership in the Jetcoin brand. And that type of feeling often leads to lifelong superfans who go out of their way to help a company succeed.
"Our target audience is fans of soccer clubs and specific players," Alexandre said. "We want to create a simple path for these people to download the app, purchase some JET, and interact with those clubs and players."
And since the sport boasts a worldwide fan base of approximately 4 billion people, Jetcoin can share its unique platform with a massive audience. According to Alexandre, his team plans on providing those fans with exactly what they want — a deeper connection to their favorite teams and players.