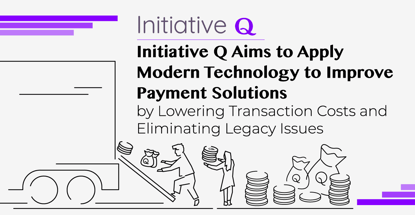 In a Nutshell: Credit cards have been a standard payment method for more than 60 years, but Initiative Q aims to usher in a new era of digital transactions. Its planned platform, which will rely on a groundswell of popular demand, seeks to save consumers time and money by eliminating the legacy infrastructure required to process credit card payments. The secure, cutting-edge network aims to protect users as an independent committee will ensure its proprietary digital currency — the Q — maintains a stable market value. And Initiative Q also has the potential to extend its benefits to underbanked communities, creating a safer, more accessible marketplace.
In 1958, Bank of America made a bold decision to distribute pre-approved credit cards — called Bank Americards — to a large number of consumers in the Fresno, California, area. And, because so many people possessed the card, merchants in the region began accepting Bank Americard for payments. That was how the modern credit card was born.
Today, we think of credit cards as a fast, secure payment method. But when they started gaining traction, it was a more time-consuming process. Initially, the merchant had to contact the issuing bank, which often called the third-party credit card company, which, in turn, manually verified the consumer's balance.
Since then, technology has reduced human effort and increased speed and efficiency. But modern innovations can yield payment services that are faster and simpler than credit cards — so why haven't we adopted them? The answer is primarily the chicken-and-egg dilemma. Merchants won't adopt a new payment technology unless enough consumers are using it, and consumers won't adopt the latest tech unless merchants accept it.
"The main problem in getting a new payment technology out is, 'How do you get a critical mass of both buyers and sellers to commit to using it?" said Saar Wilf, Founder of Initiative Q. Wilf has been a trailblazer in the online payment space since 1997 — around the birth of ecommerce.
Bank Americard overcame this problem in 1958, but no one since seems to have managed the same feat. As a result, the market relies on a payment system that is more than half a century old.
"Credit cards had critical mass on both sides, even though they were inferior to other technologies offered at the time. They won because of that existing critical mass," he said.
Initiative Q aims to overcome that adoption problem and other obstacles that stand in the way of a more efficient and secure payment for merchants and consumers alike. Initiative Q combines the best available technology, ease of use, and a proprietary currency to enable faster transactions.
And the future value of its propriety currency — the Q — is Initiative Q's primary leverage for gaining widespread acceptance and adoption. In doing so, it seeks to introduce not just a new payment system but a whole new paradigm for the global economy.
An Innovative Plan for Enabling Efficient Transactions
Wilf is quick to point out that Q is not a cryptocurrency. Qs are not blockchain-based and, unlike cryptos, which are legally classified as commodities, they are treated like fiat currency. Initiative Q will protect against fraud — just like banks and credit card companies do with their customers. A tailored monetary policy will also enable Qs to hold a stable value — something with which most cryptocurrencies have trouble.
And Qs are designed to be exchanged by consumers. That is where Initiative Q finds its highest potential to displace credit cards as the dominant method of digital payment. To use a credit card, the consumer must first have a credit card, and the merchant must have a card reader and an account with the credit card provider. Those components all cost money, with the consumer ultimately footing the bill.
But Q users will need only a smartphone and the Initiative Q app. Because all payments in the network use Qs, there will be no exchange fees for international purchases, further reducing costs on both sides.
"We're still stuck with payment systems from 50 years ago, and that's the number one problem," Wilf said.
In contrast, Initiative Q will leverage the latest technology to make payments faster and more efficient. After authorizing transactions with a merchant, Initiative Q plans to allow consumers to enable one-click payments. At stores, they could even scan barcodes on their items with their mobile device and walk out the door — no standing in line or entering information into a credit card terminal.
And at restaurants, that means diners could place their orders, enjoy their meals, and leave on their own timeline, without having to wait on their server to bring the bill.
Verification and Social Accountability Will Protect Users
Just as consumers must apply and receive approval to use credit cards, consumers must be approved to join the Initiative Q network. But unlike with credit cards, they aren't approved or denied by a central authority. Instead, new members must be invited and verified by an existing member.
Any fraudulent activity on the part of users will damage not only their reputation but also that of the person who verified them. Initiative Q hopes that this component of social accountability within the network will work to exclude malicious actors, creating a safer environment.
Using Qs to make transactions will also require users to verify their identity, just as credit cards do. But Initiative Q will employ multifactor authentication, which requires two or more components, much as using a debit card requires possession of the physical card as well as a PIN. This method is more effective than the current verification system used to process credit card transactions. Additionally, user payment histories will establish precedents for purchasing behavior, making fraud easier to monitor and flag when anomalies occur.
Initiative Q also plans to provide users with more detailed functionality beyond that offered by credit card statements. Consumers may see the time and location of a purchase, information about the product, delivery tracking information, and even tools to communicate directly with the seller. These features will further empower consumer control over spending and financial security.
Each Initiative Q account will link to one or more sub-accounts. The primary account holder can allocate funds, authorize expenses, and access transaction histories for each sub-account. Such functionality will provide easy oversight for financial supervisors managing departments as well as for parents who want to keep track of their children's financial behavior.
In the event a consumer needs to dispute a charge, Initiative Q plans to offer an automated resolution system. Trained representatives will also be available to intervene in situations that call for a more human touch. That will help users deal with fraudulent charges as well as dishonest business practices on the part of merchants.
And the payment system plans to make underhanded advertising and low product quality grounds for payment reversal. That should not only revolutionize the payment space but also work to create a safer and more ethical marketplace.
Policies Seek to Ensure Stable Value and Encourage Growth
For Initiative Q to succeed, Qs must maintain a stable value to keep prices steady and predictable. And the process and instruments used to accomplish that won't be fundamentally different from those deployed to protect the value of fiat currencies.
Once the payment network is up and running, Qs will be released gradually. Releasing Qs all at once would flood the market and serve to devalue the currency. But by supplying Qs to consumers in a steady stream rather than opening the floodgates, Initiative Q will keep demand for the currency — and its value — high.
Initiative Q also plans to offer incentives for consumers to use and acquire Qs. These incentives will include familiar cash back rewards as well as bonuses on conversions of other currencies into Qs, effectively creating a discount for using Qs. This strategy will draw more activity into the network, growing it along with its currency's value.
At launch, consumers can purchase Qs in exchange for other currencies. A central monetary committee will issue additional Qs directly and control the number in circulation, protecting against inflation and keeping the currency's value within the desired range.
The independent monetary committee overseeing the Q will be separate from the Initiative Q corporate entity. A stakeholder vote will appoint committee members. On behalf of those stakeholders, the monetary committee will be tasked with establishing and administering a monetary policy that will maintain stability and ensure the success of the network.
Incentivizing Early Adoption to Build Momentum with Consumers and Interest with Merchants
To overcome the chicken-and-egg dilemma, Initiative Q is following the same plan that worked for the first modern credit card: achieving a critical mass of users. With enough consumers eager to use the service, merchants will be more inclined to come onboard as well. And Initiative Q plans to incentivize adoption.
Early adopters are guaranteed a future allotment of Qs that will be gradually disbursed when the network becomes operational. The earlier a user signs up, the bigger that reward will be, which encourages more people to enroll so they can realize higher potential. Those users can also invite additional users — and earn additional Qs.
"Because we will give people free currency, they have an incentive to promote adoption of the payment system," Wilf said. "And as the payment system grows, more people are using its currency. And as more and more people use the currency, it becomes more of a standard, and that increases the value of the currency."
Once it is deployed and operational, the value of a cutting-edge payment solution will be evident through its use. And a practical demonstration of its advantages should attract more consumers seeking a safe, cheap, and efficient payment method. Increased circulation of Qs will bolster their value as a currency, creating additional value for users, especially early adopters.
Initiative Q's goal is to become the world's primary payment network. It will not only offer benefits to consumers currently using credit cards, but it will also provide much-needed service to underbanked individuals around the world. Through initiative Q, anyone with a smartphone and a means of verifying their identity can access digital payment services, financial protection, and even credit based on data analysis and social connections within the Initiative Q network.
The plan is to renovate payment service for people who already rely on it and make payments into a more accessible service for people all over the world. By leveraging the power of advanced technology to lower costs and enhance ease of use, Initiative Q aims to bring payments out of the 20th century and into the modern age.
Advertiser Disclosure
CardRates.com is a free online resource that offers valuable content and comparison services to users. To keep this resource 100% free, we receive compensation for referrals for many of the offers listed on the site. Along with key review factors, this compensation may impact how and where products appear across CardRates.com (including, for example, the order in which they appear). CardRates.com does not include the entire universe of available offers. Editorial opinions expressed on the site are strictly our own and are not provided, endorsed, or approved by advertisers.