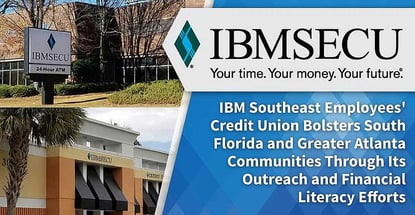 In a Nutshell: The IBM Southeast Employees' Credit Union has demonstrated a strong commitment to the communities it serves through an impressive number of programs that have a direct impact on the lives of members and non-members alike. The credit union recently established the Southeast Credit Union Foundation that enhances the lives of underserved children and families both monetarily and through memorable experiences like holiday gift-giving events. IBMSECU also offers its communities an array of financial education resources that range from online to in-person workshops. Finally, the credit union sponsors and participates in numerous local events that support the community. The IBM Southeast Employees' Credit Union has earned our Editor's Choice™ Award for this strong commitment to community and its demonstrated results.
Late summer is an exciting time for many children as they work through their back-to-school shopping list with their parents.
New clothes — check. New shoes — check. New backpack — check.
Although these items are often taken for granted, the fact is there are many economically disadvantaged children whose families can't afford to check off these items as they prepare to send their children back to school.
For those students, a program that enables them to show up on the first day of school with a new outfit, new shoes, and a new backpack stuffed with school supplies can mean the world. Looking good, feeling good, and being prepared can instill a child with the confidence needed to feel happy and receptive to learning, setting them on the right academic track.
When it comes to the life of a child, what may seem a small gesture can have a positive impact that reverberates across years.
IBM Southeast Employees' Credit Union has been working hard to bring about these positive experiences for the economically disadvantaged children in its communities through its School Ready Days program — just one of many ways the credit union demonstrates a strong commitment to its communities.
The organization was founded in 1969, when five IBM employees in Boca Raton, Florida, decided to form a credit union with a starting contribution of 25 cents each, said Stephen Johnson, Director of the Southeast Credit Union Foundation.

Since then, the credit union has shown impressive growth, with more than $1.10 billion in assets and 82,000 members across its service region, which includes the South Florida and Greater Atlanta areas.
As it has grown over the years, the credit union has maintained a focus on providing excellent service not only to its members but to the communities it serves. This community commitment is demonstrated through its Southeast Credit Union Foundation, financial education efforts, and community events, and for this we're awarding IBM Southeast Employees' Credit Union with our Editor's Choice™ Award.
Southeast Credit Union Foundation Improves Lives through School Supplies, Holiday Gifts, and Scholarships
The Southeast Credit Union Foundation was launched in 2016 to help bolster the credit union's efforts in community service in ways its employees and members would appreciate, Johnson said.
"We really wanted it to be something our employees would take part in," he said. The credit union surveyed its employees to find out things they do not like about charitable organizations and what might prevent them from donating to one.
Johnson said the survey discovered three main concerns from its employees: They often cannot see exactly where their money is going once they donate, the high overhead associated with large charitable organizations, and the lack of personal connection to the beneficiaries of the charities.
"So, we designed the foundation and the foundation's activities around those three areas," Johnson said. "We've had a really good response rate not only from our employees but from our communities as well. We feel that it's been really successful based on the initial research we did."
The Southeast Credit Union Foundation currently focuses its efforts and funds on two main areas — its School Ready Days and Jingle Bells at the Branches.
The former is a partnership with the national Head Start program, which "promotes the school readiness of young children from low-income families through agencies in their local community," according to the Head Start website.
Johnson said Head Start told the Southeast Credit Union Foundation that school supplies, like backpacks, would be very useful. He said for someone earning above the poverty level, buying and stocking a kindergartner's backpack may not seem like a big cost, but for the families in Head Start earning 130% below the poverty level, it can be very difficult.
"So we started organizing," he said. "We've also been able to partner with the community to offer these kids free haircuts. We also give them money for their parents to buy them an outfit and new shoes."
The program has also been instrumental in facilitating on-site visits from local dental offices and health care providers to educate the children on hygiene and healthy eating habits.
Johnson said the foundation was able to help around 230 children from low-income families in Georgia and 220 children from low-income families in Florida this back-to-school season.
He said the foundation also works to help economically disadvantaged children during the holidays through its Jingle Bells at the Branches program.
"The holidays can be a difficult time for many families that are struggling financially," Johnson said. "We wanted to help make the holidays a happy time for these families by providing gifts for their children."
He said the kids will either come to an IBMSECU location or the foundation will take the event to their school, complete with a visit and photo with Santa Claus, games, and treats. The program also donates wrapped gifts, intended for the children to open on Christmas Day. Johnson said the teachers help to make sure the gifts are delivered to the right children for Christmas morning.
Other initiatives from the foundation include awarding a scholarship to deserving high school or college/university/trade school students in Florida and Georgia.  $12,500 in scholarships were awarded for the 2018/2019 school year. The foundation also recently held its first virtual 5k, Kilometers for Our Community, to help raise funds for its various programs.
Financial Education is a Major Focus of IBMSECU's Outreach
Johnson said another major component of IBMSECU's community outreach involves financial education initiatives and resources.
He said the credit union has a team of employees that helps design educational programs around Select Employee Group-based initiatives.
"But they also wanted to get involved with the community, and so they've actually been able to do some identity theft workshops for neighborhood meetings," Johnson said. "Sometimes they will partner with an event that's already going on and see what they can do to provide educational material."
The credit union also offers material through a partnership with BALANCE financial resources.
"We've partnered with industry-leading BALANCE to provide you with free access to expertly-crafted financial education and resources to help with your fiscal matters," according to the credit union website. "And should you need, BALANCE can assist with confidential, no-cost financial counseling services to help you develop a sensible budget managing spending and debt."

"We have heard time and time again about the need for financial literacy and financial education in our communities," Johnson said. "IBMSECU truly believes it has an important role to play in providing financial education. We want to see our members and communities have brighter financial futures and we know we have a part to play in helping them get there."
If members or even non-members have questions about identity theft concerns following a high-profile company hack, like the one involving Target, "We want to be that resource where we can help guide them through that process and find ways to protect their financial information moving forward."
The IBMSECU website maintains a large database of articles and modules to help guide consumers through a wide range of topics and situations. It also plays host to webinars and seminars with topics including, home buying, credit 101, budgeting, holiday spending, and investing.
The website also offers a student center for financial literacy materials appropriate for any age group, from pre-kindergarten to college.
Flexibility Leads to Higher Employee Participation and More Positive Impacts Through Community Events
"We also encourage our employees to get involved in events that are going on in their communities," Johnson said. "We've allowed them to choose what events these are, so if you think about some of the events you see on community calendars — sometimes it's parades, sometimes it's walks, sometimes it's a run for a cause."
The credit union's goal this year is to see 50% of its employees participating in community events. Johnson said it is on track to meet and exceed its goal at this point.
"We didn't expect it to take off as well as it did, but, because we allowed them the flexibility to choose what it is that they want to do, we've really seen a high level of engagement in community events," Johnson said. Employees like being able to choose events that are related to causes near and dear to their hearts.
He said some employees formed a group that helps clean up the beach on a monthly basis, while others have volunteered to help prepare lunches for children who are out of school for the summer. Others have organized food and clothing drives.
Johnson also chalked up some of the employee engagement in community events to a recent partnership with an organization called Gradifi that can help reduce student debt. He said this is a tactical initiative to appeal to members of Generation Y in its workforce.
"As employees participate in monthly community events, we will pay Gradifi $100 that goes toward their student loan debt," he said. "So it's an easy way for employees to buy into that community initiative but also receive some hard dollars from it."
The organization also provides valuable services to the community by hosting various events like its Shred Days, which offers people a way to securely dispose of financial and personal documents and help protect against identity theft.
For parents struggling to make ends meet in the South Florida and Greater Atlanta areas, IBMSECU can help give their children an extra smile through the holidays or the boost of confidence that could give them the edge to succeed in school.
The Southeast Credit Union Foundation, along with its financial education efforts and community events, helps to make IBM Southeast Employees' Credit Union stand out among its peers for its positive impacts on the communities it serves.
Advertiser Disclosure
CardRates.com is a free online resource that offers valuable content and comparison services to users. To keep this resource 100% free, we receive compensation for referrals for many of the offers listed on the site. Along with key review factors, this compensation may impact how and where products appear across CardRates.com (including, for example, the order in which they appear). CardRates.com does not include the entire universe of available offers. Editorial opinions expressed on the site are strictly our own and are not provided, endorsed, or approved by advertisers.