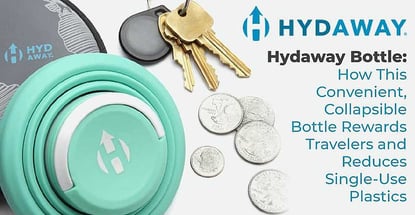 In a Nutshell: Launched in 2015, Hydaway Bottle was created as a hassle-free alternative for travelers who were frequently buying water bottles in airports only to toss them out before boarding the plane. The no-leak bottle collapses to fit comfortably in pockets making it useful for any number of situations beyond traveling, including going to the gym or packing into a diaper bag. A valuable benefit of the Hydaway Bottle is that it helps reduce the number of single-use plastic bottles going into the waste stream. The company is continually improving the product and bringing more options to customers, including a carbon filter, regular or spout lid, and carrying case.
As a freelance designer dealing with international clients, Niki Singlaub was frequently on the go and enduring the inconveniences that come while traveling. But one that stood out for Singlaub was the issue of staying hydrated.
He generally found himself in one of two scenarios and neither option was ideal. Singlaub would buy single-use water bottles in the airport and toss them in the garbage before boarding the plane, often wasting water as well. Or he would use his own bulky reusable bottles that took up valuable space in his luggage.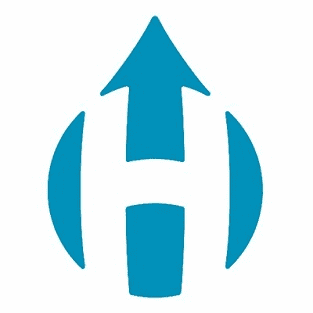 Then Singlaub came up with the idea for Hydaway Bottle, a collapsible, no-leak water bottle that becomes small enough to fit in a pocket when not in use. After a successful crowdfunding campaign, Singlaub's idea became reality in 2015.
We know many of our readers travel frequently thanks to cashing in air miles from their favorite travel cards, and we often like to help them quench their thirst for information on related travel products. So, we sat down with Hydaway Bottle's Marketing Director, Chris Hanson to learn more about the company's story and the benefits of using Hydaway Bottle.
"The bottle is designed for when you need it but also when you don't," Hanson said. "There's as much thought that goes into it for when it's not in use as for when you are using it."
A Water Bottle for the Modern Era That's Suitable for Traveling, the Gym, and Parenting
"Travel was really the first area where we saw the immediate need for the Hydaway Bottle," Hanson said. "But, we saw pretty soon after that that it had a lot of other applications, whether you're an active parent, or if you're going to the gym, doing yoga, or even CrossFit."
Hanson said the bottle's compact design works well for parents who are often juggling supplies for their kids, whether they're going on a trip or just running errands. Parents can throw the collapsed bottle into their pack and use the extra space for other essentials like snacks or diapers.
Additionally, he said saving space in a gym bag is a valuable application. With towels, tennis shoes, a change of clothes, and other accessories, carrying a bulky water bottle around can be heavy and annoying.
Hanson said the company takes a lighthearted approach to marketing the product and wants it to be perceived as not only a very functional product but a fun gadget as well that can reflect the owner's personality. The bottles come in a wide variety of colors from black and grey to bright yellow and aqua blue.
The Hydaway Bottle works like an accordion. When it is collapsed, the bottle is only 40 mm or about 1.5 inches tall, and it expands to hold 18 ounces of liquid.
"From day one, our products have also been guaranteed to be leakproof," Hanson said. "So you can store the bottles inside luggage or bags without having to worry about their contents spilling out onto your valuable items."
Hydaway Bottle also has a carrying case available for purchase to help keep the dishwasher-safe bottles clean on the go.
Reducing Plastic Waste and Saving Space in Your Luggage
Hanson said that while Hydaway Bottle takes a lighthearted approach to its designs and marketing, the company is very serious about the environment.
"According to Forbes, humans across the globe buy 1 million plastic bottles per minute," he said. "That's a staggering amount. It's just over the top."
He said the non-biodegradable garbage mass floating in the middle of the Pacific Ocean is now more than double the size of Texas. And microplastics — tiny particles that are ingested by fish and humans alike — are a growing concern as well.
"One prediction from The Washington Post that really stood out to me was that pound for pound, plastics are expected to outweigh fish in the ocean by 2050," Hanson said.
The developers of Hydaway Bottle saw how they can help address these issues by trying to make a dent in the amount of single-use plastics being used by consumers. Hanson said the company is pragmatic and realizes that it's not going to change the world single-handedly but it hopes to make a contribution to a better future and hopefully change the mindsets of some consumers.
"We feel, in this day and age, it's not just about selling a product to folks," Hanson said. "You have to give them a greater reason to believe in something and what you're trying to do as a company. Hopefully, your product intersects with that vision and stands out to people. We think Hydaway Bottle does that."
The Hydaway Bottle is made almost entirely of food-grade silicone but Hanson said the bottle has some small, BPA-free plastic components the company has not yet been able to eliminate. It continues to evaluate how to make it better.
Based on sales figures, the company estimates Hydaway Bottle has helped eliminate 1,100 metric tons of plastic waste.
The company has also partnered with the nonprofit, no2plastic.org, whose mission is to reduce the use of single-use plastics worldwide. Hydaway Bottle offers a limited edition of no2plastic-branded products, and a portion of the proceeds go to the nonprofit.
Hydaway Bottle's Newest Version Brings Improvements, Filters, and More Options
Hydaway Bottle recently launched its second round of products, which Hanson said improves on the original design in a number of ways.
"We were able to make it lighter weight and eliminate some of the plastic that was in the original version, which ties back into our mission as well," he said.
Hanson highlighted a number of other improvements as well, including a carry handle that completely stows away when the bottle isn't in use and a re-designed spout lid that pops up more easily and has a higher flow.
In addition to the spout lid, Hydaway Bottle also offers the option of a simple screw cap lid, for those who prefer not to use a spout.
Hanson said the company was able to tackle another travel-related inconvenience with its refreshed product line.
"When you're traveling, a lot of times the water fountain water in airports or places like that have a strong chlorinated taste, which is part of the reason people are buying those single-use plastic water bottles in the first place," he said. "So, we rolled out some filter packs and some filter-compatible lids."
Hanson said the small carbon filters fit conveniently in the compatible lids and the bottle can be collapsed with the filter in place. He said the filters work to eliminate chlorine flavors and give water a more refreshing taste, but the company cautions the filters are not intended for hikers and campers. The filters do not filter out bacteria or viruses that may be found in rivers and streams.
With the holiday season upon us, and a lot of people who probably already have travel plans lined up, Hanson pointed out that the Hydaway Bottle and its accessories make for a great present.
"It's a very giftable product, from the price point to the size and the personalized colors," he said. "And you can purchase the whole set, where you get the filters and the carrying case, which comes with a clip-on carabiner as well, to attach to bags or suitcases."
Responding to User Feedback with Plans for Additional Sizes
Hydaway Bottle helps make traveling just a little bit easier with its compact design, while users can feel good knowing they are keeping plastic out of the waste stream. Hanson said the company is always listening and responding to customer feedback to improve the product.
In the new year, Hydaway Bottle will have more options available as the company adds new sizes to its lineup. For the latest news and information, visit the company website or its Kickstarter page.
Advertiser Disclosure
CardRates.com is a free online resource that offers valuable content and comparison services to users. To keep this resource 100% free, we receive compensation for referrals for many of the offers listed on the site. Along with key review factors, this compensation may impact how and where products appear across CardRates.com (including, for example, the order in which they appear). CardRates.com does not include the entire universe of available offers. Editorial opinions expressed on the site are strictly our own and are not provided, endorsed, or approved by advertisers.