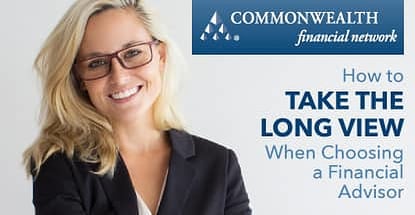 In a Nutshell: Financial advisors aren't just for the super wealthy. In fact, the people who could most benefit from an advisor's services are usually the same people who think they don't qualify for or can't afford them. We recently spoke to Joni Youngwirth, Managing Principal, Practice Management, at Commonwealth Financial Network to get her opinion on what to look for when hiring a financial advisor. Youngwirth's advice includes researching the individual advisor and the firm they represent, as well as finding an advisor whose skills best represent your stage in life and the goals you hope to accomplish in the future. //
We learn from a young age that it's OK to ask for help. Whether a youngster needs assistance with crossing the street, completing a homework assignment, or a teenager is looking for his first job, a helpful hand is usually nearby to lead the way.
So why is it, as we get older and the stakes get higher, we stop asking for help?
Whether it's pride, embarrassment, or a lack of resources, people often find a stigma attached to admitting that you may not know everything about a topic. But when that topic is your financial future, there should be enough incentive to swallow your pride and hire an expert.
Many consumers balk at hiring a financial advisor, either because they think advisors are only for the superwealthy or that they can't afford expert guidance. But the proliferation of do-it-all advisors who focus more on providing guidance than selling products is making financial advisors affordable and accessible to everyone.
According to Joni Youngwirth, Managing Principal, Practice Management, at Commonwealth Financial Network®, the process of finding the right advisor should start before consumers even begin researching potential hires.
"The first thing is, even before you start looking for an advisor, you need to know what your needs are," Youngwirth said. "You need to have your financial life in order, and that becomes more critical in later years as you start thinking about retirement, minimum distributions, and estate taxes. That's different than when you're 30 or 35 years old and you just need to accumulate money."
Youngwirth noted that there are different types of advisors, and one may be more appropriate for a person based on their financial and personal life than another. In some cases, a younger person may need more of an investment manager than a financial planner. That typically changes as an individual gets closer to retirement.
"Investment management may be more for someone who is in their 30s," she said. "But the older you get, you really need to find someone who is not just an investment manager, but they're also a financial planner."
Determining What You Need is as Important as Knowing What You Have
Getting your financial life in order starts with determining where you want your financial plan to take you. If your target retirement date is less than 10 years away, your plan will have to be far more precise than if you have a 30-year time frame to work with.
"When you're young and start to have kids and start a family, you are in a stage where you're accumulating assets," Youngwirth said. "Once you hit another stage and go in the opposite way and start decumulating, you have a greater need for a financial planner."
Once you understand your situation and the intricacies that go along with it, Youngwirth said, you should start a comprehensive search to find the right financial advisor for your needs. Most people want an advisor who will be with them throughout their journey to retirement, so choosing the right investor at the start should be of optimum importance.
"You need to look at their credentials," Youngwirth said. "There are CFPs, Certified Financial Planners, which are good credentials. There are others that are just as good, and in some cases even better, but they're often performance-oriented. A CFP tends to be more affiliated with the planning industry and are more holistic."
Youngwirth also suggested conducting a broker check on any prospective hire to be certain they have no dark spots in their history.
"You don't have to ask them about that," she said. "That's some research you can do on your own."
Get to Know Your Advisor's Firm and Fees
Another key facet in researching financial advisors is to look at their support system. While some financial planning firms consist of one advisor, others feature large staffs. While bigger isn't always better, people should make sure that there's always a plan of succession for their account if the need arises.
"You want to make sure that if something happens to your one advisor, that someone else is in place who has your back," Youngwirth said. "If the firm you're hiring has just one advisor, find out if the advisor has a continuity plan in place."
While larger firms often have several advisors to fill in should a succession plan be necessary, you want to be certain that any firm you align yourself with isn't too big to be available for you when you need help.
"It's important to think about the growth of the firm," Youngwirth said. "If a firm isn't growing, it's probably going the other way. At the same time, you don't want it growing so fast that you become a bit player in the organization."
"You want to make sure that if something happens to your one advisor, that someone else is in place who has your back." — Joni Youngwirth
Youngwirth said anyone who is looking to hire an advisor needs to also become familiar with every detail of the firm's fee structure, even if the questioning becomes repetitive. While some firms may charge for a financial plan, others include it as part of the asset management package. That's just one of the several hidden costs that can get expensive quickly if you don't educate yourself ahead of time.
"You want to get a sense of the fee structure, the transparency of the fees, and how they go about charging fees," Youngwirth said. "It's OK to ask about it until you understand it and can recite it back to them accurately. That may take a few go-arounds because sometimes people don't ask those questions or are uncomfortable asking those questions."
Find an Audited and Vetted Advisor
Choosing an advisor shouldn't be a quick decision. Youngwirth said that investing extra time, in the beginning, screening a prospective financial advisor will lessen the chances of wasting more time correcting mistakes in the long run.
As part of her affiliation with Commonwealth, the nation's largest, privately held Registered Investment Adviser–independent broker/dealer, Youngwirth regularly takes part in the vetting process. Any financial advisor with a Financial Industry Regulation Authority (FINRA) license must be audited periodically, a responsibility that Commonwealth takes very seriously.
"It's not just going in and auditing their space," she said. "Trades go through our technology, so we're always doing surveillance. If something looks wacky, like a client is being charged too much, or an investment isn't properly suited for a client's means, those things get automatically flagged."
Youngwirth said those flags don't happen often, as Commonwealth advisors are part of a community that works in unison, with a long history of cooperation and success.
"There are more friends and family here than you'd find at most firms," she said. "It is a strong community between Commonwealth and our advisors as well as among Commonwealth advisors. In time advisors get to know each other well. The next thing you know, they're going on vacations together. They develop really wonderful relationships."
And those relationships are the type that reflects in their work with clients, who benefit from the experience and knowledge of the Commonwealth network of advisors.
Advertiser Disclosure
CardRates.com is a free online resource that offers valuable content and comparison services to users. To keep this resource 100% free, we receive compensation for referrals for many of the offers listed on the site. Along with key review factors, this compensation may impact how and where products appear across CardRates.com (including, for example, the order in which they appear). CardRates.com does not include the entire universe of available offers. Editorial opinions expressed on the site are strictly our own and are not provided, endorsed, or approved by advertisers.