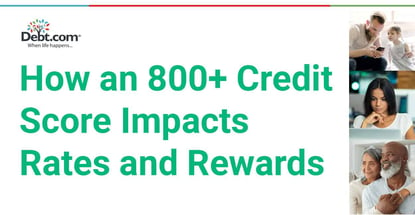 In a Nutshell: Only about 1 in 6 consumers have an 800+ credit score, making them the most desirable customers for financial institutions and lenders. Benefits for individuals with high credit scores include lower interest rates, no annual fees, and enhanced perks and rewards — not to mention almost guaranteed approval for any card or loan. Consumers who have not achieved excellent credit scores can improve them by paying down their credit card balances, keeping the cards they have open to maintain high levels of available credit, and limiting the number of hard credit inquiries.
An 800+ credit score is a boon to both borrowers and lenders. While some strive for a perfect score of 850 or more, any score over 800 is considered excellent and can get consumers almost any card or loan they want.
So why is 800 the magic credit score?
While most know that people with excellent credit tend to qualify for cards with enhanced rewards structures and benefits, achieving an 800+ credit score has some surprising advantages.
We recently spoke with Howard Dvorkin, Chairman of Debt.com, about how an 800+ credit score can benefit consumers. Those advantages include lower insurance rates, low-rate balance transfer offers, and improved chances of landing your dream job.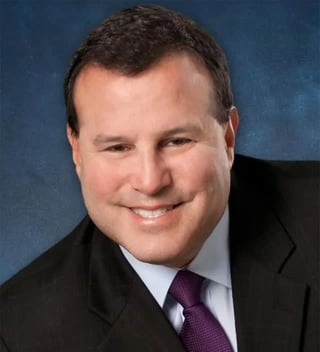 But first, let's talk about how these scores are calculated. Each person's credit score is based on five pieces of information: payment history, debt owed, length of credit history, types of accounts, and recent credit activity.
Each factor is not weighted equally. Payment history and debt comprise 35% and 30% of a credit score calculation, respectively, while length of credit, account variation (i.e. mortgage and credit cards), and recent credit activity have much less significant impacts on the credit score calculation.
In the United States, the average score is at an all-time high of 716, but we'll explain in this article why it's worth it for consumers to try to achieve an 800 or above credit score.
Boosting Your Credit Score
Many consumers with credit scores lower than 800 are looking for ways to improve their borrowing power.
First, they should review their credit reports, not just their credit scores, to determine the most significant factors in their lower-than-desired scores. Closely analyzing your credit reports can reveal errors that can be disputed with credit bureaus which can have drastic impacts on your score.
Next, borrowers should make sure they're making all of the payments on time, as well as paying down their credit card debt. If borrowers can pay off their debt early, they should as long as they don't face early payoff fees, as lower account balances can boost credit scores.
After taking those steps, consumers need to watch their habits moving forward. For one, they should be careful not to close existing accounts because 15% of a credit score is calculated on the longevity of the accounts. Keep a longstanding account open, especially if it doesn't carry an annual fee.
Applying for a new credit card can ding a borrower's credit scores, too. Every time someone applies for a new credit card and receives a hard inquiry, their score can drop by a few points.
The same thing is true when submitting loan applications. Every time someone approves a lender to run their credit, that credit inquiry can cause their credit score to drop.
"All of a sudden you can have three or four inquiries on your credit, and you didn't even know that they were looking at it. You should know because you gave them permission. But you have to be very cognizant of who you give permission to and for what purpose," he told us.
The Surprising Benefits of an Excellent Credit Score
Dvorkin, who has been in the credit counseling business since the 1990s, started Debt.com in 2015 with the goal of providing financial education and connecting would-be borrowers with the right companies to help them. Specifically, the site posts information from journalists, financial experts, and others, and makes recommendations about personal finance solutions.
For instance, if someone wants to fix their credit, they can learn how to improve their credit score in a month's time, discover vetted solutions to boost their score, and avoid scams that could get them into trouble.
Dvorkin has written several books and conducted many interviews as part of his work for Debt.com. We asked him to identify the most surprising perks for consumers with excellent credit.
For one, people with 800+ credit scores receive more attractive car insurance offers. Specifically, companies believe there is a correlation between a high credit score and low-risk driving behaviors.
The same thing goes for employment; the higher the credit score, the less risky a person is to hire.
"Sometimes people with poor credit scores don't get jobs. Because their job is offered on their ability to handle their finances, and a poor credit score shows that they can't," Dvorkin said.
None of this is to say that only individuals who have never made any debt or credit mistakes are desirable loan and credit card customers. Actually, Dvorkin tells us that people who miss card payments here and there are the most desirable to lenders and financial institutions.
"If you're using their credit card, they're still making transaction fees. So, every time the merchant processes fees, every time you use it, they're making some basis points on you. The best customer for a credit card company is somebody who actually misses their payment once or twice a year and gets late charges and interest," he said.
Using Debt.com to Improve Your Credit
Dvorkin's best advice about why consumers should improve their credit is so they can diversify their credit mix. This means that borrowers should try to spread out the types of accounts they have rather than just have several credit cards or only a large mortgage.
He also reminds borrowers to be wary about taking on large increases in their credit card limits. Higher-limit credit cards increase the likelihood that an individual's outstanding debt and utilization ratio will start becoming problematic.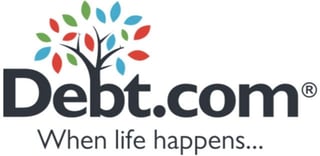 "So, if you have, say, $20,000, in all your credit reports, and somebody gives you a $10,000 increase in one of your cards, all of a sudden, that's $10,000, more of a risk. Creditors don't like to see that, typically," Dvorkin said.
He suggests there are instances, however, when borrowers may want to open new credit cards, and close old ones. For instance, individuals paying annual fees for no good reason to do so may end up wanting to close that card. But annual fees can sometimes be worth it.
"There are some reward programs that make sense. Like American Express has a Platinum card, and they charge a lot for it. That being said, if you utilize all the benefits, you're going to save money," Dvorkin said.
Individuals who want more information about how to improve their credit scores can visit Debt.com which may have the direction they're looking for. The website doesn't try to sell readers services, so they can be sure that they're getting accurate, unbiased advice.
"Frankly, we can't approve everybody for our services so we're not going to sign someone up who doesn't need it. We've been doing this for 30 years, and we're always going to try to do the right thing every time. Every time," Dvorkin said.
Advertiser Disclosure
CardRates.com is a free online resource that offers valuable content and comparison services to users. To keep this resource 100% free, we receive compensation for referrals for many of the offers listed on the site. Along with key review factors, this compensation may impact how and where products appear across CardRates.com (including, for example, the order in which they appear). CardRates.com does not include the entire universe of available offers. Editorial opinions expressed on the site are strictly our own and are not provided, endorsed, or approved by advertisers.