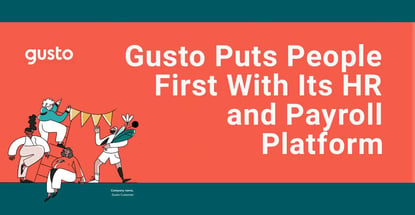 Our experts and industry insiders blog the latest news, studies and current events from inside the credit card industry. Our articles follow strict editorial guidelines.
In a Nutshell: Work is ultimately about people, no matter what form it takes. For modern SMB employers, the goal is to empower — rather than just manage — the folks who make the business work. Gusto calls itself the people platform for a reason. On one level, it's an HR tool to hire, pay, insure, and support small and mid-sized teams efficiently. But Gusto integrates and augments these core responsibilities to create an environment where employees feel empowered to achieve a better life. Hundreds of thousands of SMBs partner with Gusto to help them engage candidates and new hires and win loyalties.
For SMB owners and managers, hiring and retaining employees who show ownership and want to grow with the company has never been easy. But the post-COVID business landscape presents new challenges and has intensified old ones.
After the pandemic, inflation and an uncertain economy have made planning more complex for SMBs. Ongoing regulatory flux has added an administrative burden to human resources and increased the chance that revisions to regulations and benefits could slip through the cracks.
And COVID seems to have permanently changed how employees relate to work and the workplace. Today's worker's value flexibility and balance regarding where and when they work. And in a highly competitive hiring environment with very low unemployment, they're looking for employers as committed to their success as they are to the company's.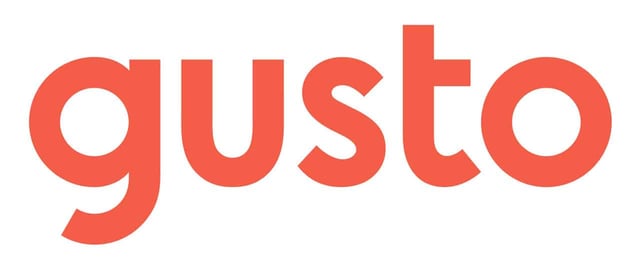 Gusto is an HR, payroll, and benefits provider created to help modern SMB employers efficiently handle routine HR tasks and compliance needs. But it calls itself the people platform because it goes way further than that.
It does that first by helping employers create workplaces that function in many ways like communities, where workers feel valued and work seems less draining. And it goes even further by helping companies encourage their employees' success beyond the workplace and communicate they care about more than their output.
As the world changes around them, hundreds of thousands of SMBs use Gusto to create a world where work empowers a better life.
"It's hard to be a business owner and employer, and our job as the people platform is to help our customers navigate the complexities," said Eric Schuchman, Head of Product and General Manager at Gusto. "We help them compete in the talent market and take care of their teams."
A Guided Tour from Onboarding to Talent Development
Gusto's secret sauce is that at every stage of the employee life cycle, it offers guidance and suggestions to address pain points and increase utility. The result is a product that's remarkably easy to get up to speed with.
Hiring and onboarding start the employee journey. Onboarding requires entering complex tax information and registering with state agencies, but every state differs. Gusto ensures users understand the importance of entering correct data and walks users through complexities such as the imperative to enter accurate banking information.
Onboarding checklists can incorporate background checks and other specialized requirements. And the platform can walk new hires through a customizable document signing process.
On the hiring side, businesses may also use Gusto's internal job board, which has granular controls for departments and individuals and the ability to post jobs on social and hiring platforms and track applicants.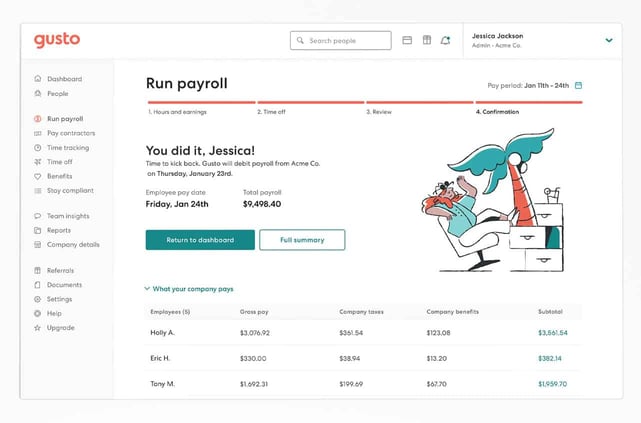 Guidance continues at the payroll stage, where Gusto internalizes the new employer imperative to accommodate remote and hybrid work and geographically distributed teams.
It's intuitive to edit payroll to meet unique needs, and Gusto handles the calculations, payments, and federal, state, and local taxes according to the jurisdiction. It can also pay contractors internationally in more than 120 countries, with Gusto handling the exchange rates.
It's hard to overstate the complexities of payroll and the high business stakes for Gusto's customers. But because payroll is a core functionality at Gusto, it works seamlessly with businesses of all sizes, S Corps with different tax structures, nonprofits, and religious institutions.
Managing performance and developing talent ensure SMBs retain the best employees and get the best results. Gusto incorporates cyclical performance reviews that include self-evaluations and peer reviews. Employees may also receive real-time feedback and track goals, and managers can use a team insights tool to catch the vibe among workers.
"Our goal is to be transparent and make things easy," Schuchman said. "And if somebody makes a mistake, we want to help it make sense."
Integrations and Partnerships Simplify Work and Life
The next level for Gusto is interjecting workflow recommendations built through integrations and partnerships with third-party providers.
During onboarding, Gusto makes recommendations on what customers should do next in the onboarding journey. For example, Gusto recommends harassment prevention training to customers in specific state and local jurisdictions where the training is required.
Through a partnership, the platform provides anti-harassment training that covers all US state and city requirements. "Or, if you choose, you can do that on your own," Schuchman said.
At the payroll stage, Gusto draws on often-changing public data to help teams with geographically distributed workforces cope with taxes.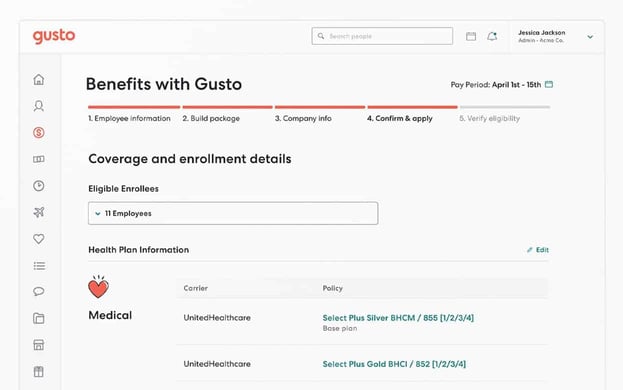 "You can register with each state, but that takes a few weeks of back and forth," Schuchman said. "Through our partnership with CorpNet, we have an engine that knows what questions we need to ask you to register for you."
On the talent management front, Gusto integrates preferred performance-management apps to ensure continuity in engagement strategies where desired. And it partners with top learning and development providers to keep teams in the loop and growing.
"These tools will automatically sync with your employee roster, so there's no manual work required to keep them up to date with your team," Schuchman said.
Gusto also supports teams into the future by offering affordable health and financial benefits that fit whether the customer is a small company providing benefits for the first time or a larger business with more complex needs.
Gusto offers all types of insurance and retirement accounts, including 401(k) plans, life insurance, disability insurance, and workers' compensation. It helps customers access more than 9,000 health insurance plans across 30 carriers. Within the US, it has a team of licensed advisors to help SMBs and employees find the right health plan.
"Once you're using a health plan with Gusto or any of our integrated benefits, we automate absolutely everything," Schuchman said.
Compete for Talent and Take Care of Your Team
Along the employee life cycle, Gusto does little things that often mean a lot. For example, Gusto can send a welcome card to a new hire with signatures from pertinent team members during onboarding.
It offers the Gusto Wallet mobile app, which enables any employees of Gusto customers to access a spending account and savings tools. Direct paycheck deposit to the Wallet results in payment up to two days early. Gusto Wallet can allow employees to earn interest with no account or overdraft fees, while also helping them find ways to budget and save based on their savings goals.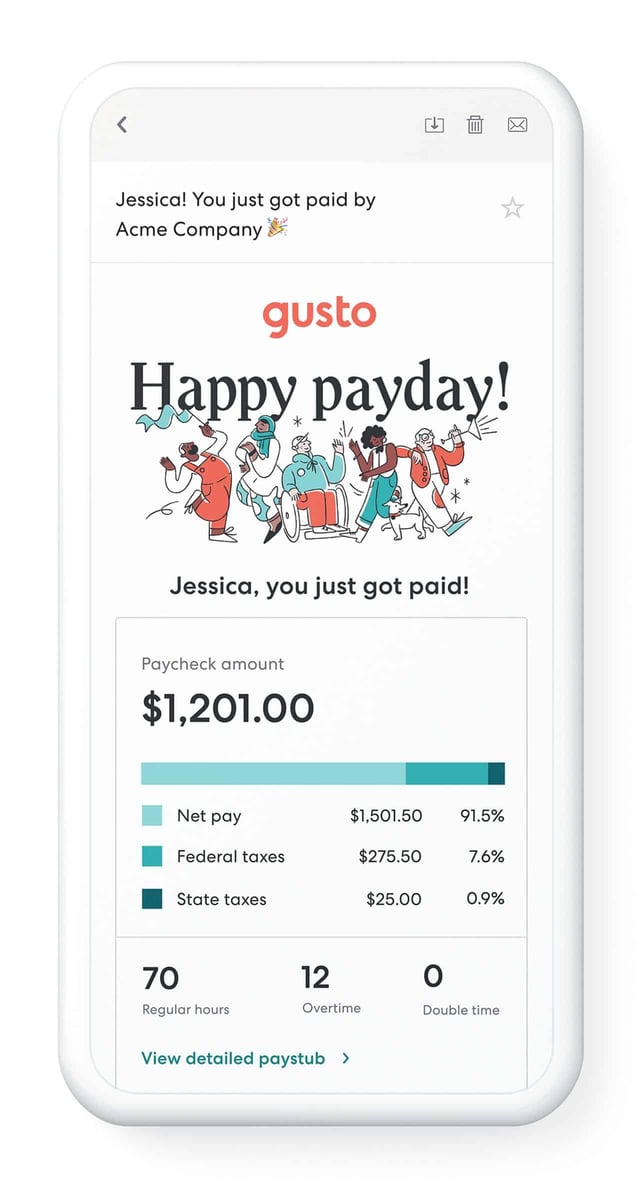 On the business side, Gusto manages the administrative costs of integrating with providers outside its provider network.
"For compliance, we handle things like the Affordable Care Act and COBRA insurance filings when people leave your company, and to keep you HIPAA compliant, we do the IRS Section 125(a) cafeteria plan docs," Schuchman said. "There's just a ton of things that we do automatically for you as a business to keep you compliant."
Another way that happens is by securing tax credits. In an environment where rules and benefits change constantly, Gusto helps customers receive all they have coming to them.
For example, the federal government makes $50 billion available to eligible businesses through the R&D Tax Credit. Additional opportunities come from the Work Opportunity Tax and Employee Retention credits.
"We're expanding that portfolio over time," Schuchman said.
Meanwhile, as Gusto SMB customers grow, customer care teams stay abreast of developments to ensure the product continues to serve their evolving needs. Dedication to acting on customer feedback is crucial, as is Gusto's word-of-mouth reputation.
"We sometimes hear about employees familiar with Gusto who join new companies and encourage their new employers to use us," Schuchman said. "And sometimes those employees hire us again when they start new businesses themselves."