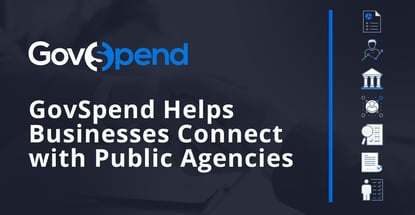 In a Nutshell: U.S. government agencies and professionals with government-issued purchasing cards spend upwards of $20 billion every day to implement programs and initiatives. The GovSpend platform helps businesses of all sizes effectively target the massive market of 90,000-plus federal agencies and additional state and local governments. GovSpend operates a searchable database, painstakingly constructed from public purchasing records, that opens opportunities for businesses and makes public administration more effective.
The U.S. government purchases a staggering number of products and services from companies across the country each year. On the federal level, more than 90,000 different agencies combine to spend over $4 trillion a year on products and services.
Those numbers don't take into account extra COVID-19-related federal spending or the $3 trillion in purchasing that occurs at the state and municipal levels. All told, public agencies spend a monumental $7 trillion or more every year.
Some businesses rightly view the government as a substantial prospective customer. Still, many shy away from engaging with the government because they view it as an overburdened and cumbersome bureaucracy.

GovSpend shows businesses how to easily engage with government agencies instead of leaving opportunities and money on the table. The platform's database can make researching and contacting government sales prospects easier than it is in the private sector.
At many of those agencies, professionals equipped with special purchasing cards known as P-cards buy the goods and services they need to implement and administer programs and initiatives. That means contacting the right person could get the ball rolling on a lucrative new client.
The law requires government agencies to disclose what they buy and how much they spend. GovSpend has innovated technology that automates the process of wrangling a large amount of publicly available data into its robust set of ecommerce tools.
"The unique part of what we do is our ability to ingest that public data, parse it, and normalize it into a solution that works like Google," Co-Founder and Chief Revenue Officer Jack Siney said. "Even after 10 years, we don't have a competitor."
Actionable Data on Agencies and Competitors for Businesses of All Sizes
Whether government purchasing is all that bureaucratic is debatable. However, companies that use GovSpend's intuitive filtering and notification tools don't have to deal with any of the laws, rules, and conventions associated with government spending.
Instead, the GovSpend value proposition for companies is faster and better insight into agency purchasing — as well as the competition.
GovSpend offers a window into how government agencies make decisions. That also makes market analysis more precise for enterprises that attempt to sell to every government agency. And it works for mom-and-pop shops that operate only in their local markets and every business in between.
Historical data for agency purchasing includes pricing, quantities, and suppliers. Macro-level purchasing data for suppliers is also available so companies can get a sense of the full gamut of what competitors offer.
Watch on
The tools make lead and contact generation possible because agencies are searchable by product. As much as 80% of agency transactions occur on an as-needed basis rather than within the lengthy RFP process, so reaching new prospects is likely to translate quickly into sales.
"Whatever you make — and I mean that in all sincerity — the government buys it," Siney said. "The way to think about it is it's like a city, and someone has to purchase everything necessary to make it work."
Imagine, for example, that a state has directed municipalities to set up COVID-19 testing stations.
Something of that scale sets many wheels into motion.
"You need traffic cones, tents, generators, the tests themselves, the PPE, the masks, and even the people. It's a huge undertaking," Siney said. "Just to say you're going to have a testing station in your city requires probably 100 things."
Helping Government Purchasers Deliver Better Value
That exercise can be extended to almost anything the government does — at all levels. For every computer company moving thousands of units a day to public agencies, there's a local plumber fixing a restroom in a courthouse. And that is the case across the country.
That points to the other significant value proposition GovSpend offers — the same tool businesses use to connect with agencies are also used by the agencies to reach businesses. GovSpend helps P-card-equipped purchasers deliver better solutions on behalf of their constituents.
When it comes time to put those P-cards into action, however, they're not always swiping at the lowest price. Counterintuitively, perhaps, agencies tend to prefer tried-and-true products and services.
"More emphatically on the government side, it's about finding solid vendors. The government doesn't want to buy the first of anything," Siney said. "They want a product that's road-tested, that's quality, because citizens interact with it. If your stoplight fails or your service stinks, the public can be very, very aggressive in giving feedback."
Moreover, a lot of government purchasing is aimed at fixing acute problems, and purchasers often can't afford to experiment or wait around.
"They've got to fix the pier, or some power lines came down in the middle of the road in a snowstorm. They have to query who the vendors are that can help," Siney said. "They can go into our database and find companies that have already worked with the government. Or they can find companies that have a sense of how the process works along with some good references. That is valuable to them."
Technology Makes Public Administration More Effective
There's a human element to what GovSpend does in addition to automation. Every agency structures itself a bit differently, and that requires a dedicated staff to connect with agencies to integrate the data and make it accessible.
Both companies and agencies rely on GovSpend's real-time search and analytics. As the COVID-19 pandemic and its aftermath continue to transform the economy, GovSpend brings the advantages of selling to the government into sharper focus.
"The government always pays — and that's real for anyone who's trying to do business," Siney said. "Maybe they're not the fastest, but we've all seen over the past year where contracts don't get paid because companies go bankrupt. The best part about winning a government contract is you always get paid, which is amazing during these uncertain times."
GovSpend even helps companies that may be new to the agency market acquire the skills they need to make connections.
GovSales University, for example, presents online video courses to help business professionals learn government sales and marketing strategies to win their first deal. "It's like the code for learning how to sell to the government," Siney said.
At GovSpend's sister site GovQuote.us, businesses can access agency proposals and quote requests.
"They're putting out quotes every day, more in the commodity world, that you can respond to," Siney said.
Many businesses that use GovSpend will come to view the government market like any other — with the added benefit of added certainty, Siney said.
"The key is getting your first couple of clients," Siney said. "Two or three years from now, it could be the next division in your company."
Advertiser Disclosure
CardRates.com is a free online resource that offers valuable content and comparison services to users. To keep this resource 100% free, we receive compensation for referrals for many of the offers listed on the site. Along with key review factors, this compensation may impact how and where products appear across CardRates.com (including, for example, the order in which they appear). CardRates.com does not include the entire universe of available offers. Editorial opinions expressed on the site are strictly our own and are not provided, endorsed, or approved by advertisers.