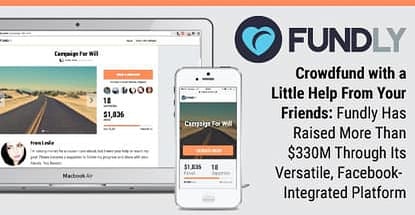 In a Nutshell: Online fundraising has become increasingly popular over the years, but how projects are funded, what types of projects can be funded, and ease-of-use can vary. The flexible crowdfunding site, Fundly, allows individuals and nonprofits to set up fundraising campaigns for nearly any purpose, from medical expenses to startup business costs. Campaigns are easy to set up, whether you're a novice fundraiser or a seasoned pro, and can be embedded and easily shared on Facebook as well. People are more likely to support a cause from someone they know, and Fundly facilitates this type of social fundraising with giving pages that look great on every device. //
Tapping into your social network is an ideal place to start when embarking on a fundraising mission. Regardless of whether you're raising money for a nonprofit project, a medical expense, or a charity you're passionate about, your friends and their contacts are viable donor candidates, and they can be extremely crucial to the success of your campaign. How and where you begin, however, can be daunting, particularly when there are so many online giving platforms to choose from nowadays.
Fundly has helped users raise more than $330 million with campaigns that are easily integrated into Facebook — a quick and efficient way to spread the word among the social media leader's 1.9 million monthly users.
With Fundly, both individuals and nonprofits alike can create campaigns, and unlike some other fundraiser platforms, there aren't many restrictions in terms of what you're allowed to raise funds for. The user-friendly interface means that an attractive, eye-catching campaign page is well within reach and ready to launch in a relatively short period of time once you've set it up and included your campaign details.
"Starting a campaign is as simple as going online, click on Start Your Campaign, and putting in basic information," said Missy Singh, Director of Operations and Client Services at Fundly. "Then just login and you can begin customizing."
Another big advantage to social fundraising is that you have the unique opportunity to establish lasting online relationships with your donors. Oftentimes with offline fundraising, once you've received a donation, that's your final point of contact with the donor.
With social fundraising, on the other hand, you're also gaining access to the donor's email address, along with connections to their friends and contacts. The end result is that you can now keep in touch, reach out for future campaigns, and share updates about your product, service, cause, or nonprofit.
Easy-to-Build Campaigns that Look Great and Function Well on Any Platform
In this ever-evolving digital age, it's important to create online content that looks good on screens of all dimensions. The majority of today's web users view content across multiple devices. In fact, over 40% of fundraising campaigns are viewed on mobile devices, so having a landing page that looks great on any browser or device should increase your likelihood of getting more donations. The last thing you want is someone leaving your giving page because of a clumsy interface
When you set up your fundraising campaign on Fundly, you'll appeal to folks whether they're using cellphones, tablets, or computers. Your donation page's videos, photos, and fundraising ideas are designed for optimal experiences that cater to the way people consume content on each device.
And most importantly, the ability to process donation payments works the same wherever someone finds your landing page. Additionally, you can easily send emails, thank donors, and post updates using the Fundly app, available for free at the Apple app store.
The user-friendly platform has no startup fees and offers automatic flexible funding, meaning there's no need to set a minimum goal. Fundly receives only a small percentage off the top of your donor contributions, along with a fee for processing credit card donations. You get to keep the rest, and funds are available to you as soon as they clear, usually between 24 and 48 hours after donation, through Fundly's payment partner, WePay.
Embed Fundraising Forms Directly onto Facebook for Simple Donating and Sharing
It's no secret that Facebook is the most widely used social networking platform on the market, so having an easily integrated campaign feature through Fundly makes it simple and fast to put your cause front and center for your already established network of friends. You can embed your donation forms directly onto the site so that users aren't redirected anywhere else.
"Our forms embed inside of Facebook, rather than redirecting the donor or taking them outside of Facebook," Missy said. "We also have a level of social registration or e-commerce registration. We're the only people who can do this."
Once someone donates, their actions show up on news feeds so others can see that people are actively contributing. You can also broadcast donor activity using Fundly's OpenGraph integration. OpenGraph broadcasts automatically, and it lets you scale up or down based on how many social impressions you want.
Fundly also integrates directly with Eventbrite and SalesForce and includes management tools like heat maps, that can show you where most of your donors are located. This kind of information can be used to target certain geographical areas that are producing the most donations.
Reward Donors with Customizable Merchandise
If you have an attractive logo, a catchy tagline, a fun or inspiring message, or any other visual that ties in with your campaign, you can include personalized merchandise like T-shirts, mugs, tote bags, and iPhone cases as donor rewards. Selling merchandise in conjunction with your campaign is one of Fundly's effective features, and your merchandise can be customized with your own design to help boost campaigns.
"Campaign owners can personalize products and tie it to their giving levels," Missy said. "People may donate at a higher level because they're getting something, like a mug or a T-shirt."
Giving donors a gift for making a contribution is a great way to show your appreciation and boost donor acquisition. For starters, donors are receiving a nice keepsake in return for their contribution. Secondly, they're getting something that will remind them of your product, nonprofit, or whatever you're raising funds for, particularly if your merchandise is branded.
Merchandise can build long-term brand awareness and serve as continual reminders to your donors about why they've supported your campaign in the first place.
Fundly: Online Campaigning for Virtually Any Cause
Crafting up the perfect fundraising campaign isn't an innate skill for everyone, but Fundly guides you through the process of setting yours up in a user-friendly way.
Some platforms restrict fundraising to nonprofit organizations, but having the ability to campaign for nearly any cause opens up a world of opportunity. With its Facebook integration, it's easy for friends, family, and colleagues to raise funds for your cause by sharing your page with their networks, helping to spread your reach exponentially.
Crowdfunding is effectively changing and revolutionizing the way people raise money, and Fundly can help you reach your goals quickly, all with a little help from the folks who know you best — your friends. After all, who's more likely to support your cause than the people who care about you?
Advertiser Disclosure
CardRates.com is a free online resource that offers valuable content and comparison services to users. To keep this resource 100% free, we receive compensation for referrals for many of the offers listed on the site. Along with key review factors, this compensation may impact how and where products appear across CardRates.com (including, for example, the order in which they appear). CardRates.com does not include the entire universe of available offers. Editorial opinions expressed on the site are strictly our own and are not provided, endorsed, or approved by advertisers.