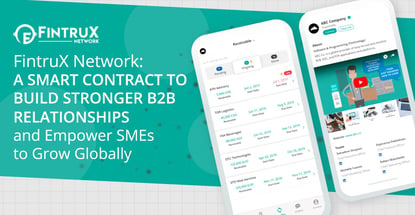 credit card news
Our experts and industry insiders blog the latest news, studies and current events from inside the credit card industry. Our articles follow strict editorial guidelines.
In a Nutshell: Building trust with suppliers and financiers is an essential task for all businesses, but it is especially challenging for SMEs. That's why TruX is designed to harness the transparency, reputation, understanding, security, and timeliness of smart contracts to establish global credit reputation for businesses. The solution, created by FintruX Network, enables businesses to create a Trust Profile that showcases on-time payments, credit reviews and other useful insights about them, so as to access credit, secure payments, and negotiate mutually beneficial credit terms. FintruX Network also innovates other smart solutions as a one-stop resource and solution provider for business growth and sustainability.
Every business has to start somewhere. But for startups or small and medium-sized enterprises (SMEs), the lack of credit data poses a risky barrier to obtaining financing and acquiring other financial resources needed to grow a business. Whether it's financiers that are reluctant to extend a line of credit and reasonable interest rates or suppliers that are wary of buyers without fully understanding their credit reputation, the leading cause of financing problems that SMEs encounter is the same: a lack of trust.
Helping underserved startups and SMEs build trust is the focus of FintruX Network and its latest solution TruX, the world's first smart business financing platform.

"TruX is a smart solution that decentralizes financial services for underserved startups and SMEs. With a holistic solution that is pro-business, all smart businesses can achieve business growth and sustainability," said Conrad Lin, COO and Co-Founder of FintruX Network. "Global credit reputation is essential, and there's not an established solution on the market where you can obtain dynamic information on SMEs credit activities globally."
Aimed at empowering businesses to achieve business growth and sustainability, TruX creates a global business network powered by blockchain technology, benefiting all stakeholders. With TruX, SMEs can establish their global credit reputation and connect with businesses for lower cost, higher sales and easier financing.
FintruX Network announced the beta version of TruX at Money20/20 Asia in Singapore and announced the global launch of TruX at RISE in Hong Kong. Latest numbers from the beta can speak for itself.
As reported by The Business Times, more than 100 SMEs were onboarded with a transaction volume well over 7 figures and in a recent example, award-winning company Zweec Analytics leveraged the blockchain technology from FintruX Network to structure over S$1 million worth of funding and line of credit.
While many of these SMEs struggled to build trust with suppliers and financiers, they didn't realize just how much trust can impact their business until they saw the positive impact of using TruX.
"Now that businesses can use TruX to build the trust they need between their various stakeholders, they can have lower costs, higher sales, and get easier financing — all of which are key to business growth and sustainability," Lin said.
Connecting and Growing a Global Community of SMEs
Businesses typically don't start with a sterling credit reputation or a sprawling network of financiers, suppliers, and vendors. TruX helps give a headstart in both areas by functioning not only as a financing platform but also as a global business network powered by blockchain technology.
"Our platform has evolved from just a financing tool to a global marketplace, a network of like-minded, trusted SMEs that can work together to increase sales and lower costs. Our platform gives businesses a way to connect, communicate, and, eventually, collaborate in deals with one another," Lin said.
After several months of beta testing TruX and evaluating feedback from business users to fine-tune the deep technology, the results from the beta has clearly established several use cases for suppliers, financiers, buyers, and borrowers.
Smart Contracts Offer Advantages for Buying, Selling, and Building Trust
SMEs first create a Trust Profile, which conveniently shares dynamic information about themselves to their existing stakeholders. Once on the platform, they can reach out to other businesses for new business opportunities and facilitate any B2B transaction.
Suppliers and financiers can quickly assess a buyer or borrower's Trust Profile to determine whether they want to offer credit terms or a commercial loan. This allows suppliers/financiers to extend credit with confidence and secure payments, while buyer or borrowers can access credit and negotiate terms rather than always being forced to pay cash on delivery or unreasonable interest rates.
"Suppliers have no idea of the credit reputation of the customer they're dealing with, and they don't want the risk of not being paid at all," Lin said. "With TruX, we say 'Hey, this buyer is verified on our platform, and they've done various deals before.' You can see that over the last month, they've paid a certain number of invoices on-time, all of which are of a certain dollar amount, and they're actually a creditworthy buyer."
The foundation of every transaction on TruX is the smart contract, a digital agreement negotiated directly between a buyer and seller for every business transaction and recorded permanently on a decentralized blockchain ledger.
Smart contracts overcome many common problems with traditional invoicing, especially as it relates to on-time payment and payment enforcement.
"When deals are done through our smart contracts, they're validated and immutable — this happened, and viewable to businesses in their network. This sharing of information strongly incentivizes businesses to do right by their sellers and fulfill their obligations, since they know their global credit reputation is on the line," Lin said. "Essentially we're promoting good behavior, which allows businesses to be more and more trusted as they continue to do well, and being recognized in the business community as trustworthy."
Since smart contract transactions are automated, without the need for third-party negotiators or intermediaries, they also save both parties time and money.
FintruX Network has a strong track record backed by its software company, Robocoder, where Lin formerly served as Director of Business Development.
"For the last 20 years, our software company has been serving mission-critical systems to banks and insurance companies in Canada. Our solutions currently manage about $4 billion of assets for financial institutions, and these banks wouldn't trust us unless we maintain bank-level security — which is the same security we offer to all businesses utilizing the smart solutions at FintruX Network," Lin said.
Facilitating Credit Terms to Benefit Businesses
Cashflow can be a constant source of stress for new businesses, yet obtaining payment extensions and traditional financing can be difficult. TruX enables businesses to negotiate and renegotiate both a payment's time frame and term fees. TruX keeps the process simple with Smart Credits.
"It allows buyers to extend payments when they foresee cash-flow crunches in the future and negotiate suitable incentives for the seller to do so," Lin said. "The buyer can request to extend the term, and give the supplier a term fee for more time to make payment."
Lin illustrated how this type of negotiation works with a simple example.
He said if a supplier gives a buyer a 30-day credit term to pay for $10,000 worth of goods, and 20 days later, the buyer knows he can't pay it back on time, the buyer can extend the term by offering an additional fee on top of the invoice amount to extend the term. The supplier is incentivized to extend payment terms while also helping a client stay in business, whose business, in the end, benefits both parties.
"On the seller side, there's more security to their invoices, and it's cheaper, easier and faster to enforce payment if there is a delay. And, if a delay in payment is mutually agreed upon with the buyer, the seller is still better off — both parties are very happy about that," Lin said. "On the buyer side, they're happy with the technology because they can maintain cash flow for operations and have better finances, in general," Lin said.
With the security of a smart contract that enforces and validates every stage of the credit process, suppliers or financiers can be confident in extending credit, while SMEs can anticipate and solve cash flow problems in a more agile manner — both parties benefit.
A Global Solution for Predatory Lending In Industries that Rely on Remote Contracts
The technology is useful for small businesses in many industries — especially those in which trust is harder to build, whether due to distance or lack of digital infrastructure. With a global shift towards a gig economy and sharing economy, these key industries range from software development to event management to even agriculture.
"We see a lot of software work outsourced to places like India, Romania, and Russia. Software vendors have recurring income and good cash flow, but many of their clients end up not valuing the work they are doing for them and not paying for it," Lin said. "It often becomes a touchy case where vendors are forced to consider turning off a client's SaaS system or not pushing work to the production server for client's use," Lin said.
FintruX Network has a first-mover advantage globally and a strong foothold in its home base of Singapore, with plans to expand regionally post-launch. Partners in the region look at TruX as a global solution for predatory lending that is increasingly common.
"We've recently had a study in Australia, where SMEs are eager to increase payment transparency and reduce delayed payments, while the government is eager to enforce on-time payment for SMEs as they contribute significantly to macroeconomic growth," Lin said. "So, it's good to have support on both the government and business side. It is indeed fulfilling to be creating a solution that's tackling multiple problems in the same market."
Partners include clients in South Africa, where SMEs say predatory lending is rampant and self-policing often creates a hostile environment that's not conducive to all stakeholders.
Lin said that the need for a solution like TruX isn't just limited to developing economies — as even companies in established markets have to deal with cash flow and payment enforcement that stem from a lack of TRUST (Transparency, Reputation, Understanding, Security, Time).
"I'd say every business-friendly market needs us because we aren't talking about localized problems. We are simply talking business," he said.
TruX is now available to any business across the globe and supports more than 130 currencies.