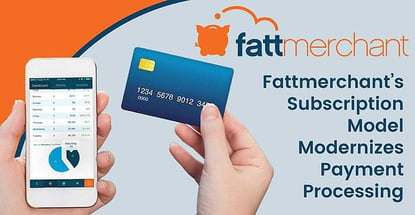 In a Nutshell: With its innovative subscription-based model, Fattmerchant is helping bring the world of credit card payment processing into the modern era. The company makes payment processing simpler and more transparent so merchants can process payments however they'd like and then manage those payments, customer data, analytics, and more, frome one, easy-to-use platform. With its disruptive subscription business model, a strong focus on technology, and emphasis on top-quality customer service, Fattmerchant strives to give merchants and consumers the best overall experience possible. And the payment processor continues to innovate with its latest offering, Omni, which is a first-of-its-kind integrated payment platform that lets business owners view detailed payment data and analytics in one place, no matter which payment channels they are using.
There's nothing quite like the inspiration one can find in disillusionment. By observing what isn't working in a particular industry, the right innovative and motivated person can build something that actually works.
That's exactly where Fattmerchant Founder and CEO Suneera Madhani found herself not long after graduating from college with a finance degree and high hopes that were quickly dashed. She began working at a payment company after being sold on the dream of what a great enterprise the payment processing industry was. She was excited because, at the time, consumers were moving more toward cashless transactions but a lot of systems weren't in place yet to handle this shift.
Madhani saw a world of potential for innovation and problem-solving.
"Six months into the job, I learned that I hated every single thing about selling credit card payment processing services," she said. "It was a super commoditized market that's pretty much heavily controlled by the big banks and the same old processing companies that nickel-and-dime customers to death."
She said the companies were "trying to squeeze the same juice from the same old lemon," by locking customers into lengthy contracts and signing them up at rates that start out low and quickly increase.
It was also a revelation to Madhani to learn that the costs of transactions were set by credit card companies. All the payment processors received the same base cost, whether the transaction was for Square, PayPal, Bank of America, or Wells Fargo. Meanwhile, she saw that base transaction price rise higher and higher as it made its way to the end merchant.
Madhani observed the creaky old system and was inspired to find a better way. She soon developed the idea of a more transparent subscription-based payment processing model. And decided to change the game — the traditional method was just how it was done and it needed to change — end of story.
"So, at the age of 26, I decided to go start my own payment processing company," Madhani said.
In 2014, Fattmerchant was born. (The Fatt part stands for Fast, Affordable Transaction Technology.)
As Madhani envisioned, today Fattmerchant is a subscription-based credit card payment processing service that gives merchants the same direct cost interchange without the extra fees that other processors charge in addition to interchange. The company also distinguishes itself from traditional payment processors with an intense focus on customer service and the customer experience.
Over the past four years, Fattmerchant has grown from a four-person team processing $5 million in payments per year to nearly 100 team members processing more than $2 billion in payments annually. And it looks like it will continue to grow. Earlier this year Fattmerchant secured $10.5 million in Series C funding from Atlanta-based Fulcrum Equity Partners. The company has been recognized as one of the best places to work, and Madhani was one of the Orlando Business Journal's 2018 CEOs of the Year.
With Its Subscription-Based Model, Fattmerchant Simplifies Payment Processing
Madhani said she never had any intention to strike out on her own to create a whole new company from the ground up. But when she realized that she had a great idea but no support structure to implement it, she knew she had to make the leap.
Madhani and an initial team of three others, including President/Co-Founder Sal Rehmetullah, laid the foundation for Fattmerchant's innovative model for payment processing solutions.
The company's keystone is its subscription-based membership pricing. For a flat monthly membership fee, businesses access the true cost of interchange and save thousands annually.

Interchange is defined as the lowest cost of accepting credit cards, set by the card companies themselves. Traditionally, credit card payment processors charge "interchange plus," which is the interchange cost plus a variable percentage added on top.
"We don't mark up interchange," Madhani said. "The rate is interchange plus zero, so everybody gets the true direct cost of interchange, which is saving a lot of money on processing."
Fattmerchant makes its money from its membership model rather than from marked-up interchange and other hidden fees, that are notorious in the payments industry.
Madhani said this is appealing to customers because of the model's transparency combined with the impressive technology that comes with being a Fattmerchant customer. The company offers an all-in-one integrated payment platform, Omni, which features online invoicing solutions, point-of-sale system integration, a robust analytics dashboard, online shopping carts, an industry-leading API, and aside from the platform, they offer countertop terminal options, according to its website.
With Fattmerchant's dedication to transparency, Madhani said customers can have a better idea of exactly what they will pay month-to-month and will have a projectable cost they can integrate into their budgets.
She said Fattmerchant customers save an average of 40% in processing fees.
Pricing, Service, and Technology Converge to Bring Customers the Best Experience Possible
Time and time again, Madhani said she heard negative stories from merchants about how they felt cheated by their payment processor, or how they received zero customer support, or how their products were always breaking down.
The merchant's experience was often convoluted and difficult.
"There were all these horror stories in the industry," Madhani said. "So, we really set out on a mission to create the best damn experience, which formed the foundation of our three core company values that are strengthened and embodied every day. We truly wanted to provide our customers with the best damn experience possible and we do that through our dedication to the transparency of our pricing and through our getting [stuff] done so that we can help them grow their business through technology."
So, in addition to simply presenting a new way for merchants to procure payment processing services, Fattmerchant made sure to keep those three concepts as key pillars to the company's success.
Madhani explained the pricing model to us, saying businesses that process more than $7,000 monthly in credit card processing save money by switching to a flat subscription model. Pricing for subscription is simple, as it's based on how much volume the merchant transacts, she said.
She said most of Fattmerchant's customers fall between the $99 and $299 per month base rate plans. Whereas, with previous processors, those customers would be paying $1,000 to $2,000 in just markups and hidden fees.
The company also challenges the seemingly low to non-existent levels of customer service of traditional payment processors with a healthy and proactive team of human beings always ready to assist customers — no robots and no call centers — only real human assistance from someone who genuinely cares about the merchant's business and growth.
Madhani said Fattmerchant does not outsource any of its services, and its customer support team is 100% based in the US. No matter the customer's preference for communicating, there's a conduit to assist them. She said the company has phone lines manned by real human beings if people prefer to call in. It also has email services, online chat, and a self-help knowledge base for those who prefer not to speak directly with a person.
"Other payment companies are just using a 1-800 number and a call center takes your ticket," she said. "They don't know your business, they don't know your account, and it's kind of a pain in the butt. We really pride ourselves on being there for our customers right away."
From the start, customers will deal with an inside sales representative who works with the new merchant to make sure they are signed up for the appropriate Fattmerchant service and they have all the knowledge and resources they need to get up and running.
Madhani said one of Fattmerchant's pillars — technology — helps make it easier than ever for small business owners to get real-time overview of their business analytics, allowing them to make informed and beneficial decisions.
Fattmerchant's Omni Platform Allows Businesses to Access Multiple Payment Solutions in One Place
The culmination of Fattmerchant's technology innovations to date can be seen in its latest product, Omni. The industry-first payment integrated payment platform allows merchants to see detailed payment data and customer analytics across any type of business channel used by the merchant, for card present and card-not-present transactions, according to a Fattmerchant press release.
"The way small businesses are growing today and the challenges they face, things just aren't the same anymore," Madhani said. "Let's say Sally has a cupcake business. She has a point-of-sale terminal in her store, then she goes to trade shows and sells cupcakes with a mobile device from Square, and she sells T-shirts and cupcakes online so she has an online shopping cart account. She also takes large catering orders and sends out her invoices through Quickbooks."
Even for a seemingly simple small business like a cupcake shop, Sally is now using four different payment processing solutions, with four different vendors, four different pricing schemes, and four different platforms, Madhani said. And none of the different platforms are working together or speaking to each other.
"This is 2018, there are great analytics tools and great technology available but why is nobody solving that problem?" Madhani asked.
But that's where Omni comes in. The platform takes the payment transaction from any service and applies its own proprietary product to accept the payments.
"We go in and give Sally the solution or we integrate with whatever she's currently using, and everything ties back into a single platform, so she can log in through her phone," Madhani said. "She can pull it up from her Fattmerchant app and there it is."
Madhani said Omni customers can get a holistic view of their businesses in real time. All of the information is also sent back to their accounting software.
"We literally have the only bi-directional Quickbooks integration in the industry today," she said. "That's so powerful. Some businesses hire accounting firms to do this. That's just the power of data, analytics, great automation, and technology that we're able to provide to small businesses."
Maintaining Quality Service and Continuing to Focus on Vertical Integration
Fattmerchant customers and potential customers should be encouraged by the fact that Madhani saw a problem, dreamed up the solution, and made her dream come true. This type of inspiration leading to concrete action belies the roots of an innovative, motivated, and successful company — a company that follows through.
Madhani said Fattmerchant is also focusing intently on its integrations for specific industry vertial markets. In addition to its general services, Fattmerchant offers tailormade packages for the eCommerce, healthcare, legal, retail, professional services, food and beverage, and spa and fitness industries.
Overall, she said the company will continually strive to provide "the best damn experience."
Advertiser Disclosure
CardRates.com is a free online resource that offers valuable content and comparison services to users. To keep this resource 100% free, we receive compensation for referrals for many of the offers listed on the site. Along with key review factors, this compensation may impact how and where products appear across CardRates.com (including, for example, the order in which they appear). CardRates.com does not include the entire universe of available offers. Editorial opinions expressed on the site are strictly our own and are not provided, endorsed, or approved by advertisers.