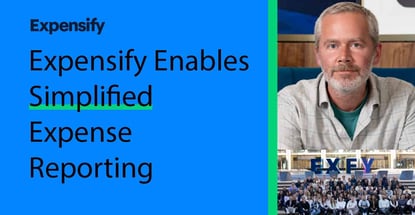 Our experts and industry insiders blog the latest news, studies and current events from inside the credit card industry. Our articles follow strict editorial guidelines.
In a Nutshell: Expensify is a software company that develops an expense management system for personal and business use. Expensify also offers a business credit card called the Expensify Card. The company developed a reporting expense mobile and web application that tracks and files expenses such as fuel, travel, and meals. It uses AI to identify the merchant, date and amount of the transaction, then automatically categorizes and saves the expense.
Calculating expenses can be a headache for any company.
Employees who need to travel and attend events at different locations are required to track all travel expenses, and businesses have to ensure that all costs stay within budget and are in line with appropriate spending.
Writing down every single claimed expense and then waiting for reimbursement or combing through charges to find red flags is a drain on time and resources.
But, to the relief of employers and employees alike, help is on the way. We're now starting to see more companies coming into the fray that can help organize and automate expense calculations in one form or another.
Expensify is driving the industry forward and has created an expense management software platform that enables automated receipt compiling and reimbursement processing for businesses and individuals.

The company uses tech tools like one-click receipt scanning, automatic approval workflows, and next day reimbursement to help customers stay on top of their expenses with greater accuracy.
It also offers business credit cards that allow users to automate expense management and gain control over company spend while saving time and money.
Anu Muralidharan, COO at Expensify, said that, although the paying customers are the companies themselves, Expensify was started primarily to help employees manage their expenses better.
"There was no real solution that actually made the process easier for employees to do their expenses, and that was because every expense management application sold a subscription to the company," she said. "So everyone was optimizing for the company admin's experience, and no one really thought very much about the employee experience."
That was the underpinning of Expensify's product philosophy, that the app should be easy to use for all parties concerned.
An important part of that was to provide automatic in-app reimbursements for employees, which is something that not many competitors choose to do.
"Imagine you snap a picture of a receipt, it is within company rules, it gets approved immediately, and that triggers reimbursement immediately because there's no need to wait after your approved expense to reimburse," said Muralidharan. "Every step of the way, everything is just automated and running fast, and you don't have to do anything outside the app to pay back your employees."
SmartScan Automates Receipt Data
SmartScan became the company's flagship product, and the app was built around it so that every step of the flow was optimized for automation wherever possible.
It was Expensify's first innovation and enables the ability to snap a picture of a receipt and then leave the rest to the app. And unlike every other Optical Character Recognition (OCR) technology, SmartScan is optimized for accuracy, not for speed.
Other OCR apps are built for speed and have taught consumers that it is what to expect from this type of technology. However, having the capacity to scan in 10 seconds is not truly relevant because the accuracy is actually very low.
Muralidharan said the reason Expensify focuses on accuracy is so customers can be assured that, when they snap a picture of a receipt, the app always collects it and there's no need to hold onto the receipt once scanning is complete. Everything gets compiled and the employee doesn't need to worry about anything to follow up on.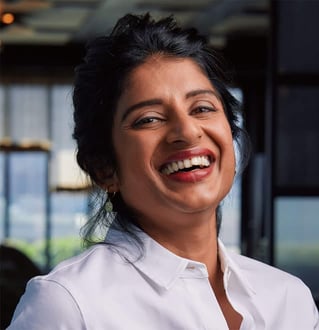 If an admin has set up their company on Expensify, they could arrange all types of expenses that an employee is allowed to spend on, for instance, travel and airfare $2,000 and below, or food and entertainment $200 and below.
When the employee snaps a picture of a receipt, the app scans through all the details and checks if that spend was within the company's rules. If it is within the rules, then there is no need for someone to review it and manually approve it.
But if not, Expensify flags exactly what went against the rules so it makes the review experience that much faster.
"Our customers spend as little time as possible doing their expenses and closing their books, and it's all accurate and timely," said Muralidharan.
Corporate Cards Include Smart Controls and Rewards
Expensify simplifies expense management even further by issuing business credit cards that automatically import and account for all company expenses.
Muralidharan said that the Expensify Card is the product users enjoy experiencing the most. From tracking receipts when swiping the card to paying monthly AWS bills, it takes all the stress out of organizing expenses.
When someone swipes the card after a company sets its rules on the spend parameters, Expensify immediately knows all the metadata behind the transaction. The app will know within seconds at what establishment the card was swiped and the spend category.
"You swipe the card, we immediately know everything about that spend, we create a receipt for you, and then we check it against the company rule set, so that we know exactly what you need to do on top of the swipe," said Muralidharan.
In some cases, rules can be set so, if a card user goes over a threshold, the app will flag the charge and request the user to add a description to keep track of what is being collected.
Among the 60,000+ businesses on Expensify, more than half actually have some kind of third-party corporate card that they use today, for example, American Express business or Chase business cards.
Other apps do this, but these types of cards have certain data feeds that can be imported into the expense applications. What's surprising is that, overwhelmingly, these feeds break very often.
When they break, it creates a lot of admin-related headaches and hassles. That was one of the key reasons for customers becoming unhappy with Expensify's product in the past, although it was not actually the product's fault.
That is what inspired Expensify to create its own business card. Along the way, the company developed other features, like compliance at the point of sale so cardholders don't have to wait and do their expenses later.
"If you as an admin do not need to nag your employees to do their expenses later, that just means your job is done on time and you can close your books on time," said Muralidharan.
"The real benefit to company admins is the ability to control spend by setting limits for employees, that way they're not surprised later on by spend that was out of bounds."
Expensify's Impact on Bottom Lines
Expensify also takes a unique approach to servicing its clients. The company has a robust customer support structure that is very different from the rest of the market because it employs an AI-powered customer support engine called Concierge.
With its vast compilation of questions and answers from prior clients, Concierge analyzes and manages new inquiries through its deep knowledge of possible answers.
Concierge can also be used as a virtual travel assistant. Clients can book flights, hotels, and car rentals simply by starting a chat with Concierge. After collecting enough information, the app can keep track of preferred airlines, seats, and hotels as well as frequent flier points, TSA PreCheck, and loyalty numbers.
But if clients need one-on-one help with an actual person, Expensify has three different levels of support. The first responder's job is simply to look at three options to solve a problem. If one of the three answers doesn't work, then it goes to second responders.
Based on the question, second responders will try to provide more creative options. If that also fails, the question will get passed to Expensify's coaches.
The coaches respond to questions that are either complex, like a bug in the system, or encounter a request that has not occurred before. In that case, the customer could be trying to do something that the product is possibly supporting intuitively or not supporting at all.
"It's also to keep their ear to the ground and keep the organization honest in terms of where things are not working, where the flow isn't making sense, and then what feature requests are coming in that we're not supporting," said Muralidharan.