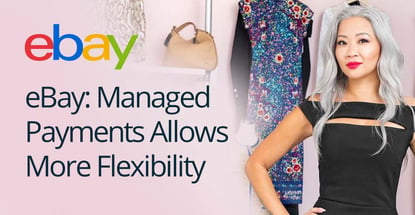 In a Nutshell: For more than 25 years, eBay has been a pioneer when it comes to facilitating online transactions. During that time, eBay users have gone from mailing checks and money orders to making purchases with the click of a button. The company's managed payments program is the latest evolution in its payment journey. Sellers can now manage their inventory and payments within the same platform. Meanwhile, buyers have more flexibility with the option to use credit cards, debit, gift cards, Apple Pay, Google Pay, or PayPal. eBay is continually collecting customer feedback to ensure it is offering the best possible service to its buyers and sellers.
As a casual record collector in the 1990s, tracking down vinyl required a lot more legwork than it does today. Of course, part of the thrill was in the hunt. I remember digging through dusty record bins in any independent music store I could find whenever I traveled outside my small hometown.
Then, maybe around 1998, a friend told me about a new website called eBay that was like a vinyl lover's heaven. Rumor had it that you could locate any record in the world, no matter how rare, and have it in your hands within a matter of weeks.
Yes, weeks.

eBay flipped the record collecting world upside down, and it's never quite been the same since. Rather than calling or visiting record stores around the country, all you had to do was search for it on eBay and it would be delivered right to your home.
At the time it seemed so simple. Find the item you want and place your bid. Check back periodically to see if you've been outbid. If so, and you wanted the item badly enough, you bid higher — in real time (these were the days before automatic bidding).
I remember the first auction I won. I exchanged messages with the seller then purchased a money order and mailed it to her the following day. After several days in the mail, the money order reached her, then she cashed it. Once it cleared the bank, she boxed up my new record and mailed it to me.
At the time, it seemed like a miracle of technology, but today, the whole process sounds rather cumbersome.
That's because only a couple of years later, PayPal came on the scene, and eliminated the need to mail checks or money orders to sellers. Since that time, the process has only become more efficient, with PayPal later accepting credit cards on file and offering its own PayPal Credit service.
And eBay continues to make buying and selling as easy as possible on the platform, most recently with its managed payments program. We spoke with Keala Gaines, Head of Global Payments Services at eBay, to learn more.
How Managed Payments is the Next Step in the Evolution of eCommerce
"Way back in 2003, ecommerce wasn't really a thing — it was quite nascent," said Gaines. "People on eBay were physically mailing checks and money orders and, God forbid, cash in envelopes, to one another."
During these early years, accepting online payments was not an easy thing for a seller, she said.
"Most banks wouldn't give a merchant-to-merchant account. Merchants had to go sign up for an internet merchant account," Gaines said. "And PayPal really filled a unique niche at that time. It was brokering this neutrality and this trusted payment intermediary model between buyers and sellers."
PayPal quickly gained popularity on eBay, she said, and it wasn't long before eBay purchased PayPal.
"To think about how payments have evolved over time — ecommerce is now commonplace — and mobile commerce exists now as well," Gaines said. "We see that emergence also in the ways people are paying, whether it's Apple Pay or Google Pay in the U.S. or some of the wallets we see in Asia."
Gaines said she is starting to see the emergence of consumer trends shifting more so in the last five years than in the prior 15 years.
"We're seeing that and at the same time the notion of a marketplace, which eBay was among the first to popularize this notion," she said. "And it's now becoming a business model that people use in the general vernacular to refer to a (company like) Uber or GrubHub or any platform that enables an exchange."
Naturally, payments have adapted to serve those models.
In 2015, eBay and PayPal split up and became two separate companies. And Gaines said this was the first time in years that eBay was really able to evaluate how modern payments should work on the platform.
Managed Payments Delivers a New Level of Convenience to the eBay Experience
Managed payments — the result of eBay's evaluation period following its split with PayPal — supports an enhanced buying and selling experience, providing sellers one place to sell and get paid, and buyers more ways to pay.
"In the history of how we came to managed payments, the piece that is so fundamental is that it's really grounded in making sure buyers and sellers have a better experience," Gaines said. "There are more options for buyers, which is talked about a lot, but there's also a much more streamlined and efficient experience for sellers."
eBay currently manages payments for thousands of sellers, with more joining every day, according to the company. Since launching managed payments in 2018, the company has managed billions of dollars in payments for users.
"Sellers who have been identified as using eBay features and tools that are compatible with managed payments will continue to be notified to join in phases," according to the eBay website. "As we move forward, we expect to manage payments for most sellers in 2020."
Historically, eBay sellers managed inventory through eBay and payments through PayPal, Gaines said, which means they had to deal with two sets of reports, two sets of customer service organizations, and other details spread across two different systems.
"Now, as we manage the payment, really everything you need to sell and get to is on eBay," she said. "That means that the reporting where you typically have had to go to multiple places is now consolidated within eBay."
Gaines said the company also introduced finance APIs that help sellers have even more robust integration for a thorough end-to-end selling experience.
For buyers, this means more choices of payment options, including credit, debit, gift cards, Apple Pay, Google Pay, PayPal, and PayPal Credit.
Collecting User Feedback to Make Buying and Selling as Seamless as Possible
eBay's success as a marketplace is largely dependent on the satisfaction of its users, so collecting feedback and continually improving the customer experience is essential.
"We have a number of mechanisms that we use to make sure that we're collecting that voice of the customer," Gaines said. "It totally starts with our customer service teammates who are front and center talking to customers every day."
She said she regularly meets with the customer service team to collect data on the common themes they are receiving phone calls about.

"Also, we look at what feedback they are hearing in areas where we could do better, where maybe the customer isn't as clear as they could be or they're getting stuck or what have you," Gaines said. "So, we're actively engaged with our customer service organization."
She said that the company also conducts extensive research in advance of a new feature to make sure it is hitting the target and to see if there are opportunities to make it even better.
"We also conduct the Net Promoter Score service and use that as a benchmark for how we are doing," Gaines said. "I would also highlight our community — eBay has been founded on this notion that our sellers form a community, and we're enabling that community online and engage with them in forums and respond to questions."
Gaines said eBay also facilitates events that engage sellers on a regular basis. Currently, the events are hosted virtually due to the COVID-19 pandemic, she said.
Now, with its managed payments program, eBay buyers and sellers have it easier than ever before when it comes to engaging in a seamless, streamlined experience.
Advertiser Disclosure
CardRates.com is a free online resource that offers valuable content and comparison services to users. To keep this resource 100% free, we receive compensation for referrals for many of the offers listed on the site. Along with key review factors, this compensation may impact how and where products appear across CardRates.com (including, for example, the order in which they appear). CardRates.com does not include the entire universe of available offers. Editorial opinions expressed on the site are strictly our own and are not provided, endorsed, or approved by advertisers.