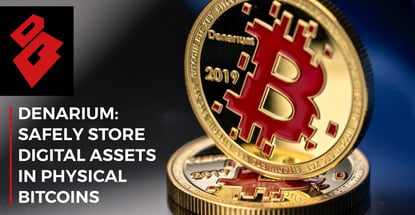 credit card news
Our experts and industry insiders blog the latest news, studies and current events from inside the credit card industry. Our articles follow strict editorial guidelines.
In a Nutshell: Once someone purchases Bitcoin, they have to figure out how they want to store their new digital assets. While there are plenty of choices when it comes to crypto wallets, cold storage is one of the most secure options. And with its elegant physical representations of Bitcoin, Denarium produces some of the nicest looking cold storage wallets available. The Denarium Bitcoins come in a range of options, including gold-plated copper, antiquated silver, and .999 pure gold. Of course, the eye-catching coins' most valuable property is the high level of security they impart to Bitcoin holders using private, internal keys and hologram technology.
Bitcoin and its cryptocurrency cohorts have become household names over the past few years, but we don't see as many attention-grabbing headlines about a crypto component — storage — that's just as important as the currency itself.
Without a way to safely store cryptocurrency, aka wallets, the crypto ecosystem would not exist. Leaving your digital assets unprotected would be the equivalent of storing your fiat cash on your front doorstep. Anybody could just walk up and take it.
And when it comes to wallets, consumers have a few selections from which to choose.

Web wallets, custodial wallets, and cloud storage are considered to be the least-safe ways to store your crypto assets. Hot wallets are more secure but still don't come highly recommended by the experts. Early wallets included paper wallets, which simply meant the user's private key and Bitcoin address were printed on a sheet of paper.
Multisignature wallets, hardware wallets, and cold storage wallets are considered to be among the safest ways to store cryptocurrency. Each of these methods adds layers of security that make it difficult for hackers to access your funds.
Hardware wallets are actual physical devices that hold digital assets inside, and cold storage wallets are similar except they are offline unless they are being actively used. This makes it virtually impossible for hackers to infiltrate these wallets, and they are much less susceptible to viruses or malware.
Safely storing your valuable digital assets is one thing. But if you're interested in storing them in style, you may want to check out Denarium.
The Finland-based company makes striking physical representations of Bitcoin that also serve as cold-storage wallets for the leading cryptocurrency.
"The idea is to take a digital concept like Bitcoin and provide a hands-on feeling," said Pessi Peura, Denarium's Community Manager. "And of course, storing something valuable like Bitcoin in a gold-plated, gold, or silver coin, is much safer than the earlier paper wallets. We even make the coins fireproof, and they are very durable."
With its range of coins and tactile attributes, Denarium lets Bitcoin investors store their digital assets safely and in style. And, as the company points out, they make great gifts for family and friends.
Securely Store Unlimited Amounts of Bitcoin
"People are using our Bitcoins as collectibles and for storage," Peura said. "We have data showing that a lot of people who bought coins from us years ago still haven't used them or made transactions with those coins. So people are really keeping their money in those coins."
And, no, there is no limit to how much Bitcoin can be stored in a Denarium coin.
In Europe, Denarium customers can purchase the physical coins with Bitcoins already embedded in them. But Peura said the company must sell its coins unloaded for U.S. customers, and, when the Bitcoin is delivered, the new owner can add the digital currency independently.
"When we ship them to U.S. customers, they are empty and they come with a public key so people can download the amount of Bitcoin that they want," Peura said. "
Denarium is one of three companies spun out of the first generation Bitcoin startup, Prasos, which was launched in 2012. Prasos also operates the European Bitcoin exchange Coinmotion and the Finnish Bitcoin broker Bittiraha.fi.
All of these projects are part of Prasos' mission to promote cryptocurrencies to larger audiences.
"We believe cryptocurrencies are a way of equalizing societal power structures as they allow regular people the chance to control their own money," according to Prasos. "Our mission is to respond to the demand of cryptocurrency users and investors to provide investment services that are easy to use and to guide different companies in the adoption of cryptocurrencies in their own services."
Denarium Offers an Array of Physical Coins for Every Price Range
For Bitcoin investors looking for an interesting and elegant way to store their digital assets, Denarium offers a variety of options spanning all price points.
And to add even more distinction, the company's physical Bitcoin designs are refreshed every year.
"Each product is uniquely designed by our in-house graphics artist," according to the Denarium website. "We use premium materials from gold plated copper, to bronze, silver and even .999 pure gold."
That's right — as if owning a piece of the leading cryptocurrency weren't enough, Denarium customers can store their Bitcoin in almost pure gold.
"Our focus is to make luxurious, elegant, convenient, secure physical Bitcoin wallets. Next, to our coin models, we also have a .9999 pure gold bar for sale," according to the company. "We have created 15 models ranging from very affordable to very luxury physical Bitcoins."
Of course, gold Bitcoins may not be an option for the average consumer. But even coins from Denarium's entry-level gold plated collection are available in several varieties. The company currently offers its custom gold-plated 2018 coin on its website as well as its custom gold-plated 2019 edition.
Each version is intricately detailed with its bold gold sheen.
The 2019 gold-plated special edition steps up the eye-catching factor with the Bitcoin logo painted in a deep red color.
Each of these coins is available to be loaded with any value of the customer's choosing, up to two Bitcoins.
Denarium's premium collection takes the artistry a step further with patinated bronze, antiquated silver, and antiquated gold versions. These too can have customization options to suit the consumer's personal preferences.
Denarium documents all coins it has produced on its Bitcoin wiki page, and Denarium owners can look up their coins in the Denarium database.
Manufacturing Bitcoins that Are Beautifully Detailed and Maintain High Levels of Security
Denarium's physical Bitcoins possess undeniable flare. They carry an air of old-fashioned prestige while embracing technologies of the future.
But for all their beauty, Denarium's Bitcoins would be nearly useless if it weren't for their high levels of security.
Every Denarium coin includes a private, internal key that is duplicated in a QR code and employs holographic technology. The company also offers multisig options for added peace of mind.
"A specialized high-security facility in Canada produces our custom made security holograms. They are of high-quality and function as an added layer of security for the protection of the private key," according to the website. "In this way, the hologram significantly increases anti-fraud security, since they are extremely difficult to counterfeit without leaving any visible marks."

Peura explained that the hologram covers the internal key and seeing the hologram intact lets users know whether a coin has been tampered with.
For its keys, the company uses a 30-character mini private key format.
"Each private key is printed only once, and for security reasons we directly supervise each phase of product assembly that involves the handling of private keys," according to the Denarium website.
Having a printed and QR code version of the key makes redeeming the Bitcoin value easier.
"Modern smartphones are capable of scanning the QR code inside and of importing the key directly to a Bitcoin wallet such as Mycelium," according to the company.
At the time of our interview, Peura said there were a total of 623 Bitcoins stored in Denarium coins around the world.
Whether you're a cryptocurrency investor looking for an eye-catching and highly secure way to store your Bitcoins or you want to give a friend or family member a memorable and valuable gift, Denarium's physical Bitcoins have you covered on all accounts.