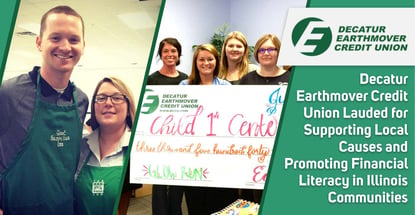 In a Nutshell: For more than 60 years, Decatur Earthmover Credit Union has been positively impacting communities in the Decatur, Illinois, region. The credit union encourages employees to volunteer in the community by granting them 16 hours per year to volunteer during business hours. It also supports a number of nonprofits through monetary donations and organized volunteer efforts, and selects a charity of the year to focus on each year. Additionally, the credit union spearheads a number of financial literacy efforts, including school presentations, reality fairs, and a college scholarship. We are recognizing the Decatur Earthmover Credit Union with our Editor's Choice™ Award for Community Commitment for these and other valuable contributions.
The Decatur Earthmover Credit Union has played a role in impacting communities for more than 60 years — figuratively and literally.
The credit union was founded in 1956 as the Decatur Caterpillar Employees Credit Union for employees of the construction equipment manufacturing giant.
As the go-to credit union for Caterpillar employees in the Decatur, Illinois, region, the financial institution provided valuable products and services to the men and women working to design, build, and transport the massive machines around the globe.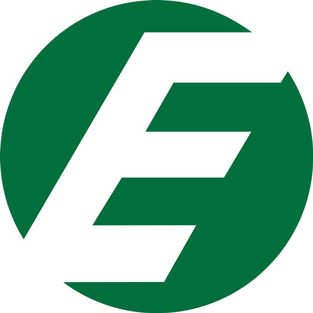 In the 1980s, the credit union separated from Caterpillar, opened up its charter to a much broader range of potential members, and changed its name to the Decatur Earthmover Credit Union. The organization maintained its original aim to support its members with quality financial services but the revitalized institution was also able to do more for the community at large.
"Our main focus is to understand that our community is thriving," said Jes Younghouse, Decatur Earthmover Credit Union's Director of Brand and Development. "We understand that it's important for other entities in our community to do great for us to do great."
Today, the credit union's membership is open to residents in 14 Illinois counties, and it operates five branches across Decatur, Forsyth, and Paris, Illinois, and claims more than $250 million in assets.
And Decatur Earthmover Credit Union is doing its part to help those communities thrive through a robust combination of volunteer efforts, sponsorships, financial literacy initiatives, and more.
Because of its notable efforts to bolster its communities, we are recognizing Decatur Earthmover Credit Union with our Editor's Choice™ Award for Community Commitment.
We recently had the opportunity to speak with Younghouse to learn more about its wide-ranging efforts to support the community, including giving employees volunteer hours, sponsoring scholarships, and supporting charitable causes.
Encouraging Volunteerism to Support Causes Close to the Hearts of Employees
"As far as community involvement goes, two of our biggest areas are volunteer hours and our charity of the year program," Younghouse said.
She said Decatur Earthmover Credit Union provides its employees with 16 hours of volunteer time per year that can be taken during normal 8 a.m. to 5 p.m. working hours.
"That's kind of our way of stressing to our employees that volunteerism is important," she said. "And it's a way we can encourage staff to get out and volunteer if they maybe wouldn't normally have time to outside of work hours."
Younghouse said the credit union's employees volunteer to support a diverse number of causes but organizations that benefit children and animals tend to be the most popular.
On the day of our interview, the credit union was preparing to participate in the 18th annual WSOY Community Food Drive.
"It's a really big community event that we've been a part of for a long time through volunteering and donating money," she said. "We'll have over 30 volunteers there and they'll be helping unload food or loading it into semi-trailers — things of that nature."
A quick follow up on the food drive revealed that the food drive exceeded its goal with a total of 1.69 million pounds of food collected in 12 hours.
"Agencies that benefit from the WSOY Community Food Drive will be able to purchase food from the Central Illinois Food Bank for 19 cents a pound," according to Now Decatur. "Last year, 17 agencies benefited from the food drive. Some of those agencies include the Salvation Army, Catholic Charities, Northeast Community Fund, Reasonable Services, and Good Samaritan Inn."
Delivering Financial Literacy to Students and Sponsoring a College Scholarship
Younghouse said the Decatur Earthmover Credit Union maintains an active financial literacy presentation schedule in local schools. She said the credit union has covered a variety of financial topics in the presentations, and the subject matter depends on a number of factors, including topics requested by the teachers.
"We've done basic overview presentations about financial literacy or discussed the benefits of joining a credit union versus a bank — things like that," she said. "We've kind of covered the full spectrum of topics."
The subject matter is often based on what school administrators or teachers request.
"They see firsthand where students, or families in general, are struggling," Younghouse said. "And when they can share that information with us, it makes it easier for us to plan out the presentation and know which touch points to hit on."
The credit union also holds reality fairs, which Younghouse said is one of her favorite events in which to participate.
"It's a hands-on experience in which students identify their career choice and starting salaries then complete a budget sheet requiring them to live within their monthly salary while paying for basics such as housing, utilities, transportation, clothing, and food," according to the National Credit Union Foundation.
Other expenses like entertainment and travel must be considered as well.
"These kids are put in a situation to make their own financial decisions," she said. "And it's a good reality check to the realization on their faces that they make these decisions, and the decisions they make affects their bottom line and whether they're going to be financially successful or not."
The credit union also sponsors the Richland Community College Scholarship.
"Going to school is important, but paying for it isn't always easy," according to the credit union website. "But, we're committed to investing in your commitment to continuing your education."
The scholarship is open to high school graduates and current Richland Community College students with a GPA of at least 2.75.
Selecting a Special Charity to Support Each Year
Since 2013, Decatur Earthmover Credit Union has selected a charity of the year to which it focuses certain efforts throughout the calendar year.
"These efforts include fundraising events, staff volunteer hours, and the opportunity to showcase the good work of these organizations throughout the community," according to the credit union website.
Younghouse said employees nominate charities and nonprofits by providing a brief summary of what the organization does and how it would benefit from the credit union's support.
"All the nominations are compiled," she said. "And if we have a lot of nominees, then we select a list of finalists, and those finalists are voted on by staff. So it's really staff-chosen — they decide who they want to work with for the year."
Among the various fundraising events for the charity, Younghouse said the annual Glow Run 5k is one of the biggest events. The credit union is also in charge of the city's Christmas parade, and the entry fees collected go to the charity of the year as well.
Decatur Earthmover Credit Union's 2019 charity of the year is Macon Resources, Inc. (MRI). The organization provides services that promote growth, independence, and self-worth for children and adults with disabilities.
"MRI offers day training, community employment, mental health services, speech and language therapy, and more for adults in our community," according to the website. "For children, they offer inclusive after school and daycare, autism services, social skills support, and more."
MRI also makes every license plate in the state of Illinois.
"We are thrilled to support this worthy organization and its team of compassionate, mission-driven community leaders," according to the credit union website.
Younghouse pointed out that the credit union took over the task of planning and organizing the city's Christmas parade last year because the previous organizer was unable to do it anymore.
"We saw it as an opportunity to give something back to our community that otherwise might not have happened," she said. "A Christmas parade is something that everybody enjoys and everybody likes going to. So I just think it's important to look for opportunities like that, to serve in an unconventional way."
Advertiser Disclosure
CardRates.com is a free online resource that offers valuable content and comparison services to users. To keep this resource 100% free, we receive compensation for referrals for many of the offers listed on the site. Along with key review factors, this compensation may impact how and where products appear across CardRates.com (including, for example, the order in which they appear). CardRates.com does not include the entire universe of available offers. Editorial opinions expressed on the site are strictly our own and are not provided, endorsed, or approved by advertisers.