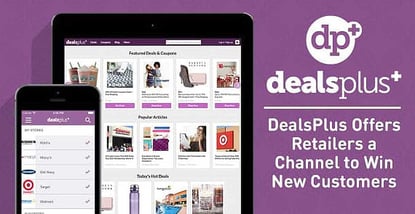 In a Nutshell: Retailers are attracted to DealsPlus because they can tap into the site's loyal community of shoppers who know DealsPlus is the place to go for great deals. More than 7 million users visit DealsPlus each month, with 40% of that being direct traffic to the site. These consumers may not be looking for a particular retailer or type of deal, but they're sure to be introduced to it if it's on DealsPlus. The massive direct traffic on DealsPlus means partnered retailers are placed in front of an audience they may not have otherwise reached, which translates into new, prospective customers. Consumers on DealsPlus are part of an active, engaged, and closely knit community, making the site an ideal location for retailers to expand their reach, conversion rates, and revenue.
It was 2006, and the housing bubble had just burst, leading to the eventual foreclosure of over 4 million properties across the country, according to a study on foreclosures by RealtyTrac. People were hurting and looking to shore up money any way they could. Things were bad, and relief was desperately needed.
That's when Greg Kim, Kiha Lee and Heeji Kim decided to do something to help. They were in the same boat as most in the U.S. during the Great Recession. Money was tight for the co-founders, but, as bargain hunters, they devised a plan and started DealsPlus in their garage.
"It was a hot topic back then," said Ivy Chou, Marketing and Public Relations Director for DealsPlus. "People were asking how they could save money, how to get a deal on, say, clothing or tech. And so, we started out as this small bargain-hunting community."
A community-based coupon site where users can upload and vote on the usefulness of coupons and deals, DealsPlus helped people manage some of the budgeting challenges they faced during this tough time. From there, DealsPlus grew exponentially, gaining more and more traction in the bargain-hunting community, and within three years became known as the go-to site for consumers looking for the best deals.
Today, about 7 million people visit DealsPlus each month, and 2.8 million of those visitors arrive there as direct traffic. That means that, instead of searching the web for deals, these consumers are either typing the site's URL into their web browsers or already have DealsPlus bookmarked. Because so many shoppers are visiting DealsPlus directly, retailers on the site don't have to rely on search results for consumers to find their brand.
For consumers, the large number of members participating on the site means more and better deals. For retailers on DealsPlus, the site's direct consumer traffic translates into greater possibilities to increase reach, conversion rates, and revenue. If you're a retailer, DealsPlus is the place you want your deals posted.
User-Rated and Site-Approved Retailers Benefit from the Extensive DealsPlus Community
Most retailers have already secured an audience among people looking specifically for their coupons via search engines or from their site. But the big question for retailers is how to most effectively expand their reach outside of those already looking for their deals online. The answer is remarkably easy. The 2.8 million people who directly visit DealsPlus each month represent an untapped pool of potential customers. These consumers might not be looking for your deals, but they're sure to find them if they're posted on DealsPlus.
"Basically, having a site like ours vouch for you and tell everyone that 'This store does have good deals…they sell great things.' Having our loyal set of users who always check our site before they buy anything will help retailers reach so many new users who would have never been reached elsewhere," Ivy said.
Retailers love working with DealsPlus because their profit margins are diametrically impacted by the consumers who directly visit the site. These consumers are going to DealsPlus to buy because they trust the deals posted there. That's why the number of direct visitors is huge news for retailers — people are finding deals that they may not have found without DealsPlus and are converting into new sales for retailers.
And these consumers are, indeed, worth reaching. Over 20% of DealsPlus users tell their friends about the deals they've found there. And that kind of word-of-mouth advertising works to bring in more of the direct traffic that is so valuable for retailers.
DealsPlus acts as a megaphone for its retail partners. The unique site gives consumers a platform to share the best deals they've found and grants their peers the ability to rate those deals based on their utility and quality. This lends credibility to the posted deals, and it's why so many users have DealsPlus bookmarked. They don't have to search for deals because they already know where to find them.
"We let our users vote on what they think is a great deal," Ivy said. "So, if a deal gets numerous votes and gains traction, it'll be featured on our homepage. Once on the homepage, it can then be validated by other users. It's not just a store saying, 'Hey, shop here!' Because stores are always going to tell you to shop there."
Consumer Relationships Built on Customized Features and First-Class Customer Support
When users sign up to become members of the DealsPlus community, they can customize their experience by selecting an avatar and some of the retailers they'd specifically like to follow. Once on board, users can search through the featured offers, coupons, and hot daily deals on the homepage. If users are looking for deals on specific products, they can do a more targeted search by keyword or category.
What's great about DealsPlus is that the content is always fresh. Their team works around the clock, seven days a week, and on holidays to moderate all of the incoming content. "We also keep an eye out on what's getting voted on a lot and what's getting a lot of clicks to gauge what our users are actually interested in," Ivy said. "Once items begin to get a lot of hits, they go into our 'Heating Up' section and our team verifies that they're accurate and ready for the homepage."
DealsPlus wanted to create a fun atmosphere for consumers using the site. That's why they've implemented a Leaderboard with a point system that ranks users by the points earned through their level of activity on the site, which includes rating deals. "We're trying to gamify it and make it really enjoyable for everyone," Ivy said. "It adds another level of engagement to the experience."
Not only does the DealsPlus community upload and rate the coupons and deals on the site, they also have the ability to supply feedback or ask questions about the site's deals, coupons, and blog posts.
"Consumer feedback is one of the most important features on the site. We'd be nowhere without it," Ivy said. "Whenever people comment or ask questions, we stress to our employees how important it is to respond."
DealsPlus Can Help You Attract New Customers and Grow Your Brand
Founded in a garage by a small group of bargain hunters looking to make ends meet in the midst of a recession, DealsPlus fostered the growth of its community by making its primary goal to help people. And even though we have finally recovered from the housing crash and Great Recession, DealsPlus continues to help people save money. It's no wonder the site's popularity has taken off and expanded into the savings powerhouse that it is today.
Retailers are attracted to the site because they can tap into a community of shoppers who have made the DealsPlus site a primary destination when searching for good deals. The proof? Seven million people visit DealsPlus each month, and 40% land on the site directly, which is a big motivator for retailers looking to expand their audience and convert new customers.
"The involvement of our users, our community, really reinforces the fact that the deals you see on the site are really great," Ivy said. "Our users know that these aren't just more of the many hundreds of offers they see elsewhere throughout the year."
The users shopping on DealsPlus represent such a broad spectrum of consumers that any type of product or brand can find success on the site. "Most retailers already have their set clientele," Ivy said. "Our site has such a wide demographic — women, men, seniors, students, moms — so it's a really great way to reach new customers to let everyone know what you're selling and what you're promoting that day."
Advertiser Disclosure
CardRates.com is a free online resource that offers valuable content and comparison services to users. To keep this resource 100% free, we receive compensation for referrals for many of the offers listed on the site. Along with key review factors, this compensation may impact how and where products appear across CardRates.com (including, for example, the order in which they appear). CardRates.com does not include the entire universe of available offers. Editorial opinions expressed on the site are strictly our own and are not provided, endorsed, or approved by advertisers.