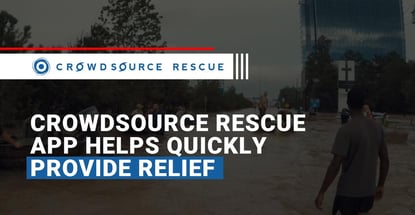 In a Nutshell: During disasters like hurricanes, traditional communication networks used by first responders and relief workers get bogged down, putting people in need at greater risk. The CrowdSource Rescue app circumvents those bottlenecks by connecting professional first responders and vetted volunteers to neighbors in need using cellphone geolocation data. First deployed in 2017 during Hurricane Harvey and now organized as a 501(c)(3) nonprofit, CrowdSource Rescue welcomes credit card rewards donations to support the team of volunteers necessary for the system to work.
Residents of hurricane-prone regions in the United States know that, no matter how well they prepare, they may still face significant challenges in the face of a disaster. Storm disruption may become so widespread and infrastructure so fragmented that professionals who are able to provide help can't always reach the people who need it.
Even worse, the number of people who need assistance is sometimes so great that folks sit and wait even after roads are cleared and phones are up and running again.
Now imagine all the other possible disasters that can happen — tornadoes, floods, earthquakes, landslides, etc. — and imagine them unfolding not just in the U.S. but in places like Guatemala, for example, where disaster assistance is far less dependable.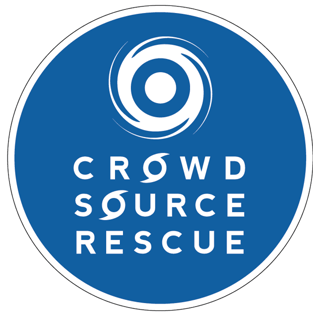 That's why CrowdSource Rescue is seeking donations — so it can continue to build technology to expand a model that uses cellphone geolocation data to bring new levels of efficiency and effectiveness to disaster relief all over the world.
If you're looking for a way to do good using your credit card rewards, CrowdSource Rescue is a great option. Cardholders with flexible rewards programs can cash in rewards for a statement credit and use their extra cash to make a donation. People can also donate credit card points toward hotel rooms for victims.
The organization started in 2017 during Hurricane Harvey, which, as a tropical storm, caused massive flooding in the Gulf Coast of Texas.
In Houston, programmer Matthew C. Marchetti saw on social media that storm victims in his own part of town were asking for help and that providers were offering it. But there was no way to coordinate between the two groups to ensure that neighbors could quickly help neighbors.
With a friend, Marchetti hurriedly wrote and posted a small app that could plot the phone locations of people in need and those of assistance providers so they could all see each other in real time.
"We put about 20 people into it that first night," Marchetti said. "And when we woke up the next morning, there were 3,000 in it. We built the thing in like six hours."
Organizing Rescuers and Mobilizing Volunteers
That was just the beginning. By the end of the Harvey disaster, CrowdSource Rescue had assisted around 25,000 people.
"The problem was that 911 was overwhelmed — they were used to 5,000 calls a day and all of a sudden they were getting 50,000 an hour," Marchetti said. "That math's never gonna work."
Marchetti settled back into his normal programming routine without any follow-up plans for the app. Then Hurricane Irma hit the Caribbean and Florida, and people started using it again. And Hurricane Maria hit Puerto Rico, and the same thing happened. Marchetti said he got the hint.
"Fast-forward to today, and we're at about 25 different disasters, mostly hurricanes," Marchetti said. "We connect disaster victims to vetted volunteers, most of whom have search and rescue and disaster response training, as well as to official first responders."
And then the COVID-19 outbreak came. Interestingly enough, the technology, which by 2020 had been extensively rewritten, was still simple enough to work in a slow-motion disaster like a pandemic where chronic food insecurity was the problem to be solved.
"People who are elderly, who are disabled, who have no transportation — they can't go to the pantry because they're too high risk," Marchetti said. "They use us to make a request, and we have a volunteer drop off groceries at their door. In a little over a year, we've delivered 800,000 meals."
Today's version of the app has built-in flexibility to address all sorts of worst-case scenarios, with form-builder technology for customizing response questionnaires and inventory tools that shelters and relief agencies can use.
"You can do rapid crafting of an incident on the fly because you're not going to know what you're going to need, or what you need to be asking until the disaster happens," Marchetti said.
A Nonprofit That Relies on Donations and Volunteers
CrowdSource Rescue partners with official disaster relief organizations at the local and state level, and even with the U.S. Federal Emergency Management Agency. Most of its work has been undertaken in the U.S., but it has also provided assistance after a volcano eruption in Guatemala in 2018 and after several monsoon disasters in the Philippines.
It's now Marchetti's full-time job to oversee the project. Soon after Hurricanes Harvey, Irma, and Maria convinced him to transform the original app into something more permanent, he established a 501(c)(3) fiscal sponsorship relationship with the disaster relief assistance network Outdoorsmen in Action.
Fiscal sponsorship is a vehicle that allows a nonprofit to initially focus on its mission and growth while allowing a more established organization to manage its tax status. Plans to establish an independent nonprofit for CrowdSource Rescue are underway.
Marchetti manages app development and the group of full- and part-time staffers who handle the COVID project and gather and maintain gear and supplies.
That's where card rewards and other donations come in. CrowdSource Rescue relies entirely on corporate and individual sponsors and donors to fuel its response management, early-early relief, rapid response, and other services when disasters arise.
The platform is also capable of providing evacuation services and supplying rescue data to municipalities and organizations managing long recoveries.
And as the 2021 hurricane season approaches in the U.S., Marchetti and his team can count almost 14,000 rescuers and volunteers and close to 800 certified first responders who have provided assistance through CrowdSource Rescue.
"Something we've had happen before is people donating credit card points specifically for hotels," Marchetti said. "That's going to be particularly important during this hurricane season because COVID will probably continue to limit the number of available shelters."
CrowdSource Rescue: Scalable Tech with Global Impact
CrowdSource Rescue continues to concern itself mainly with disaster relief in the hurricane-prone regions of the U.S. But in addition to its work in Guatemala and the Philippines, it has also established a foothold on the Pacific Coast, working on earthquake mitigation.
Technology that uses phones to streamline disaster relief communication has global potential.
"It's a worldwide thing — disaster happens," Marchetti said. "Thankfully, there will always be people willing to help."
Card rewards donations become all the more important in proving the platform's global relevance. In fact, mobile- and geolocation-based technology like CrowdSource Rescue can help the most in areas where traditional infrastructure is lacking.
Watch on A case in point is the Texas power crisis of February 2021. A sudden deep freeze across Texas and neighboring states put the independent Texas power grid under unprecedented stress and led to widespread blackouts extending over days.
"It sounds cocky, but nothing a hurricane can do is gonna surprise us now," Marchetti said. "But the freeze was brand new."
Infrastructure for homes and businesses froze and roads remained icy for days. Food insecurity exploded as vulnerable people, already restricted by COVID-19, were rendered homebound.
CrowdSource Rescue deployed the seven power generators it owned on a house-by-house basis to raise indoor temperatures to reasonably comfortable levels before moving on to the next home. Then it partnered with a local tool bank to put another 50 generators to work.
"We helped about 700 people when the ice was still on the road and about 24,000 afterward," Marchetti said.
"And we pumped out a lot of food too," Marchetti said. "On the first day after the ice melted, we delivered 1,700 meals, because people came out in droves to help."
Advertiser Disclosure
CardRates.com is a free online resource that offers valuable content and comparison services to users. To keep this resource 100% free, we receive compensation for referrals for many of the offers listed on the site. Along with key review factors, this compensation may impact how and where products appear across CardRates.com (including, for example, the order in which they appear). CardRates.com does not include the entire universe of available offers. Editorial opinions expressed on the site are strictly our own and are not provided, endorsed, or approved by advertisers.