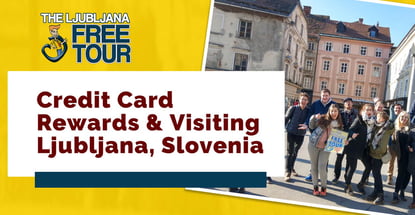 In a Nutshell: We're always thinking about fun and novel ways to use our credit card rewards here at CardRates, and travel often comes to mind. Many U.S. residents think of the lights of Paris or the cuisine in Rome when they daydream about traveling to Europe. But today, we're interested in a lesser-known but just as fascinating city — Ljubljana, the capital of Slovenia. Once part of the former Yugoslavia and a member of the Eastern Bloc, Slovenia has successfully developed its tourism industry in recent decades. With The Ljubljana Free Tour, visitors can learn about the rich, multicultural heritage of the city. And the company also offers paid tours as well that dive deep into topics like communism and Jewish heritage in Ljubljana.
Many U.S. residents spent much of 2020 staying close to home and canceling or postponing vacations and other travel-related activities due to the COVID-19 pandemic.
With vaccinations rolling out and a new hope blossoming for the coming months, we here at CardRates are already daydreaming about the next time we'll be able to travel abroad once again. Needless to say, with credit cards on the brain, we also frequently contemplate credit card rewards and how to use them.
And traveling is a popular answer.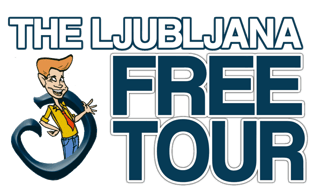 Whether it's turning credit card rewards into cash back for travel accessories, using credit card points for discounted flights, or scoring a great lodging rate, we love using our credit card perks on unforgettable experiences.
With that in mind, we recently learned about The Ljubljana Free Tour in Slovenia's capital city and reached out to Founder Čak to learn more about Ljubljana, Slovenia, and the tours offered by his company.
Čak noted that, while The Ljubljana Free Tour is still on hiatus due to the pandemic, the company is looking forward to resuming tours as soon as it is deemed safe to do so.
"I was always an avid backpacker," Čak said. "I've backpacked a lot around the world. I've been on many, many tours. And I generally did not like tours. Then, one day I went to Berlin and went on a tour. The guide was amazing."
Čak spoke with the tour guide afterward and realized for the first time that tours can be different than the vast majority of those he had experienced.
"They were working on the free tour concept, which meant there was no fixed price for the tour and it was the tourists themselves who decided if and how much they wanted to tip the guide," Čak said. "The concept meant the guide really had to deliver a superior tour if they wanted to earn any tips. The better the tour, the more people might want to tip — and that's how it started. At first, it was just me and my wife but over time we grew into a team of 16 guides. Today, we guide more tourists than any other company in town."
The Capital of a Major European Crossroad
Although Slovenia, and Ljubljana in particular, have a long and storied history, it wasn't until recent years that the country and its capital have emerged as tourist destinations.
"Slovenia is a crossroad country and has historically always been a crossroad," Čak said. "If you want to get from Central Europe or Northern Europe, to the south or the east, you have to pass through Slovenia."
He said this means that, during summer when many Europeans travel the continent, a lot of them end up in Slovenia at some point.
Travel expert Rick Steves sums it up nicely: "Located where the Germanic, Mediterranean, and Slavic worlds come together, Slovenia enjoys a happy hodgepodge of cultures while also presenting plenty of its own unique character. And much like the country as a whole, its capital city of Ljubljana is a delight to explore, yet remains relatively undiscovered."
Following World War II, Slovenia and its capital were part of Yugoslavia, a communist/socialist country that enjoyed a unique status during the Cold War. On the one hand, it was part of the Eastern Bloc countries, however, it was not really behind the Iron Curtain, as Slovenes were granted passports in 1964, Čak explained.
And so, cross border commerce and smuggling became a favored profession, he said. Tourism too, but in very small numbers. The Yugoslav succession wars of the 1990s had a disastrous impact on the region's tourism sector, but in truth, Slovenia did not suffer as much as its southern neighbors because, for Slovenia, the war lasted only 10 days, after which it moved south where it lasted for several more years.
Slovenia gained its independence in 1991 and joined the European Union in 2004.
According to Čak, the fact that Yugoslavia was relatively closed off and that tourism only picked up after the millennia meant that the country's tourism infrastructure was only developed after environmental protection had become a hot topic. So, Slovenia is now one of the most eco-friendly countries in the world. If you're looking for huge concrete hotels this might not be the destination for you.
"Slovenia is the most forested country in Europe. It's a green country," he said. "And it's marketed as a green destination. Ljubljana was also named the green capital of Europe a few years ago."
Slovenia has experienced an uptick in outside visitors, and saying it is undiscovered today wouldn't be accurate. The relatively untouched country — with its rich cross-cultural heritage — remains a gem when it comes to travel destinations.
The Ljubljana Free Tour Lets Visitors Explore the City at No Cost
Čak discussed The Ljubljana Free Tour, including what visitors who take the tour can expect.
As mentioned, the free tour concept works on the fact that there's no middleman and no prepayment for the tour. It is the guests themselves who decide at the end of the tour if they wish to tip the guide or not, and this, based on the quality of the tour.
"Our job is to make sure our guides are the best in town," Čak said. "In our case, people don't even need to book in advance. They simply show up with a smile. After years of experience and calculations, we are able to predict the number of tourists who come each day with great accuracy. In any case, we always have enough guides available at the meeting point to ensure crowds are split into smaller groups."
"We work with hundreds and hundreds of tourists a day," Čak said. "They come in. We have a group of guides waiting. We split the visitors into small groups — about 20 or 30 people per group, and they go walking."
In 2020, during the months when The Ljubljana Free Tour was in operation, the groups were limited to 10 or fewer people due to the pandemic, Čak said.
The company describes its tours as meticulously structured, captivating, entertaining, and engaging. TripAdvisor has named The Ljubljana Free Tour the city's No. 1 tour for eight years in a row.
Visitors who take the two-hour, free walking tour can expect to see must-see landmarks in the heart of Ljubljana and learn about the history, architecture, art, and politics of the capital city. The well-versed tour guides also regale tourists with local stories, legends, and personal insights.
The company also offers a free Old Town and Castle Tour, which works as a nice complement to the original free tour, according to the website.
"All tours are delivered by licensed local guides trained to present informative, structured and super entertaining tours, covering everything from local history and architecture to quirky trivia and modern city vibe," according to the company.
Premium Private Tours That Focus on Specific Aspects of Ljubljana History Are Available
While the free tour remains the company's most popular, Čak also discussed the many other paid tours the company offers.
"With our specialized tours, people come up and pay for a ticket. And the groups are much smaller and the tours are more in depth" he said.
These tours are typically longer than the two-hour free tour and focus around just a few central topics.
The Communist Tour is one of the most popular paid tours.
"Some look back in sorrow, others miss the good old days when (almost) everyone was 'equal', had a job, a roof over their head and food on the table," according to the company. "The Communist Tour takes you back to the days of socialist Yugoslavia, a unique country that defined its own approach to communism while maintaining a somewhat open-doors policy with the West."
Other in-depth tours may be booked in advance, such as the Jewish Heritage Tour or the Classic-Communist Fusion Tour.
"On the Jewish Heritage Tour, we visit sites within Ljubljana's old Jewish Quarter and other locations related to Jewish life. We explore Slovenia's Jewish history, culture, and heritage, and discuss today's community and the problems it faces," according to the company website.
And the Classic-Communist Fusion Tour serves as a good mix between learning about modern-day Ljubljana in the context of its communist past.
"We begin with the classic city tour, with added communist content when relevant, after which we continue on to the 'political' part of town where we visit additional sites related with our communist past, such as the Parliament House and Republic Square, both of which played a major role during our communist era," according to the company.
While the free tours are only offered in English, the company's premium tours are offered in multiple languages.
So, if you're looking for a stunning travel destination that is not yet run down by tourist crowds, look no further. Slovenia and its capital offer all the beauty one can absorb, and all this at a very reasonable price.
Advertiser Disclosure
CardRates.com is a free online resource that offers valuable content and comparison services to users. To keep this resource 100% free, we receive compensation for referrals for many of the offers listed on the site. Along with key review factors, this compensation may impact how and where products appear across CardRates.com (including, for example, the order in which they appear). CardRates.com does not include the entire universe of available offers. Editorial opinions expressed on the site are strictly our own and are not provided, endorsed, or approved by advertisers.