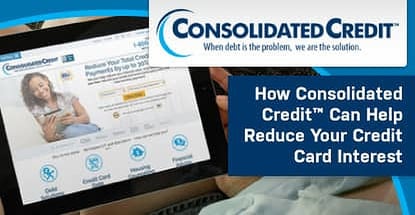 In a Nutshell: Combined credit card debt in the US is now over $1 trillion, which means more than a few Americans could use some help in getting out of the red. Consolidated Credit is a nonprofit that steps in when people need it most. Although it provides people with other types of financial advice on topics like purchasing homes and building savings, Consolidated Credit is best known for working with people to pay off credit card debt and reduce the high interest rates that often stand in the way of timely pay-offs. Through the program, counselors negotiate with credit card companies on behalf of clients for lower interest rates, lowering them on average from 20%-29% to 6%. //
Credit card debt plagues many Americans, and the proof is in the numbers. Credit card debt reached $1 trillion at the end of 2016, and 157 million Americans have balances to pay off. The national mean per household is $16,748. What makes it especially challenging for many people to pay off debt is high interest rates, which exist as a buffer to protect lenders because of the higher risk and greater chance of default. Even for those with excellent credit, today's new credit cards come with an interest rate of at least 15.7% after introductory periods end.
Consolidated Credit is a non-profit focused on personal finance advice and credit counseling. It also provides counseling on purchasing a home, home equity, and housing hardship. It has many free counseling services, as well as personalized programs at minimal fees to help you pay off debt efficiently — and also save for your future.
"Our goal is to help everyone who reaches out to us," said April Lewis-Parks, Director of Education and Corporate Communications for Consolidated Credit. "We look at their income sources, debt/income ratios, and spending habits. We give them advice on how to pay off debts and have more cash flow."

Consolidated Credit goes to the heart of tackling credit problems for its clients. It provides a variety of services to help people get over the hump of credit card debt. One such solution is credit card consolidation, or combining monthly debts into a single monthly payment, which helps lower interest rates so a large portion of your payments go toward paying down the principal.
The company has free debt counseling services and other resources on its website, including an eight-hour personal finance course that is not specific to credit card debt but does address the issue. It is also well-known for its debt management program, a repayment plan that clients work out with a certified credit counselor, who negotiates with creditors to reduce interest rates.
Pay as Little as 0% to 10% Interest with a Debt Management Program
To participate in the debt management program, you first have to qualify for it. According to April, it usually takes about 30 minutes to go over a client's income and budget to determine eligibility and the right solutions.
"We try to figure out the biggest problem they are facing, and whether or not they can solve it on their own," April said. "Once it's determined that high-interest credit cards are really putting a burden on their finances — making it difficult for them to pay for essentials — we look at the debt management program."
Their debt can be anywhere from $1,000 to $100,000, but their average interest rate is 20% to 29%, she added. "When you have a high interest rate like that, often your minimum payments won't get you far. Most of it goes for interest."
Clients generally include four to six credit cards in their repayment plan. The credit counselors then negotiate with creditors, to bring down the interest rates to levels ranging from 0% to 10%, with an average of 6%. "Different things are taken into consideration, like a client's income and any hardship they are going through," April said, adding that each lender has its own limits on interest rates.
Some clients pay a monthly fee to the credit counselor, depending on the state in which they live and their budget. The counselor has power of attorney on the credit cards, and clients must adhere to certain conditions, April explained. These include not using their credit cards and not applying for new credit for at least six months — after which they can sometimes get an auto loan or a mortgage approved.
Free Resources for Financial Literacy Education
Since many people don't qualify for the debt management program, but still have debt woes and questions, Consolidated Credit offers a variety of free resources. One of the newest resources, rolled out in 2016, is a financial literacy course dubbed "Credit Dojo." The eight-hour, 16-module course includes topics, such as budgeting, bankruptcy, and reading a credit report. Users watch interactive videos and take quizzes at the end of each section before moving on to the next one.
In addition, Consolidated Credit provides other free webinars on topics, such as vacation budgeting, reading a credit report, planning for retirement, and protecting yourself from identity theft. Understanding your credit report and score can be elusive for some, but it's also an area that's intrinsically connected to credit card payments.
April said clients who have sought the company's financial advice — namely those in the debt management program — have seen vast improvements in their credit scores, usually within six months of being in the program. They often start out with poor, but not sub-prime scores, in the 630-650 range, April said. The missed credit card payments mostly account for their low scores, but once they start making timely payments, their scores shoot up — even as much as 100 points within three to five years, April added.
"Thirty-five percent of a credit score is paying on time, and this program makes you pay on time," she said, adding that some clients have spontaneously applauded that part of the program on the Consolidated Credit Facebook page. "For us, it's not a selling point, but a side benefit."
More than 5 Million People Helped Over Nearly 25 Years
Speaking of positive feedback, Consolidated Credit has a page on its website that is dedicated to client testimonials, called "Profiles of Debt Success."
One woman's credit card usage was described as "a gateway drug for her developing shopping addiction," she said. "Spending made me happy, but making more than the minimum monthly payments became impossible. I just didn't have the cash flow to match my monthly bills." When she had children, she decided to become serious about crunching down her debt, and Consolidated Credit was there for her. Within three years, she'd eliminated her debt.
Dozens of such stories exist — from people at all stages in life: the woman who quit her job to care for a special needs child; the woman facing onerous medical bills — whose illness also forced her into early retirement; the generous woman whose small loans to family and friends accumulated over time into her own debt. Consolidated Credit has helped all these people — and a grand total of more than 5 million other people in over 25 years.
Despite such a notable track record, the company is not resting on its laurels. It just launched an updated website, and it is redoing its calculator section, April said. "By the end of the year, or early 2018, we hope to have a whole new suite of calculators that people can use."
Advertiser Disclosure
CardRates.com is a free online resource that offers valuable content and comparison services to users. To keep this resource 100% free, we receive compensation for referrals for many of the offers listed on the site. Along with key review factors, this compensation may impact how and where products appear across CardRates.com (including, for example, the order in which they appear). CardRates.com does not include the entire universe of available offers. Editorial opinions expressed on the site are strictly our own and are not provided, endorsed, or approved by advertisers.