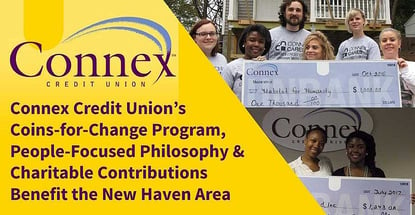 In a Nutshell: Connex Credit Union's Coins-for-Change program takes the fees charged by its coin-cashing machines and donates them to nonprofit organizations in the four counties Connex serves. The popular program is part of a larger charitable and philanthropic initiative known as ConnexCares. In addition to Coins-for-Change, ConnexCares gives back to the community by hosting financial seminars, offering scholarships, promoting volunteerism, and through various other fundraising efforts. This philosophy of helping people is not limited to ConnexCares — it is at the credit union's core mission in its everyday practices. //
Hamden, Connecticut, Mayor Curt Balzano Leng smiled for the camera as he held an oversized check for nearly $1,000 recently. Leng was on hand to represent Hamden and its efforts to fund its own animal shelter following a citizen-led initiative to help abandoned and abused animals in the area.
Those large checks are becoming more popular around the New Haven area these days as the word is spreading about Connex Credit Union's Coins-for-Change program.
Hamden's Animal Shelter fund, along with three other regional nonprofits, are just the latest beneficiaries of Coins-for-Change program that raises around $13,000 a year through the modest fees it charges at its coin-cashing machines across various branches.
Connex Credit Union has been active in the greater New Haven community since 1940, when it was founded as the New Haven Telephone Employees Federal Credit Union, initially serving employees of the Southern New England Telecommunications and their families, according to the Connex website.
The credit union was able to expand its membership eligibility to employees of around 450 additional companies and organizations during the '90s.
The current iteration of Connex Credit Union was born in 2003 when it converted to a state-chartered credit union. The organization is now open to anyone who lives, works, attends school or worships in New Haven, Hartford, Middlesex or Fairfield Counties.
These days, Connex bills itself as the "Unbank," and serves more than 55,000 members across eight branches in the greater New Haven area.
Coins for Change Supports Nonprofit Organizations with Fees from Change Machines
"Coins-for-Change is a program where we raise funds for local nonprofits that are in the counties that our credit union serves," said Roquita Johnson, Connex Marketing and Electronic Services Specialist. "Sixteen organizations are chosen a year — that's four per quarter because we have four coin machines across our eight branches."
The machines are located in the Guilford, North Haven, Hamden, and Monroe branches.
Then, one machine is dedicated to the pre-selected organization for the quarter. Johnson said they try to choose an organization close to the particular branch where the machine is located.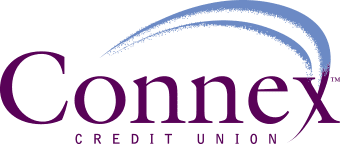 The organizations are selected by a committee comprising various members of Connex Credit Union. The pool of organizations to choose from comes from a combination of nonprofits nominated by Connex employees and applications from the organizations themselves, Johnson said.
The coin-cashing machines charge a 5% fee to Connex members and 7% to non-members, and Connex Credit Union donates 100% of the money raised by the fees to the chosen nonprofits.
"Obviously, there are so many great charitable organizations, and we definitely wish we could help everyone, so it's very hard to decide on just four that we will help," Johnson said. "So, even if an organization doesn't get chosen for that quarter, they don't fall off the list."
Connex maintains a rolling list of organizations that have not been previously selected, with the addition of any new organizations up for consideration.
Johnson said she can tell the program is becoming more popular because it receives more unsolicited applications from nonprofits than it used to. And Connex patrons are noticing the program more as well. She said several years ago, Coins-for-Change was raising around $10,000 a year on average, but the last couple of years that number has been averaging around $13,000.
"It makes people feel good," Johnson said. "We have some members who will call us and ask which local organizations the program is supporting this quarter, and what's coming up. That makes us feel good to know that they realize what we're doing in the community, and also that they want to help."
Besides the Hamden Animal Shelter Fund, other recent beneficiaries of the Coins-for-Change program include Integrated Refugee and Immigrant Services, the North Haven Historical Society, and Woman, I Am, Inc.
The summer months often see some of the highest numbers of people cashing in their coins, Johnson said, because they want to wrangle some extra funds to help with their vacation budgets.
"It's so funny when you hear the machines going because it sounds like a gushing waterfall," Johnson said.
ConnexCares also Gives Back Through Financial Education, Volunteerism, and Scholarships
Johnson said Coins-for-Change is just one facet of Connex Credit Union's overarching philanthropic and charitable arm called ConnexCares. She said the program's goal is to promote financial literacy, well-being, and understanding in general to the communities Connex serves.
"We have financial workshops we do throughout the year that are open to the community, not just our members," she said.
Connex is involved in other local activities and programs as well, including Habitat for Humanity and the annual Shamrock & Roll 5k, on which it serves as a primary sponsor each March. Johnson said the credit union also gives out three different scholarships each spring.
One of the scholarships is dedicated to students who have shown a commitment to community service, and another is designated to specifically support business students, according to the Connex website.
Johnson said about 10 Connex employees band together each year to volunteer for Habitat for Humanity.
"It makes us feel really good that we can actually be a part of the construction, the painting — whatever it may be — to help a family that may not have had the opportunity to have a home," she said.
Johnson said the future homeowners are often on-site, and it's a great chance to really get involved on a personal level.
Connex holds a holiday charity drive each year as well. Johnson said past drives have involved collecting items for local homeless shelters, coats for children, or care packages for low-income families.
"We even had one member — I guess she was someone who crocheted a lot — she dropped off so many crocheted hats for little babies," Johnson said. "It was just amazing to us."
As far as financial literacy, Johnson said they hold a number of workshops throughout the spring, fall and winter. Some of the workshop topics include building and maintaining good credit and a tutorial for first-time homebuyers.
Another popular program is the budgeting workshop.
"We initially thought maybe younger people who are just getting started with cultivating good financial habits would be interested, but we have seen a lot of seniors attending that workshop," she said.
Johnson said Connex recently added the option to view the workshops online as well, which has garnered positive feedback from members.
"We used to only offer the workshops in person, so you had to come to our main headquarters," she said. "But we started having the webinar portion to make it more convenient for people if they can't make it for whatever reason, or for people working late, they can just attend the workshop from wherever they are."
Connex Credit Union's People-Focused Philosophy Carries Through to its Services and Business Practices
While ConnexCares is the official charitable segment of Connex Credit Union, the same philanthropic and community-oriented spirit runs through the core of what Connex stands for, as evidenced by its mission statement: "Improving the lives of our members…One member at a time."
According to its website, Connex strives to be recognized as a leader for customer advocacy and providing a positive customer experience. This includes a commitment to working in the member's interest, understanding members' goals, helping to identify roadblocks and provide solutions to financial needs, and being responsive so members receive a friendly, simple and fast experience.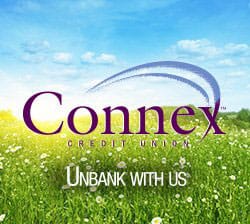 "The credit union philosophy is people helping people," Johnson said. "So, we're very particular about sticking to that. We're really big on helping the people that we serve, and that are in our communities whether they're members or not."
Connex offers members a full range of banking services and options, including savings accounts, checking accounts, a broad offering of loans, and even youth accounts.
"Connex Credit Union will continue to serve its members as a trusted provider of competitively priced financial products and services," according to its website. "Connex offers free Online Banking and Mobile Banking, as well as low fees and very competitive rates on loans, mortgages, and deposit products."
The Connex website also offers a number of resources for members, including financial tips and videos, financial calculators, and a guide to financial definitions.
Its eight branches are located in Branford, Guilford, Hamden, Meriden, Monroe, New Haven, Orange, and North Haven, where its headquarters are located.
Connex recently selected its list of organizaitons to receive one of those oversized checks: D.A.R.E., Adam's House, Circle of Care, and the New Haven YMCA Youth Center. Nonprofits in the region hope New Haven-area residents will be cashing in their coins well beyond the holiday season, and help provide gifts that can go much further than any store-bought item.
Advertiser Disclosure
CardRates.com is a free online resource that offers valuable content and comparison services to users. To keep this resource 100% free, we receive compensation for referrals for many of the offers listed on the site. Along with key review factors, this compensation may impact how and where products appear across CardRates.com (including, for example, the order in which they appear). CardRates.com does not include the entire universe of available offers. Editorial opinions expressed on the site are strictly our own and are not provided, endorsed, or approved by advertisers.