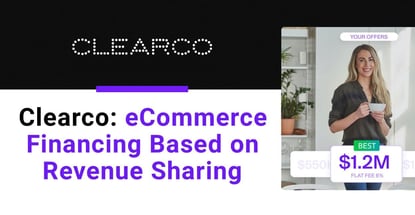 Our experts and industry insiders blog the latest news, studies and current events from inside the credit card industry. Our articles follow strict editorial guidelines.
In a Nutshell: eCommerce businesses traditionally seek capital from equity investors, but founders may, essentially, have to put up a stake in the business. Clearco offers a flexible financing alternative that's based on business performance, not equity. The platform connects with company financial tools to measure key growth metrics, including monthly revenue and ad performance. Clearco bases payback terms on sales projections that require no personal guarantees or credit checks and fit within operating goals.
Canada has a popular television program called "Dragons' Den," that was the inspiration for the popular US "Shark Tank" show. Michele Romanow was an investor and panel member on the show and drew from her many entrepreneurial experiences to offer valuable insights to aspiring entrepreneurs searching for support.
Before leaving college, Romanow founded her first company, a zero consumer waste coffee shop. In 2008, she founded a caviar fishery. SnapSaves, another of her creations, became a Groupon acquisition in 2014.
On "Dragon's Den," Romanow kept hearing the same negotiation strategy from founders so intent on selling their vision that they were willing to give up significant equity to secure their first seed funding.
When she realized they were mainly spending those checks on marketing and inventory, she realized there had to be a better way.

"It never made sense that founders were using the most expensive capital in the world, equity, to do something that had a fixed return," she said.
On the show, she tried out a new idea.
"I said, 'Look, I'm gonna throw you a different deal type,'" Romanow said. "I'll give you the $100,000 you're looking for, but instead of taking 10% of your business that I'll own forever, I just want 10% of your revenue until you pay me back my capital plus 6%."
She got the deal, and with it came the business model for a new funding solution Clearco, which she co-founded. Since Clearco launched in 2015, it has invested more than $3.2 billion in more than 7,000 digital businesses.
The Clearco product isn't a loan. It's a revenue share arrangement with no fixed payment timelines, no compounding interest, and no personal guarantees.
"That day on 'Dragons' Den' became what Clearco is today," Romanow said.
A Data-Driven Approach to Funding Small Businesses
Clearco still primarily finances marketing and inventory spends, but founders and companies range widely. Most are eCommerce businesses, including service and app businesses.
Companies earning as little as $10,000 in monthly revenue are viable candidates. But Clearco also works with companies that bring in $300 million, and financing offers range from $10,000 to $20 million.
What Clearco clients all have in common is that they acquire customers digitally. Clearco accesses data from a company's existing management, accounting, and marketing platforms. That process allows it to generate three customized offers for each candidate within 24 hours. A typical bank would need weeks to secure those offers.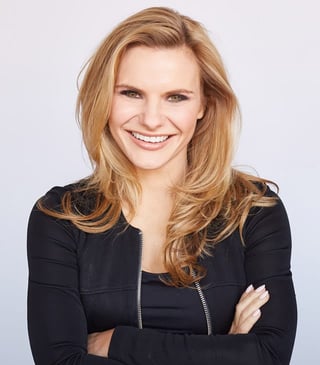 "And we've never put a personal guarantee in our agreements," Romanow said.
Clearco's tech-based approach also distinguishes it from the conventional venture capital strategy in cultural terms. The VC process is relationship-centered and very traditional in some ways. Investors tend to operate in self-contained networks, and getting to a 'yes' can be all about who you know. Clearco couldn't be more different.
"We don't use a human-to-human process," Romanow said. "We don't see your pitch deck, and we don't need to meet you personally."
That means that founders working with Clearco spend less time away from their primary responsibilities and replace potentially dozens of unproductive VC meetings with a simple online application.
That also means Clearco's client base is far more diverse than the business community, in general. Clearco funds 25 times more women-owned businesses than the venture capitalist community as a whole. Women comprise half of its portfolio and a third of its founders are black, indigenous, or people of color.
"That is what happens when you use a big enough sample size and let the data do the talking," Romanow said.
Tools and Resources for a Community of Founders
In 2021, Clearco rebranded from its original name of Clearbanc to signal its ongoing ambition to go beyond transactions and build an active community of founders and partners dedicated to fostering success for all.
Clearco helps founders understand their business trajectory and track metrics, including revenue growth and ad campaign performance, through its Insights tool. And its ClearMatch feature delivers fully customized partner recommendations based on performance metrics.
Both tools are free to all Clearco registered account holders, and access is not limited to customers with funding. A dedicated Help Center provides users information on how to navigate the free tools and how to get started, use funding, make payments, and manage accounts.
Watch on
Insights is a benchmarking tool that compares key customer sales and marketing metrics against the competition. A dashboard view enables users to view summaries and graphs, and they can customize views to see multiple competitors for more accuracy.
Metrics encompass a dozen variables, including revenue growth, average order value, ad spend as a percentage of revenue, and customer acquisition costs.
ClearMatch connects customers to Clearco's global partner network, a group of industry-leading agencies, platforms, VCs, and service providers that are proven matches for positive outcomes.
The dashboard presents matches automatically, facilitates contact, and manages data sharing. With Insights, ClearMatch provides actionable information and perspective for strategic decision-making.
"Our original name implied that we were just a capital supplier, and we want to be so much more than that," Romanow said. "Now, our tools for optimizing spend and growth go beyond capital."
Clearco: A Practical Alternative to Traditional Capital
Before Clearco came on the scene, founders who needed capital had to choose between a business credit card and a business loan.
Although the right card in the right hands can serve as a productive short-term working line of credit, almost all credit cards have personal guarantees attached to them. And the consequences of making mistakes can be high.
With traditional VC funding, founders agree to give up a stake in their company to finance basic operating costs.
"Look, there's a time and place for equity money — when you're taking true equity risk," Romanow said. "But you don't have to give up a piece of your company to invest in inventory and Facebook ads where you know there's a fixed return."
Clearco has emerged as a more realistic, efficient choice for eCommerce entrepreneurs in North America, the Netherlands, the UK, Ireland, and Australia. Personal assets stay secure, and company founders spend far less time fundraising and networking to fundraise even more.
Customer feedback informs strategy at Clearco and has been instrumental in the company's expansion into inventory financing after its initial focus on marketing. Coaches guide customers in their decision-making process and connect them with other customers with similar experiences.
Clearco also accelerated its growth as the COVID-19 pandemic prompted growth in eCommerce. Product categories once thought to be beyond the reach of eCommerce businesses are now routine online purchases.
And with more entrepreneurial energy fueling a transitioning economy, more founders from diverse backgrounds stand to benefit from Clearco's straightforward value proposition.
"You're already doing the hardest job in the world to become a founder," Romanow said. "There's no need to do an even harder one after that."