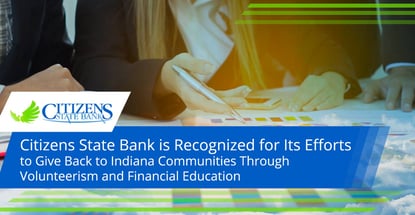 In a Nutshell: Citizens State Bank in Indiana goes above and beyond to support and give back to the communities in which it operates. CEO Dan Maddox emphasizes the importance of Community in the Bank's mission statement, which is posted at every associates' desk and throughout common areas. It is reflected in the Bank's HR policies, with all employees receiving paid volunteer hours that can be used during normal business hours; in the Bank's Marketing with Community Appreciation Days targeting the entire community, not just customers; and in Operations – promoting financial literacy through a number of initiatives, financial guidance, and educational resources targeting students and customers.We are recognizing Citizens State Bank with our Editor's Choice™ Award for Community Commitment for its demonstrated efforts to bolster the communities it serves.
In late May, an onslaught of around 50 tornadoes carved a path of destruction through parts of Ohio and Indiana. In the tornadoes' wake, one death and 90 injuries were reported along with substantial property damage.
Pendleton, Indiana, was hit particularly hard by one of the tornadoes with 75 homes reportedly damaged.
"The town pretty much had to shut down for a day. There were trees down everywhere, downed power lines. It was pretty rough," said Justin Dunmyer, Director of Data Analytics and Marketing for Citizens State Bank, which maintains a branch in Pendleton. "We went down there with a bunch of bottled water, snacks, and prepackaged food."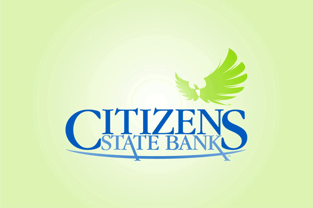 He said the food and other supplies were placed outside of the bank's branch in the town for volunteers and families recovering from the storm. Citizens State Bank staff members could also be found cleaning up debris and helping residents get back to normal.
The bank was able to re-open the Pendleton branch by the end of the week and also helped guide those in need to valuable resources when possible, Dunmyer said.
"We're a part of that community. People from our bank live there," he said. "I don't think a big national bank would have been as quick to respond to something like that. But we just respond because that's the right thing to do, a message our executive team sends every day."
For nearly 150 years, Citizens State Bank has been a part of Indiana communities. Founded in 1873, it is known as the oldest operating bank in the state today. And from its beginning, the bank has been focused on serving the community.
"We're the kind of bank you think of as a reliable neighbor, always there when you need us," according to the institution's website.
Today, Citizen State Bank's headquarters is located in New Castle, and it operates 12 branches across central and eastern Indiana.
CEO Dan Maddox responded, "Our mission statement is to help our clients, co-workers, and communities succeed. We emphasize living that mission daily, not just during a disaster. Making resources available the day after a crisis is important, but it's just as important to be there the next week, the next month, and the next year."
For its demonstrated commitment to the Indiana communities in which it operates, we are recognizing Citizens State Bank with our Editor's Choice™ Award for Community Commitment.
Encouraging Community Involvement by Giving Employees Volunteer Hours
Giving back to the community is a theme that carries through to nearly every aspect of Citizens State Bank, and that doesn't mean simply donating money to charitable causes.
"Community involvement is very important at Citizens State Bank. We offer a volunteer program that allows all associates to volunteer during regular working hours," according to the bank website.
Dunmyer said the volunteer program provides nearly open-ended opportunities to help out at community organizations.
"We have people that volunteer at food banks — that's a big one — and they've volunteered with youth programs, the humane society, and other animal shelters," he said. "Really, any organization in our communities that can use some extra hands, our employees are eligible to help out."
Citizens State Bank also sponsors community appreciation events throughout its communities — free events where citizens can come enjoy complimentary food and celebrate the community.
"It's really just to thank the community for allowing us to be a part of it," Dunmyer said. "We purposefully do community appreciation days rather than customer appreciation days. We truly feel that we're a member of the whole community."
The bank also facilitates a blue jeans Friday program for its employees in which employees can donate $5 for each Friday they want to wear jeans to work. A committee then distributes the funds throughout the year to various community organizations selected by bank employees.
Dunmyer said the programs are a great way to internally crowdsource donations and help out organizations where the bank employees identify a need.
"Heck, we're at so many community events, and we're involved with the Chamber of Commerce and numerous local nonprofits," Dunmyer said. "We're out there doing the things you need to do. If you're out there at these events and you see people smiling back at you, we know we're doing good."
Promoting Financial Literacy From an Early Age with Numerous Youth-Oriented Initiatives
Dunmyer said Citizens State Bank also prioritizes promoting financial literacy throughout the communities where it operates, with a special focus on youth-oriented programs.
"We participate in programs that teach children to save," he said. "And we put together lesson plans and content, and our managers or other staff members will go teach financial literacy courses at local schools or give presentations at summer camps, things like that."
He said the content is tailored to each school age group the bank deals with, from third-graders up to high school students.
The bank also works with a nationwide organization called Lemonade Day, Dunmyer said, which goes into schools and works with children to obtain and set up their own lemonade stands. He said it provides a small business learning experience for the students.
"Lemonade Day is a strategic lesson-based program that walks youth from a dream to a business plan while teaching them the same principles required to start any company," according to the Lemonade Day website. "Inspiring kids to work hard and make a profit, they are also taught to spend some, save some and share some by giving back to their community."
Dunmyer said it's rewarding to see children learning about finance topics and business through hands-on experiences rather than just through textbooks in the classroom.
"It's very impactful," he said.
The bank also announced the Citizens State Bank Scholarship last year. The $5,000 scholarship was created to provide financial assistance to individuals accepted into an accredited institution, college, university, or school in Indiana.
"This scholarship was created to reflect our commitment to our communities," according to the announcement. "As John F. Kennedy said, 'Leadership and learning are indispensable to each other,' and we are proud to support the young men and women who will serve as our future leaders."
Providing Financial Guidance at Branches and Via the Citizens State Bank Blog
As a community bank, Citizens State Bank goes beyond simply providing basic banking services to its customers. It goes the extra mile to provide financial guidance and resources to promote financial health as well.
"All of our bankers are very knowledgeable in general finance, money management, and budgeting," Dunmyer said. "We really try to encourage our customers to use our bankers as a resource."
He said customers don't have to be applying for a new loan or opening an account to stop by one of the Citizens State Bank branches.
"If you have some questions you want to run by our bankers or financial issues you'd like to discuss, I think all of our bankers are open to that," Dunmyer said. "Customers should feel like they can stop by anytime to address any financial concerns they may have."
The bank also maintains a blog that Dunmyer said is updated regularly and addresses a wide variety of issues.
"We cover lots of different financial topics," he said. "Some of it has to do with budgeting. There's information on how to recover from identity theft, and general safe computing and safe ID practices. Really just a variety of things that can help in a holistic way."
The blog's latest article, "Avoiding Scams Following a Natural Disaster," was posted in the wake of the recent tornadoes in the area. It offers advice and resources to help community members protect themselves against further financial difficulties in an already difficult time.
Dunmyer said the bank's community commitment is evident in its business practices as well.
"On the lending side, our decision-making is all local," he said. "At a larger institution you may submit an application for a business loan, and it gets farmed out to someone in New York or something. Here, you know that all of our decisions are made in Indiana by people who work for the bank, and who are familiar with our communities and our footprint."
Maddox wrapped up by noting that "our heritage is important to us, and we intended to honor the special position of trust we hold as a community bank by staying rooted in the communities that have supported us since 1873."
Advertiser Disclosure
CardRates.com is a free online resource that offers valuable content and comparison services to users. To keep this resource 100% free, we receive compensation for referrals for many of the offers listed on the site. Along with key review factors, this compensation may impact how and where products appear across CardRates.com (including, for example, the order in which they appear). CardRates.com does not include the entire universe of available offers. Editorial opinions expressed on the site are strictly our own and are not provided, endorsed, or approved by advertisers.